Philadelphia Phillies Who Really Phrustrate Phans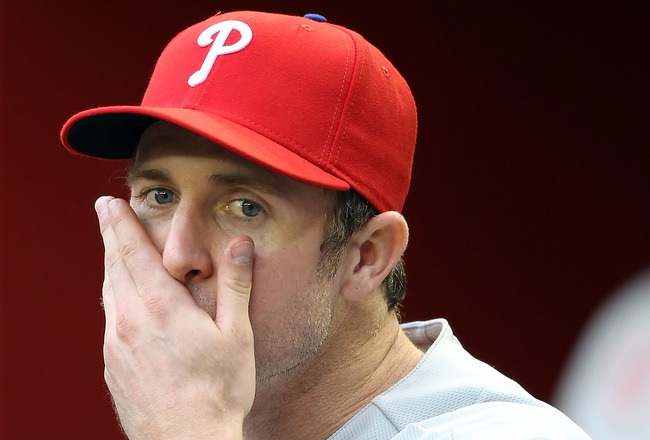 Christian Petersen/Getty Images
The 2012 version of the Philadelphia Phillies were predicted by many (including Las Vegas) to represent the National League in the World Series. The most dominant pitching staff in the majors returned relatively intact, with the addition of a top-three closer in the game in Jonathan Papelbon.
The Philadelphia Phillies were also predicted to struggle in 2012 offensively, but who'd believe that they would be this bad?
As a team, they are hitting just .248 with 38 extra-base hits. There is an absolute power shortage in the City of Brotherly Love.
Remember the days when there were at least four guys in the lineup who had 30-HR potential? Those days are over, and the Phillies need to stay afloat until Ryan Howard and Chase Utley return to the lineup.
And than there's still a good chance that the Phillies won't have enough offense (see 2010, 2011).
This has been one of the most frustrating seasons in recent history for the Phightins, but here are four players in particular that really frustrate Phillies Nation.
Ryan Howard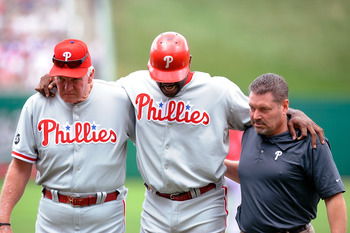 Greg Fiume/Getty Images
Is there a more polarizing figure in Philadelphia right now than Ryan Howard?
Maybe the best thing that has happened to Howard (ironically) is that he tore his Achilles and Philadelphia got to see what their lineup looks without him.
Also, the fact that guys like Pujols, Fielder and Votto all received 10-year deals makes us breathe easier about his five-year extension.
It's quite apparent that with Howard you are going to get a ton of run production, but you're also going to get a ton of Ks.
Howard is a great player, but he is certainly someone that frustrates fans. Another injury where he's missing significant time isn't helping matters.
Especially when the offense looks as bad as it does now.
Charlie Manuel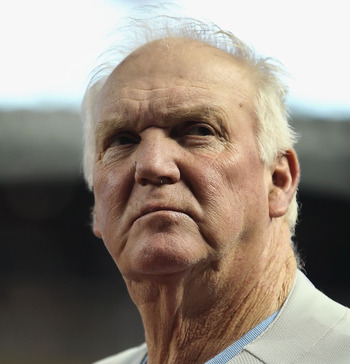 Christian Petersen/Getty Images
Charlie Manuel will be remembered in Philadelphia sports history forever, as he ended a 25-year championship drought in the city.
Right now, he's being remembered for allowing Jim Thome to pinch-hit against a devastating lefty with the game on the line.
Manuel has continually been identified as a "hitting coach" who just happens to manage the ball club, but when an offense has struggled for the better part of three years like this team has, maybe that's not a good thing.
Talk radio, TV and bloggers alike have grown increasingly angry with Manuel, and you have to wonder if he's on the chopping block at the All-Star break if this continues.
Would the Phillies really do that to the all-time leader in wins in team history? Maybe not, but it's certainly becoming easier to criticize a guy that gets to walk out Halladay, Lee, Hamels and Worley 80 percent of the time.
Chase Utley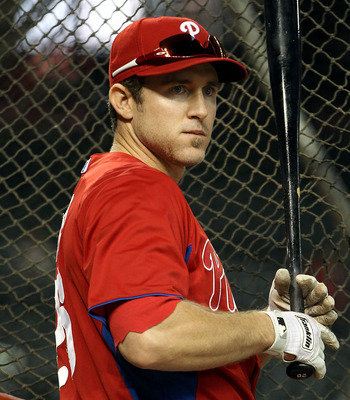 Christian Petersen/Getty Images
Chase Utley is one of the most beloved athletes this city has seen in the past 30 years.
When you think of the city of Philadelphia, you think blue-collared and hard-working.
Those two adjectives define Chase Utley.
The perennial (former) All-Star provided pop from 2B that was expected from the corner IF positions. His legendary work ethic and leave-it-all-on-the-field attitude made it easy to overlook the fact that he is as boring as a tree when interviewed.
Now Utley is battling issues with both knees and is missing significant time from the regular season for consecutive years.
Phillies Nation is frustrated with their golden boy (rightfully so) and is left wondering if Utley has been forthright about his knees with the organization.
Domonic Brown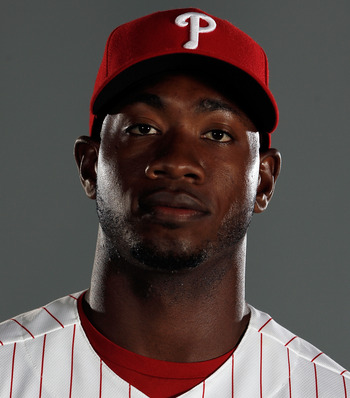 Jonathan Ferrey/Getty Images
How could a guy who wouldn't be included in a trade for Roy Halladay, Roy Oswalt or Hunter Pence not be able to crack one of the worst lineups in MLB?
The Philadelphia Phillies have scored the second-fewest runs in the league, leading only the lowly Pittsburgh Pirates—who took two of three from the Phillies, in case you forgot.
Brown was the top prospect in all of baseball for two seasons and was touted as a gifted, five-tool athlete who would be an All-Star OF for a decade.
Now Brown is toiling in the Lehigh Valley, while the major league ball club continues to ponder whether they should hit John Mayberry or Ty Wigginton clean-up.
The Phillies lineup is brutal, and it's about time they figure out if Brown is the player they thought (hoped) he'd be or a monumental bust.
Either way, his continued stint in the Lehigh Valley is making the frustration level rise incrementally for Phillies Nation.
Keep Reading

Philadelphia Phillies: Like this team?