Cordy Glenn: 6 Biggest Strengths and Weaknesses of 2012 NFL Draft Prospect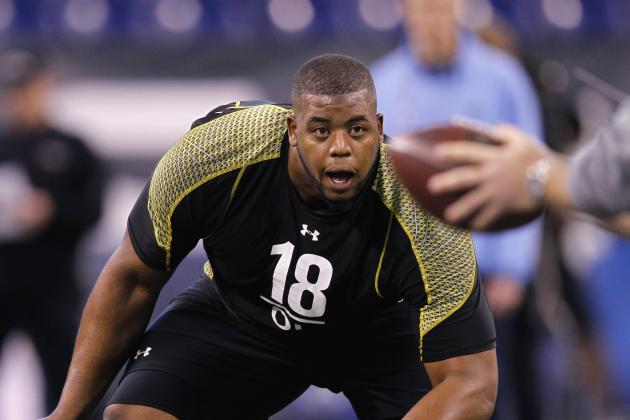 Joe Robbins/Getty Images

Believe it or not, Cordy Glenn might be the most versatile offensive lineman in the entire 2012 NFL draft. He has the ability to play both the tackle and guard position, possessing abnormal athleticism for someone his size.
This has led many experts to believe that he will be a top 20 pick in the draft later this week, and that is extremely difficult to disagree with.
This article it going to focus on six strengths and weaknesses as they relate to Cordy Glenn and his ability to transition to the National Football League.
Begin Slideshow

»
Cordy Glenn is extremely solid when it comes to being able to get out of his stance and move laterally following the snap. He will not be thrown off the point of contact because of this plus-technique.
Moreover, Glenn is able to plant in his stance, keeping opposing pass-rushers at bay and out of the offensive backfield.
Probably one of the best offensive lineman in the NFL draft due to this aspect of his game.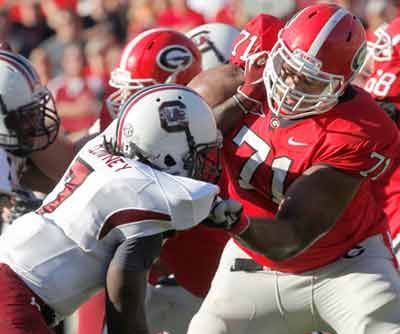 Courtesy of Athlon Sports
This is where Cordy Glenn struggles with technique. As evidenced by the embedded photo, he tends to get too high at times. This will cause some unnecessary holding penalties and also cause Glenn to struggle against speedier pass-rushers on the outside.
He definitely needs to get lower at the point of contact in regards to his pad level. Glenn also needs to be able to recognize the specific situation and fine tune his game accordingly.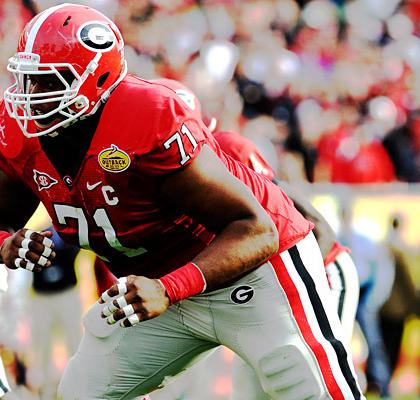 Courtesy of ESPN
No, I do not project Cordy Glenn to be a left tackle in the National Football League. He just doesn't have the skill set to be a blindside protector at the next level.
Although I project Glenn to play inside at the next level, he does have the capability to play both guard positions as well as right tackle. This makes the Georgia product the most flexible offensive lineman in the 2012 draft.
It also helps his draft stock a great deal. Teams that have needs at both tackle and guard will look in his direction.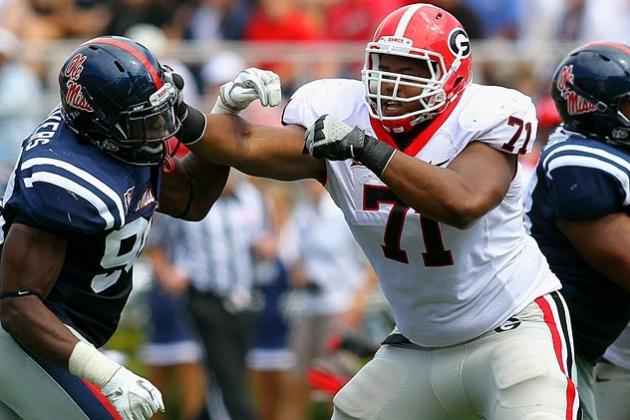 Courtesy of CNNSI
Due to pad level and some technique issues, Cordy Glenn will struggle against speed rushers on the outside. This is one of the primary reasons that I believe he translates better as a guard.
If a tackle struggles in regards to pad level and technique like I mentioned above, he will consistently see defenders get to the quarterback because they will be able to go around him.
Of course these are things that can be fixed with some more seasoning and the right coaching. In fact, Glenn might take a reverse career path, playing guard earlier in his career before moving to tackle after these issues are fixed.
A massive 346-pound frame coupled with surprising quickness off the snap leads to dominance in the run game between the hashes. This is the combination of size and ability that Cordy Glenn possesses.
You will see him constantly throwing opposing defensive lineman off the line of scrimmage, opening up gaping holes for running backs. Glenn isn't a mauler in the true sense of the word. However, his skill set suggests the very same dominance in the trenches.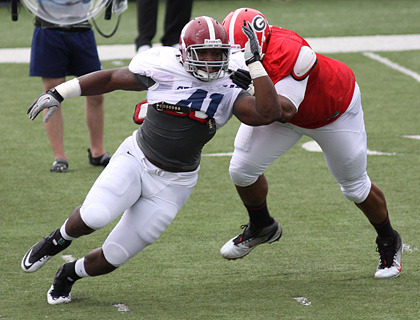 Cordy Glenn absolutely dominated Courtney Upshaw (pictured) during the Senior Bowl practices and at the game. He has a strong base in which to work that enables him to stay planted at the point of contact and stave off opposing defenders.
What I like the most about Glenn is the fact that he can act as an anchor along the interior of the offensive line, not just because of his exceptional strength but due to the fact that he understands the nuances of complex blocking schemes.
Once Glenn gets planted in his set following the snap, he isn't going to be thrown off the place. Instead, he will continually hold defenders at bay, even throwing them back to open up gaping holes for running backs.
This is one of the primary reasons that teams like the Cincinnati Bengals, Pittsburgh Steelers and San Francisco 49ers would be great fits.