Chicago Cubs: Trading Starlin Castro May Not Be a Such Bad Idea
April 24, 2012

Brian Kersey/Getty Images
Starlin Castro has quickly established himself as one of the best shortstops in the league.
He led the National League in hits (207) and at-bats (674), and also popped 10 home runs while collecting 66 RBI. His slash line of .307/.341/.432 was also very impressive.
Early in this season, Castro is putting up great numbers.
He's played in all 17 games, while driving in eight runs and posting a line of .358/.389/.478.
The only knock on Castro is that he's not a very good fielder. He's already made seven errors through 17 games this season, and has made a combined 56 in two seasons prior.
Regardless of his defense, his offensive skills are enough to make him one of the top young players in the game today.
With the Cubs in rebuilding mode and hoping to compete in the near future, Castro would likely be a key part of the process.
That doesn't mean he'll be with the team.
A trade of Castro would bring a massive return for the Cubs—allowing them to stock up on young arms or position players. These would be major-league ready in time for the team to compete for the pennant.
Or, Castro could be sent out in a deal similar to the one that saw the Marlins acquire Hanley Ramirez.
The Red Sox sent Hanley Ramirez, Anibal Sanchez, Jesus Delgado and Harvey Garcia to the Marlins in exchange for right-hander Josh Beckett and third baseman Mike Lowell in 2005.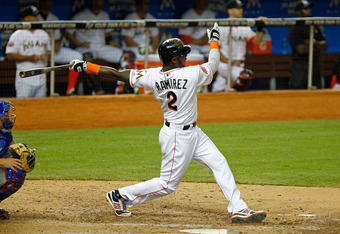 Mike Ehrmann/Getty Images
That deal went pretty well for the Sox. Beckett and Lowell were key contributors to the team's 2007 World Championship season.
If a team offers the Cubs a pitcher of Beckett's caliber (in 2005)—along with a position player—for Castro and a few other prospects, Theo Epstein and Jed Hoyer would be wise to listen.
In the end, the Cubs likely won't trade Castro. He'll be firmly entrenched as the team's shortstop—if he improves his defense—and will lead the team to the playoffs sometime in the near future.
It doesn't hurt to think about the other possibilities, though.