Kansas City Chiefs: 7 Best First-Round Picks in Franchise History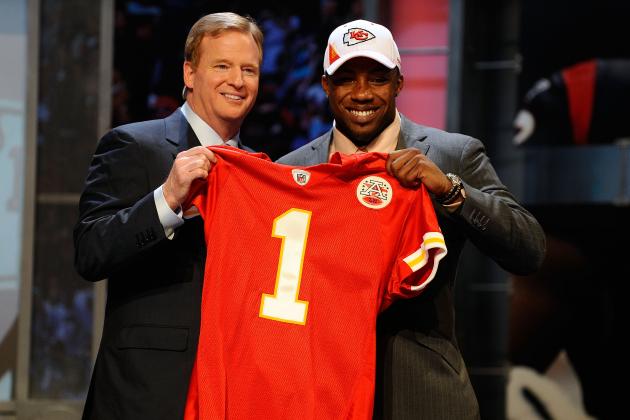 Jeff Zelevansky/Getty Images

This week marks a big moment for every franchise. Teams will make draft selections and could potentially select a player that can make a difference for a franchise. The Kansas City Chiefs are no exception.
Before the first round of the 2012 NFL draft begins this Thursday, let's look back at some of the top first-round NFL and AFL draft picks of all time in franchise history.
Begin Slideshow

»
E.J. Holub can very well be considered one of the more versatile players in the history of professional football. Holub is the only player to start in two Super Bowls at two different positions. He first played linebacker for the Dallas Texans before the franchise relocated to Kansas City.

Holub was started at linebacker for the Chiefs in the first Super Bowl against the Green Bay Packers. In 1970, the Chiefs played the Minnesota Vikings as Holub started at center. He was part of Hank Stram's 65 Toss Power Trap play, which eventually led the Chiefs over the Vikings to capture their first and only Super Bowl title.

Holub earned five AFL All-Star honors and two All-Pro honors.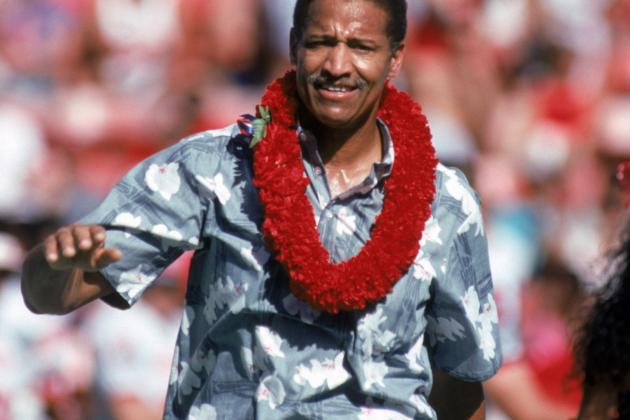 George Rose/Getty Images

Buck Buchanan was a force on defense for the Chiefs in helping them find success in the AFL. Buchanan played defensive tackle and helped linebackers Bobby Bell, Willie Lanier and Jim Lynch succeed.

Buchanan anchored a strong defensive line that limited the Vikings to only 67 rushing yards in Super Bowl IV. Buchanan outplayed Vikings center Mick Tingelhoff, who was a five-time Associated Press first-team All-Pro selection up to that game.

Buchanan earned eight AFL All-Star and Pro Bowl honors combined, as well as seven All-AFL and All-Pro selections combined. His jersey number, 86, is retired with the Chiefs, and he was inducted to the Pro Football Hall of Fame in 1990.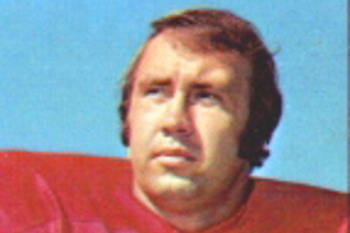 For 14 strong years, Ed Budde was Kansas City's left guard. Budde was not known for missing games and became one of Kansas City's top active players in franchise history.

Budde blocked the way for running backs Abner Haynes, Mike Garrett and Ed Podolak. Budde also helped out quarterback Len Dawson and played a big role in his success. He also blocked for Mike Livingston, who took over for Dawson.

Budde earned five AFL and played in six AFL All-Star games. He was the first offensive lineman to be selected by the Associated Press as an Offensive Player of the Week.
Stephen Dunn/Getty Images

While playing defensive end for the Chiefs for nine seasons, Neil Smith was one of the league's best defensive end in the 1990s. He played a big role in helping the Chiefs become one of the more prominent teams in the '90s.

Smith compiled 85.5 sacks during his nine years with the Chiefs and finished second all-time in franchise history in sacks. He was voted to five Pro Bowls and earned three All-Pro honors.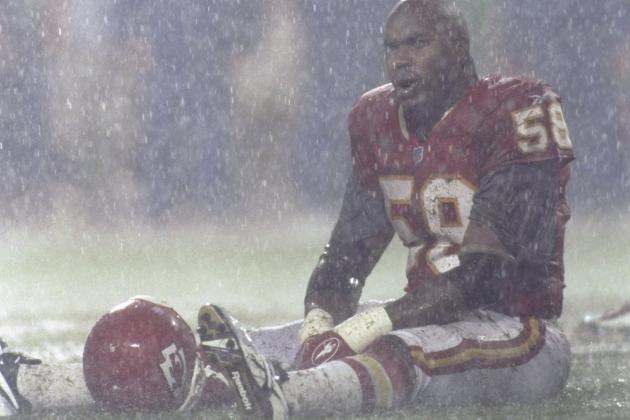 Jed Jacobsohn/Getty Images

Derrick Thomas is considered one of the most dangerous pass-rushers to ever play the game of football. He became a quarterback's worst nightmare, and offensive coordinators could not come up with a game plan to stop him.

Former Chiefs general manager Carl Peterson made Thomas his first draft pick during his tenure.

Thomas shattered many franchise records, including most sacks in a career with 126.5. His biggest individual accomplishment was coming away with seven sacks in one game against Seattle Seahawks quarterback David Krieg.

Thomas was voted to nine Pro Bowls and received six All-Pro selections. His jersey number, 58, is retired by the Chiefs. He was inducted into the Pro Football Hall of Fame in 2009.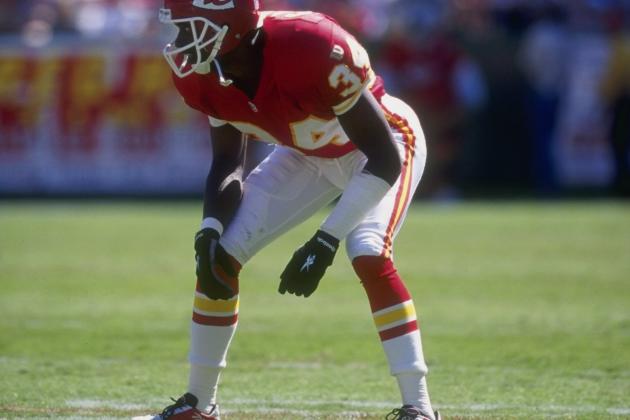 Stephen Dunn/Getty Images

During the seven seasons he spent with the Kansas City Chiefs, Dale Carter came away with 23 interceptions for 231 yards and one touchdown. He was one of Kansas City's top contributors at defensive back during the 1990s.
Carter won the league's prestigious Defensive Rookie of the Year award in 1992. He earned four Pro Bowl selections and two All-Pro recognitions during his time in Kansas City.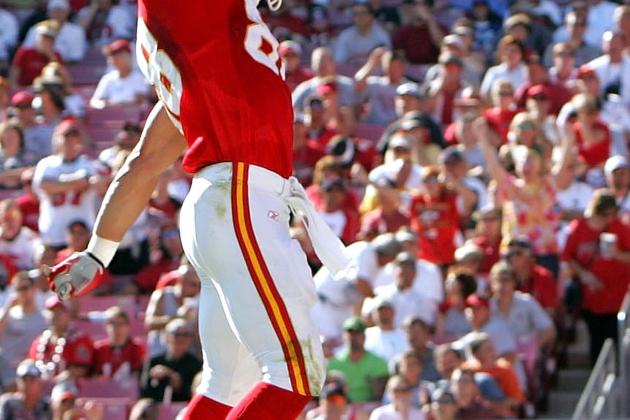 Jeff Gross/Getty Images

In 190 games as a member of the Kansas City Chiefs, Tony Gonzalez had no problem shattering the receiving charts in franchise history as a tight end. Gonzalez registered 916 receptions for 10,940 yards and 76 touchdowns in 12 years. He is the only player in franchise history with over 100 receptions and 10,000 receiving yards.
Gonzalez owns the league record for career receptions, receiving yards and touchdown catches among all tight ends in NFL history.
As Gonzalez has his name on many record charts, his most notable accomplishment is placing himself second all-time for most receptions in a career. He owns the record for most 1,000-yard receiving seasons for a tight end.
While playing in Kansas City, Gonzalez played in 10 Pro Bowls and has earned nine All-Pro honors so far.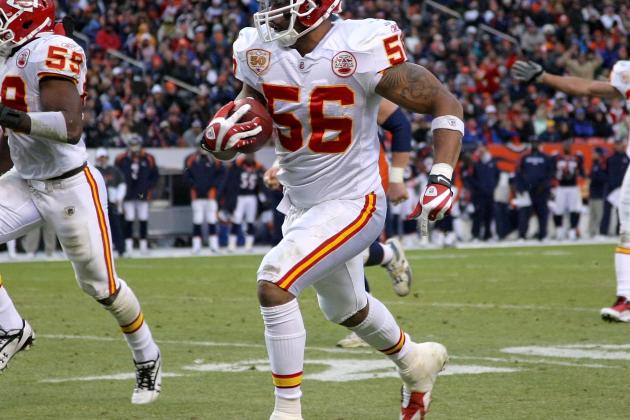 Doug Pensinger/Getty Images

If this list is updated in 10 years, we may see linebackers Derrick Johnson and Tamba Hali featured.
Johnson has recently evolved into an elite inside linebacker after struggling through multiple head coaches and defensive coordinators. He played in his first Pro Bowl last year and played along with Ray Lewis at middle linebacker for the AFC.
If Johnson does not turn back and continues to make strides, by the time he is done playing football his name will be alongside other great linebackers who played for the Chiefs
Hali is another player who had to go through a lot of obstacles to get to where he is today. He entered the league as a defensive end and made an impact right away with Jared Allen playing on the other end. Hali is now playing outside linebacker under a new defensive scheme and is finding more success at that position.
Hali signed a five-year contract going into the 2011 season. With four years remaining on his contract, Hali, who has 53.5 sacks and ranks third in franchise history in that category, is on pace to earn 100 sacks and would most likely finish second. He may even challenge Thomas for most sacks if he posts big defensive numbers one season.
Another defensive player to consider would be Eric Berry. Though he played less than one quarter of football in 2011, Berry played in all 16 games in 2010 as a rookie and had no problem immediately establishing himself as one of the best safeties in the league today.
On the offensive side, wide receiver Dwayne Bowe has already shattered many franchise receiving records after a phenomenal 2010 season. If the Chiefs can sign Bowe to a long-term contract, he could eventually be in consideration as the best receiver to ever play for the Chiefs.