Justin Blackmon: Star WR Destined to Win Rookie of the Year
April 24, 2012

Joe Robbins/Getty Images
Justin Blackmon is the odds on favorite to be the one player that you'll remember from this rookie class in the 2012 season.
When you try to handicap the field for offensive MVP there are only a few options.
Obviously Andrew Luck and Robert Griffin III come to mind, but they both have insane expectations and not a ton of help. Luck will be lucky to win six games; RGIII is stuck in the ultra-competitive NFC East.
Trent Richardson is certainly an option as well, but only two running backs have won the award since 2003 and if he goes to the Browns…it's hard to imagine him putting up gaudy numbers in that abysmal offensive while playing six games against the rugged AFC North.
Michael Floyd will likely fall to the mid-first round, meaning he won't be the No. 1 receiver right off the bat, minimizing his targets.
That leaves Blackmon, the consensus best receiver on the board. The Minnesota Vikings, Browns and St. Louis Rams all are in desperate need of a No. 1 and are the three most likely landing spots for Blackmon.
He has breakaway speed, outstanding strength, sticky hands, great leaping ability and is a superb route-runner.  What else could you ask for?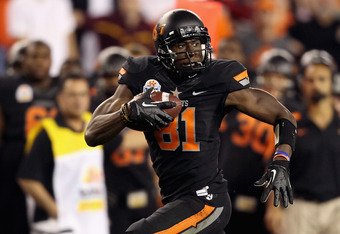 Christian Petersen/Getty Images
His college production blew away the competition, and he played one of his best games of his career in a BCS bowl game, proving to the world he can play his best in the biggest moments. Despite dealing with double teams consistently, he notched 3,304 yards and 30 TDs in his last two seasons. Incredible.
He was ready to play in the league last year—this isn't going to be your typical rookie receiver. With a 6'1'', 210 pound frame he can barrel over smaller corners and avoid getting jammed on the line by bigger ones.
Most mocks believe the Rams will be the team that ends up drafting him. This is the perfect storm. Blackmon would instantly be the No. 1 on a team that has horrible receivers at the moment after losing Brandon Lloyd to the New England Patriots.
QB Sam Bradford was the No. 1 pick in 2010, and still has the ability to be elite. Remember, he almost led his team to the playoffs as a rookie with a hodge-podge of receivers before injuries de-railed his sophomore season. Playing in a dome helps Blackmon as well, it will allow him to fully utilize his speed.
Bradford is talented, and needs a receiver like Blackmon to prove as much.
All of the ingredients are there, and as long as Blackmon stays healthy…I would be shocked if he didn't win the Offensive Rookie of the Year.