New Coordinators, Lack of Picks Influence Atlanta Falcons' 2012 Draft Strategy
April 24, 2012

Handout/Getty Images
The 2012 Atlanta Falcons draft is unique for a number of reasons, none of which directly related to the team's quest for a Super Bowl run.
The Falcons definitely have to find ways to build through the draft and continue their run of three playoff trips in the last four years. The team surely has to improve enough to get past the first round of the postseason, while still adding to the foundation to stay near the top of the league, talent wise.
Atlanta has to do all of this without a first and fourth-round pick. The Falcons also have to look at the draft for any personnel changes that are required from hiring two new coordinators; offensive coordinator Dirk Koetter and defensive coordinator Mike Nolan.
These challenges will be unique to general manager Thomas Dimitroff who has never been without a first-round pick in Atlanta or had to replace a coordinator, let alone two.
The Lack of Picks
Since the Falcons won't be picking a player in the first round, the chances of finding a player that can immediately come in and help the team from day one is lessened dramatically. The team is going to have to be patient, and look at their second-round pick (No. 55 overall) as a way to add needed depth, and grab a guy that can help as soon as possible.
If the Falcons second-round pick can work his way into normal playing time at some point in the 2012 season, possibly into a starting role by 2013, the pick will likely be deemed a success.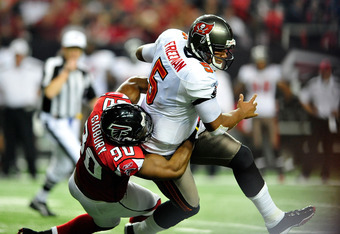 Grant Halverson/Getty Images
The lack of a fourth-round pick hurts for building depth in the near future. Offensive lineman Joe Hawley (2010) and defensive end Lawrence Sidbury (2009) were the Falcons last two fourth-round picks. Both are now making waves in personnel rotations and could soon be starters.
These are they types of players that Atlanta will miss by not having a pick in the fourth round. And this will make Atlanta's third and fifth-round picks all the more valuable to the team.
Drafting for the New Coordinators
The Falcons will enter a new era in 2012 when Koetter takes over the offense and Nolan the defense. It's not likely either will make wholesale changes to a perennial playoff team, but each has nuances to his coaching style that has made him successful through the years.
Koetter, for instance, is known for being a wizard with the vertical passing game. Quarterback Matt Ryan is the franchise signal caller and he's in Atlanta to stay, but Koetter may ask the team to look for a different style of offensive lineman, a guy, or group of guys, that can give Ryan just a split second longer to set up for those vertical throws.
Nolan said he will keep Atlanta in its standard 4-3 defensive scheme, but most expect him to use some 3-4 hybrid looks as well. That will entail a few personnel additions and tweaks that Dimitroff can start addressing in the draft.