Quinton Coples: 6 Biggest Pros and Cons of 2012 NFL Draft Prospect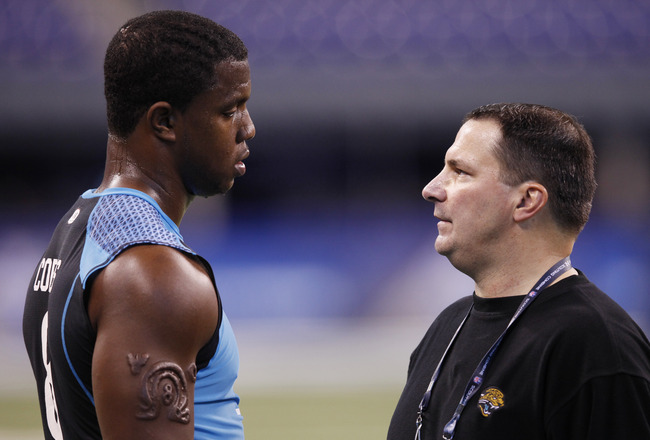 Joe Robbins/Getty Images
If media writers were allowed to give football players nicknames, maybe Quinton Coples would be named "The Enigma."
The defensive end from North Carolina is among the best pass-rushers coming out in this draft, some have had him rated at the top of the list. But questions about his commitment to the game and playing every down have come up.
Coples is a tremendous talent and is possibly another great player in the same lines of Greg Ellis and Julius Peppers.
Because he has played all over the line in Chapel Hill, he is a player many teams will take a look at and see if he can deliver from all positions.
If Coples can fulfill his promise, some team will have unearthed a gem.
Has Experience Playing Across the Line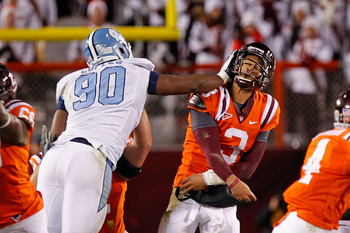 Geoff Burke/Getty Images
He spent time in Chapel Hill at both defensive tackle and defensive end.
According to sidelinescouting.com, while at defensive tackle, Coples recorded 10 sacks while earning first-team All-ACC honors and was named second-team All-America by Scout.com.
Coples played in all 13 games and started 12 and ranked third in the league and 16th in the country in sacks per game.
Power and Speed Is a Good Thing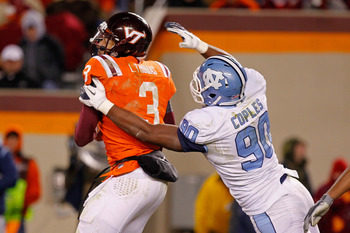 Geoff Burke/Getty Images
As a pass-rusher, he has a good burst off the snap, but his speed and flexibility to dip and rip around the edge as a traditional right defensive end isn't certain.
Coples is definitely powerful. He has an excellent bull rush and uses his long arms to keep offensive linemen away from his body to dictate the action.
He Leads with One Step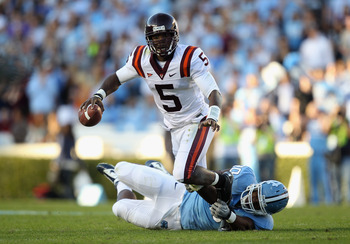 Streeter Lecka/Getty Images
Just like sidelinescouting.com stated, Coples has good initial burst off the snap, but creates space with his hand usage and not with speed or by shooting gaps at defensive end. He will line up extremely wide and take the quickest angles to the quarterback.
The fact that he is so tall and strong means he can push and pressure the pocket and take on double-teams, which he sees on nearly every snap.


Only Beginning to Show His Potential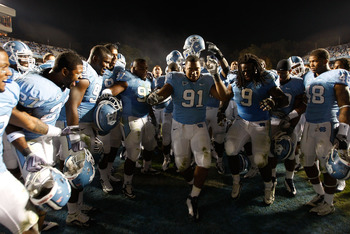 Streeter Lecka/Getty Images
He does a fairly good job in run support and has the strength to anchor and hold the point. He' also very good at establishing initial positioning and shedding blocks.
He will do a nice job in pursuit and is a reliable wrap-up tackler. His versatility is appealing with the ability to play end or tackle in a four-man front and he is one of the best five-technique prospects in the draft.


Needs to Use His Hands More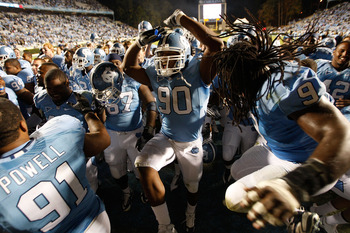 Streeter Lecka/Getty Images
Coples doesn't get his hands up in passing lanes when he can't reach the quarterback. He can also be slow to react to run plays.
He plays with a high pad level and can be washed out of plays, which also leads to him possibly not being as motivated as he should be.


Needs to Get Better and Consistent Play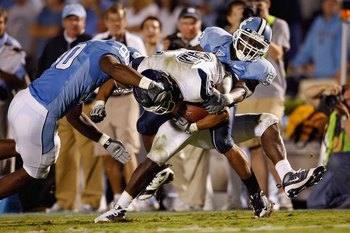 Kevin C. Cox/Getty Images
He is unrefined, plays with an inconsistent motor, only flashes his ability to dominate and take over games and has a high ceiling, but he has bust potential as well.
There is no doubt he could be the most dominant pass-rusher to come out of the draft in years, but because there are concerns about him being a "full-time" player, he needs to show he can play every down on the same level.
Keep Reading