New England Patriots Mock Draft: Final Full 7-Round Team Prediction
April 24, 2012

Otto Kitsinger III/Getty Images
For a team that just went to the Super Bowl, you'd think the New England Patriots just went 3-13 with the laundry list of needs a fan will recite to you, almost poetically: safety, defensive line, outside linebacker, wide receiver, offensive guard for the future and maybe even a running back.
Add in a return man, and I think we can call it a day.
The Patriots are a little shorter on picks this year than in years' past, but I'm not projecting trades in my mock draft. So here's how I think the Patriots will address their needs now and for the future on April 26-28.
First Round, Pick 27: Shea McClellin, DE/OLB, Boise State
The Patriots have been looking for answers at outside linebacker for years. McClellin is just smaller than what they usually like at the position at 6'3" (they like 6'4" or taller) and 258 pounds (they like 260 or heavier).
But he's got something that none of the current Patriots linebackers have: athleticism and a ton of versatility. B/R NFL editor Michael Schottey compared him to Texans linebacker Brian Cushing; if McClellin's upside is that high, 27 is a great spot to pick him.
First Round, Pick 31: Kevin Zeitler, OG, Wisconsin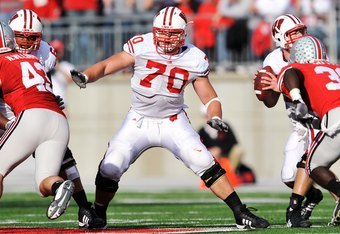 Jamie Sabau/Getty Images
We know the interior of the offensive line will be a need in the near future, with both Brian Waters and Dan Koppen likely entering the final year of their respective careers. What we don't know is who will take over for whom.
It has been said, by offensive line coach Dante Scarnecchia himself, that Dan Connolly could play center on a week-in, week-out basis. By deduction, that would leave guard as a need spot. 
Zeitler is a guard in a similar mold to Logan Mankins when he came out: a mauler who could use some work in his technique. With Zeitler, the Patriots would have their full five-man front for the future.
Second Round, Pick 48: Mohamed Sanu, WR, Rutgers
No team other than the Washington Redskins went as hard after wide receivers in free agency as the Patriots, but that doesn't mean they can't still use some youth. One look at their depth chart at the position shows age and contract situations both have started creeping up on the Patriots.
In Sanu, the Patriots do not have a field stretching threat at wide receiver. What they get, however, is someone capable of playing all the different receiver positions, from X to Z, outside or inside. He's also of the frame that the Patriots lack, at 6'2" and 215 pounds.
Sanu and tight end Rob Gronkowski working the red zone together is the stuff of Patriots' fans dreams and defensive coordinators' nightmares.
Second Round, Pick 62: George Iloka, FS, Boise State 
One of the Patriots' primary needs is safety, but they could still get a quality contributor in the second round.
There are a lot of safeties in this class that share a similar skill set to Patrick Chung, but George Iloka is almost his antithesis. He would be the deep cover safety, having shown the range to defend sideline-to-sideline and the athletic ability to cover the new breed of tight ends that run rampant in the NFL.
His flexibility between the free and strong safety spots would make him an immediate contributor to the defense. The Patriots would find a way to get him on the field.
Third Round, Pick 93: Brandon Thompson, DT, Clemson
At 6'2" and 314 pounds, Thompson isn't exactly the height you like to have on the defensive line, but the Patriots have another 6'2" defensive lineman who's pretty good: Vince Wilfork.
Thompson is in a similar mold to Eagles defensive end Cullen Jenkins (h/t Schottey) and can play as a 5-technique defensive end in the 3-4 and collapse the pocket from that spot.
The Patriots really lacked athletic, physical beasts in the front seven last season, and with their second pick in the second round, they make their second addition to the defensive front.
Fourth Round, Pick 126: Asa Jackson, CB, Cal Poly
With the addition of Jackson, the Patriots could add developmental depth in the secondary who can contribute on special teams in the meantime. The Patriots lacked a consistent returner last year, even going back to the days of Ellis Hobbs in 2008. Jackson could find a roster spot as a special teams player, contributing that way as he grows into an NFL cornerback. A classic Patriots pick.