Malik Jackson: 6 Biggest Strengths and Weaknesses of 2012 NFL Draft Prospect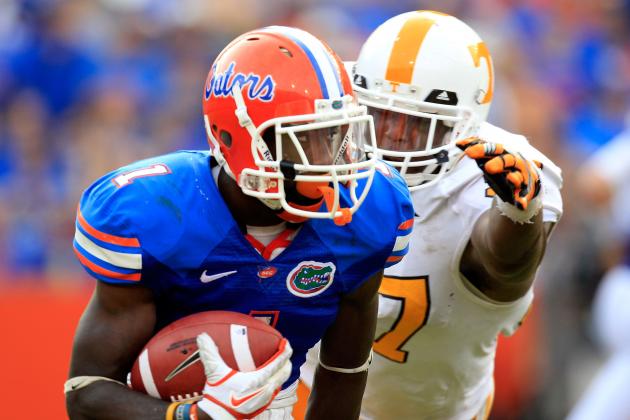 Sam Greenwood/Getty Images

Going to the NFL may be the best thing that could happen to Malik Jackson.
The defensive lineman from Tennessee has been "playing out of position" according to Sideline Scouting. Making the move to pros may allow the 3-4 defensive end to finally show his true prowess on the field.
He has also been known as a "5-technique" player.
In this particular draft, teams will be able to find some decent talent in the middle rounds. Jackson, at 6"4" and 285 pounds, projects to be a third of fourth-round talent.
And of course, playing at Tennessee and against SEC talent week after week can only help you improve your game as you go up against the best linemen in country.
Here are some strengths and weaknesses in Jackson's game as reviewed by Sideline Scouting.
Begin Slideshow

»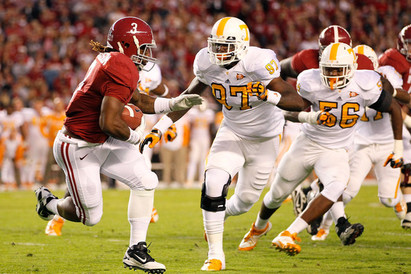 Jackson has natural athletic ability, is quick out of his stance, threatens the edge with his speed and can be a challenge for opposing linemen to block.
At 6'4", he can be intimidating coming off the snap of the ball for guards, should he come inside instead of on the end.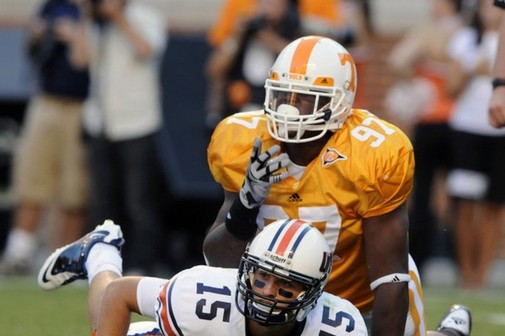 His concentration level has been questioned at times, but 2011 showed he could play with consistency.
Jackson did a nice job setting the edge and maintaining containment. He can also make plays off his frame, has good range and is relentless in pursuit with great closing speed.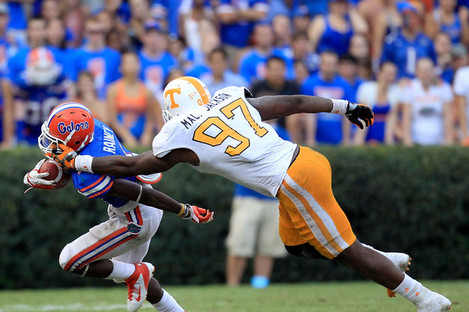 While Jackson played both defensive tackle and defensive end, his natural position is on the outside.
But that versatility will not be lost on NFL scouts and teams looking for more depth and special teams standouts.
Like Sideline Scouting reports, "he primarily played defensive tackle in 2011, projects best as a 3-4 DE (5-technique) at the next level and could also get looks as 4-3 DE, can be used on stunts and twists."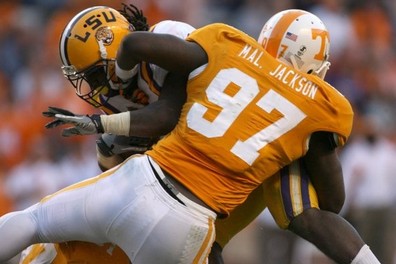 At 285 pounds, Jackson is a load coming off the edge, but not so much when it comes to the middle of the line.
He was undersized and played out of position at Tennessee and won't be able to hold up inside at the professional level. His biggest weaknesses are stopping the run and being able to consistently disengage.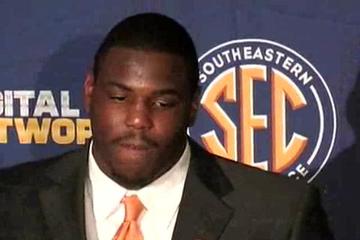 This is where his stock may drop in the draft.
Jackson is a straight-line type of athlete and has impressive overall athletic ability, but he struggles to change direction and doesn't have much of a pass-rushing prowess.
He also plays upright and often tires easily during games. He needs to use his arms more to protect himself from being knocked out of plays.
Coaches will have to work with him to develop his technique.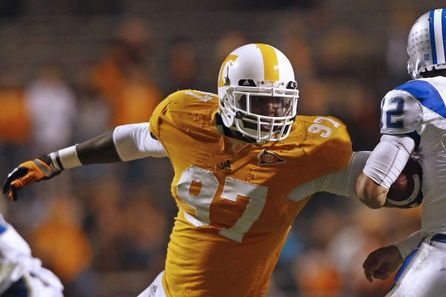 He wears a knee brace when he plays. If the knee is a concern, then it will lead to a drop in the draft.
He still has great ability to make plays and if he can play on the outside with consistency, maybe this is the kind of player where his best years were not in college.
Hopefully, he can show he was missing something in college while playing in the NFL.