2012 NFL Draft: 4 Possible Mid-Round Chicago Bears DT Prospects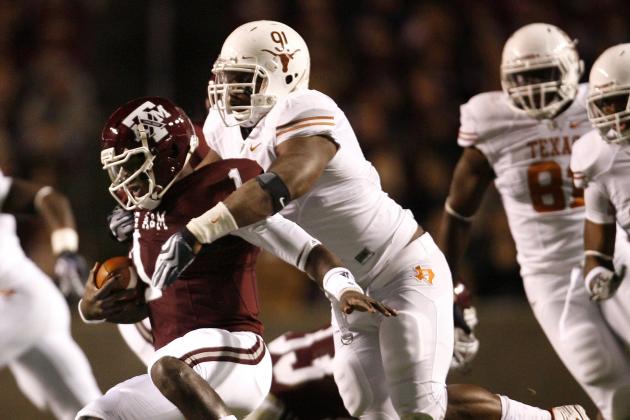 Aaron M. Sprecher/Getty Images

With the release of Anthony Adams and the loss of Amobi Okoye in the offseason, the Chicago Bears will likely be looking to address the defensive tackle position in the upcoming 2012 NFL Draft.
With Chicago likely looking to take a defensive end in the first round, there are plenty of solid defensive tackles who will be available in the middle rounds.
With only Henry Melton, Stephen Paea and Matt Toeaina signed for the upcoming season, the Bears will need to look for a run-stopping tackle to replace Adams.
Here is my list of four possible mid-round defensive tackle prospects the Bears may be interested in drafting in this week's NFL draft.
Begin Slideshow

»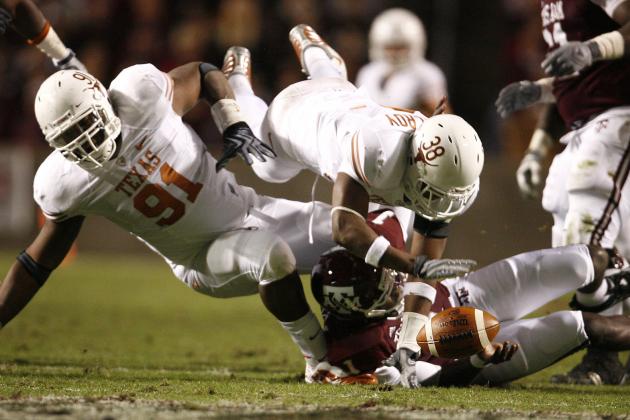 Aaron M. Sprecher/Getty Images

Standing 6'5"and weighing just under 300 pounds, University of Texas' Kheeston Randall draws comparisons to former Longhorn and current Bear, Henry Melton.
Not the flashiest player, or even the sack-getter that Melton is, Randall displays good athleticism for a man of his size. Randall is not always the best at getting after the quarterback, but he was often double-teamed, which caused his production numbers to be low.
Projected to go somewhere in the fourth or fifth round, Randall could be a good developmental project for defensive coordinator and defensive line guru Rod Marinelli.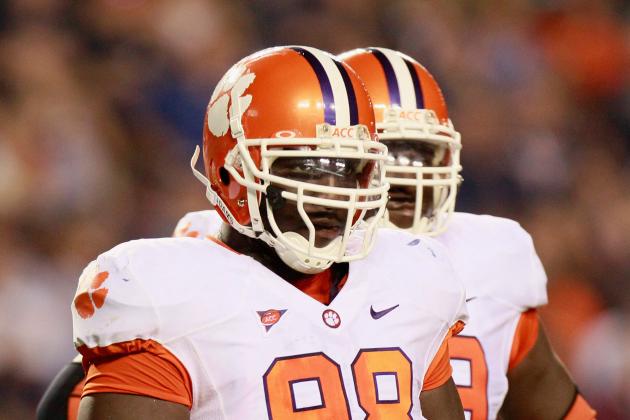 Kevin C. Cox/Getty Images

Not quite considered a mid-round draft choice, Clemson's Brandon Thompson looks like a guy who will more than likely be draft in the second round.
A weight-room fanatic, who is known to have benched-pressed 450 pounds during his time at Clemson, Thompson already possesses the great strength needed at the defensive tackle position.
With a fantastic ability to jump off the line at the snap, as well as be disruptive off the ball, Thompson in some ways could be compared to former Bears defensive tackle Tommie Harris. Thompson is able to use his good speed to force the ball carrier back in the running game and does a good job of getting pressure on the quarterback in the passing game.
The one knock on his game is, despite being very productive on the field, many feel that because of his great frame and strength, there is little that coaches will be able to add to his game. What you see is what you get with Thompson.
If the Bears really desire a solid defensive tackle, it could be plausible for them to move down in the draft (possibly with New England) to select Thompson, or they could cross their fingers and hope he's still available when they select in the second round.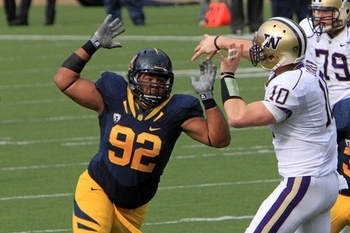 A bit of an unknown, California's Trevor Guyton may be the perfect fit for the Bears' 4-3 defense come the fifth or sixth round.
An agile defensive end with decent quickness, many project Guyton to be a perfect fit as a under-tackle in the 4-3 defense. Guyton is often able to play low against the opposing offensive lineman.
If asked to move inside, Guyton will likely need to add some bulk to his 6'3", 285-pound frame, as well as improve his hand use.
If the Bears have not found a defensive tackle to take prior to the fifth round, and Guyton is still available, he could be a good project-player the Bears can work with and help improve his game.
Streeter Lecka/Getty Images

Holding all the potential in the world, Florida's Jaye Howard has struggled to live up to what many believed he could be.
At 6'3" and 301 pounds, Howard has good size for the position, but may need to put on a few more pounds if he wants to be considered more as a run-blocker.
A good athlete with quick feet and great use of his hands, Howard was used all over the Florida defensive line and could see himself being a situational defensive tackle/pass-rusher at the next level. He often gets overpowered by single blockers and will need to add strength to become a better contributor.
Howard will likely be available come the fifth round, and if the Bears haven't yet addressed the position, it would be a perfect time to take a look at him.