2012 NFL Draft: The 1 Player Dallas Cowboys Could Trade Up for
April 23, 2012

Will the Dallas Cowboys actually try to trade up in the first round of the upcoming NFL draft?
Residing with the 14th pick there is almost no chance.
It's not that there aren't good football players in the top 10 selections, but rather that the cost of getting them is far too high. In other words, the Cowboys aren't going to trade up for a cornerback such as Morris Claiborne because they'll lose far too much in getting him.
Same goes for any other player ranked this high takeaway one.
If owner Jerry Jones wanted to really fire a shot then he could do so. There are some players on the current roster that could definitely be trade bait but it's impossible to know exactly who at this time.
But if we're talking about trading up, and for just a precious few slots I might add, then the Cowboys want a player who's likely to be an immediate difference maker. Or, they need a guy who can upgrade two positions and this means value—and owner Jerry Jones loves that!   
I openly admit that I am an outspoken supporter of the idea that Dallas has to get bigger and stronger in the middle of their defensive line. I have been riding this lonely bandwagon for at least five years, or as long as defensive end Jay Ratliff has been replacing Jason Ferguson, now retired.
This is an ancient problem.
As recently as two years ago, still a little high off that first round selection of Dez Bryant in 2010, I sat waiting and watching as the Cowboys inched closer to their second selection the following day. It seemed, for an instant, that Dallas might just fill this void on the defensive line.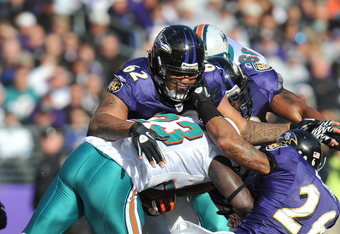 Larry French/Getty Images
Just knowing that the Cowboys were on the clock as Alabama defensive tackle Terrence "Mount Cody" was still available made my whole Saturday. You probably know how the rest of that story goes.
And in previous offseasons there were other names like Gabe Watson and Alan Branch, a couple of larger tackles from Michigan that both ended up in Arizona in—get this—back-to-back drafts! Watson and Branch enter the NFL in 2006-07, respectively, and suddenly the Cardinals are in the Super Bowl in 2008!
Yes, it pays to be big and physical upfront.
And so it goes, University of Memphis defensive tackle Dontari Poe is still occasionally mocked to Dallas with the 14th overall selection of some mock drafts. Walterfootball.com currently has Alabama safety Mark Barron mocked to the Cowboys but it had been Poe for about a month ending a couple of days ago.
Nick Eatman of dallascowboys.com also offers some good points on Poe as a potential first round selection.
Dallas has yet to schedule a visit with Poe and most of the pre-draft buzz right now centers around Barron or LSU defensive tackle Michael Brockers.
Poe's future NFL destination aside, here's what I can't figure out about this prospect.
The negative criticism on this large man seems very narrow in scope and limited in direction.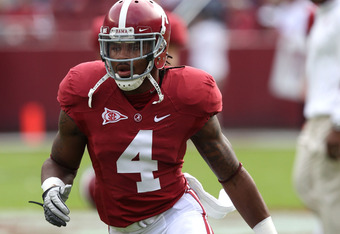 Mike Zarrilli/Getty Images
 My personal favorite is right here:
"Poe is just a workout warrior!"
How ignorant have we become when we can't even recognize work as a highly beneficial thing?
Seriously?
Let me spell this out for those that haven't thought about Poe in the proper context.
Most men built anything like Poe would avoid walking up a flight of stairs if they could. Think about how easy it would be for Poe to just be really big and lazy.
Chances are you don't even know anybody who stands 6'4" and weighs over 340 pounds. If you do then I'll bet you'd agree that they aren't exactly the most active person you know. Simply playing men's softball for a few years will show what I'm talking about here.
Having said all of that, it's for reasons I can't understand that Poe's workout regime is a negative.
Just to be clear, Poe ran the 40-yard dash in under five seconds at the February scouting combine and this seemed to do wonders for his draft stock—big shocker there. Better yet, he did 44 reps of 225 pounds when lifting which is, by most accounts, dang impressive.
Not if you are named Dontari Poe, however.
Then there's the next most common knock on Poe:
"He couldn't dominate at a small school!"
Well, this all depends on how you define the word "dominate".
As film shows, Poe is an extremely active player that absolutely required double coverage due to his quickness and strength. Poe was one of maybe two or three guys that Tigers opponents had to address and the rest was pretty much downhill. The reality is that, from a competitive standpoint, the University of Memphis football program is among the worst in the country.
It's important to remember that Poe is not being projected as a big-time pass rusher, a classification for several players coming out of college each year that does have a high bust rate.
Yes, there are some workout stats that might very well be misleading. A guy who runs really fast might not have very good hands or have any real coverage ability. In cases like these there can be disappointments, for sure. The name Alexander Wright comes to mind.
But when talking about strength and quickness, remember that these qualities almost always translate to the NFL.
If this wasn't the case then a guy like offensive lineman Larry Allen could not be in the NFL Hall of Fame following an illustrious career as the most dominant offensive lineman in league history. Strength was the clear difference between Allen and anybody who wanted to get passed him—and very few did.
Had you ever heard of Sonoma State prior to Allen's arrival in the NFL in 1994?
Yes, power is required in the deep end of NFL formations and this is a big reason why the Cowboys have yet to field a contending  3-4 defense despite the presence of arguably the best, pure pass-rusher in the league in outside linebacker DeMarcus Ware.  
In 2006, Baltimore defensive lineman Haloti Ngata was long gone before Dallas got on the clock in the first round and this has paid huge dividends for the Ravens. With that "Mount Cody" guy playing next to him, the Ravens fielded the third-ranked defense in the NFL in 2011, second against the run.
Remember that Baltimore lost in the AFC title game in New England on a missed field goal at the end of regulation that would have forced overtime had it gone through the uprights.
No, Dallas hasn't whiffed a conference championship game since Super Bowl XXX.
So, regardless of what some women will say, size does matter—and most agree that some strength is always welcomed.
Should the Cowboys trade up for Poe?
Absolutely.
I won't be holding my breath though.