Cincinnati Bengals Mock Draft: 7-Round Predictions, Final Edition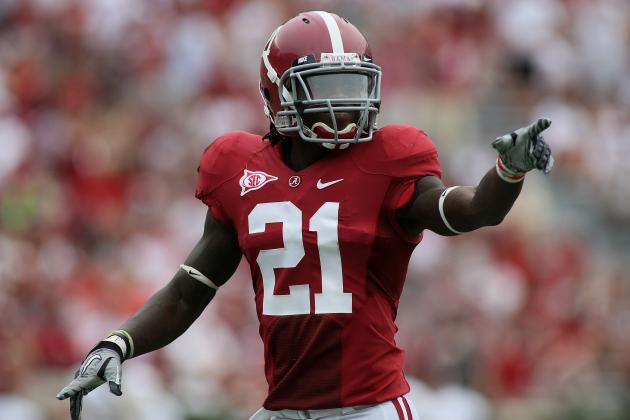 Greg McWilliams/Getty Images

The 2012 NFL draft is finally here. For Cincinnati Bengals fans it marks months of anticipation culminating in what may be the most important draft for the franchise in a decade or more.
The Bengals have a well-documented variety of needs heading into the draft. Chief among these needs is a starting guard and running back, along with secondary and defensive line depth.
The front office has a big board set and ready to go. With two first-round picks, the team is set to find two quality starters in the first round. They also have the luxury of taking the best player available if they so choose.
It'll be hard to repeat the magic of last year's draft when the team found franchise players with their first two picks in quarterback Andy Dalton and wide receiver A.J. Green. Should the team manage to replicate that success this year, they'll likely be headed for a playoff berth again.
Predicting exactly what Cincinnati will do in the draft is impossible. In fact, this has been one of the hardest years to predict in recent memory. There isn't a clear-cut candidate for any pick the Bengals hold, but positions of need are known.
With that in mind, here is the final edition of my seven-round predictions for the Cincinnati Bengals:
Begin Slideshow

»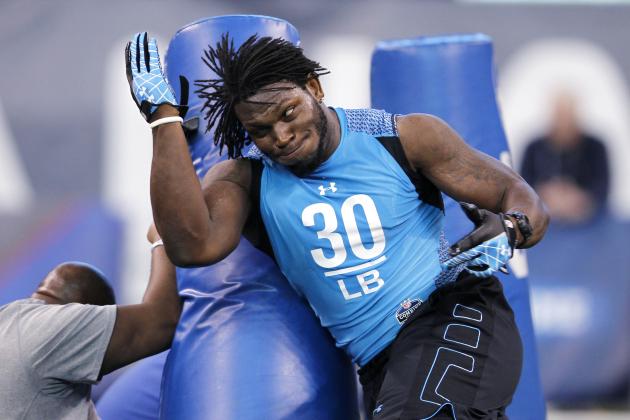 Joe Robbins/Getty Images

The Bengals have a few options here but Courtney Upshaw is looking like the pick. He fills a need and the team has shown a lot of interest in him. Upshaw screams of a typical Marvin Lewis hybrid pass-rusher pick, and he won't get Upshaw if he doesn't take him now.
Upshaw is a freak athlete that projects as a 3-4 outside linebacker and a 4-3 defensive end. For Cincinnati, he'll rush the passer from either position and join Geno Atkins, Carlos Dunlap and Michael Johnson to complete a formidable trio of pass-rushers.
Upshaw is a bit small but his incredible combination of strength and speed allow him to stay on the field for any down and distance. He'll fit right in the with the Bengals scheme, and it's exciting to think what Mike Zimmer can get out of him right away.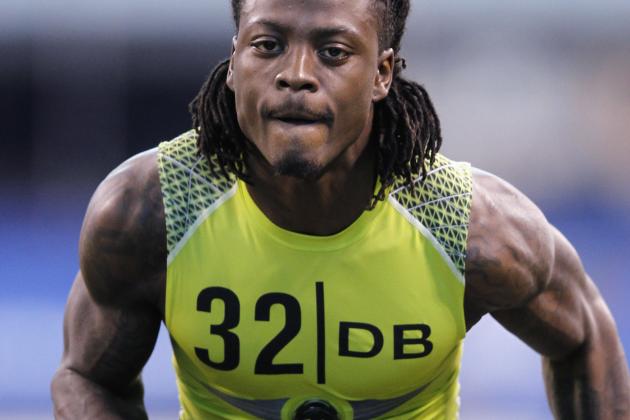 Joe Robbins/Getty Images

The Bengals have done an adequate job of adding or re-signing cornerbacks in free agency to give Leon Hall time to recover from his torn Achilles. That doesn't mean the team isn't looking at options here in the first round as well.
Dre Kirkpatrick is the best corner left on the board, and he fits the Bengals defense perfectly. He has the ability to come into the game at corner or safety, something Mike Zimmer and company love to do, which they did with Gibril Wilson last season.
Kirkpatrick is a massive, physical corner that excels in man and zone coverages. He might not start right away, but he'll provide incredible depth and will learn from Leon Hall during his rookie season before becoming the starter after next season.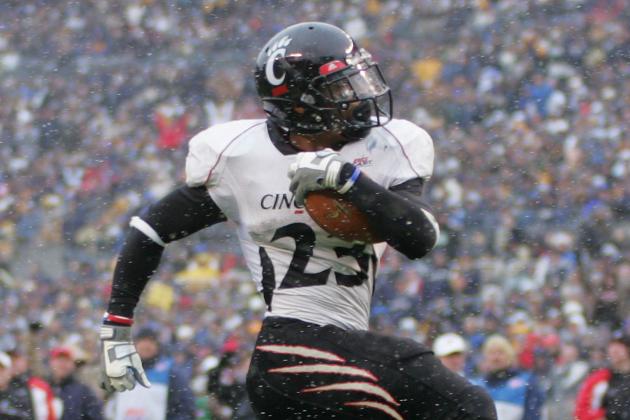 Jared Wickerham/Getty Images

The Bengals need to find a starting running back early and now is the last chance they'll have to find a back that can carry the load. It's true the team is turning to a committee approach at the position, but BenJarvus Green-Ellis and Bernard Scott aren't ideal starters.
Isaiah Pead fits what the Bengals are looking for perfectly. Pead is a multi-threat back that can run between the tackles or cut outside. He also catches the ball with relative ease, a trait that is very important in the West Coast offense.
Pead is a player that can break a game open on any play. He'll fit in nicely with the other two aforementioned backs and split time. He also happens to be a local product the team has shown a lot of interest in this offseason.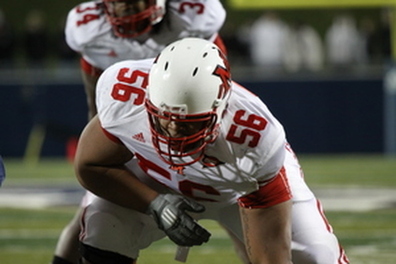 With the way the draft has played out thus far, the Bengals are quickly running out of ways to find a starting right guard. Luckily for the Bengals, Brandon Brooks is still on the board.
Brooks is an absolute mammoth of a guard standing at 6'5" 345 lbs. He's a mauler-type offensive lineman that uses his impressive frame and strength to physically dominate anyone that gets in his way. He has some issues to iron out with pass protection but it's nothing good coaching can't fix quickly.
The Bengals are notorious for drafting massive offensive linemen and consistently have one of the heaviest lines in the league. Placing the 345-lb Brooks next to the 350-lb Andre Smith means the Bengals shouldn't have a lot of problems running to the right side of the line this upcoming season.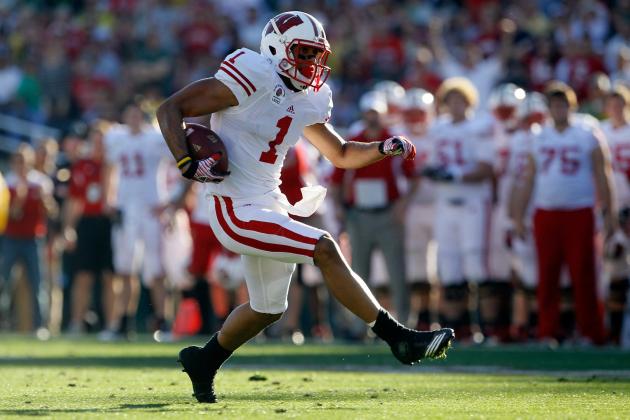 Jeff Gross/Getty Images

The Bengals enter Round 4 still needing to find a No. 2 receiver. The team is confident in what they have in the receiving corps already but adding another talent who fits what they are looking for couldn't hurt.
Nick Toon is an ideal candidate to be the possession receiver the Bengals need. He measures in at 6'2" and 215 lbs and put together a prestigious career at Wisconsin. He's a physical receiver that enjoys going over the middle and blocking in the running game.
The best part about Toon? His father Al Toon was a Pro Bowler for the New York Jets during his nine-year NFL career which was tragically cut short due to multiple concussions. Nick Toon has great football in his blood, and playing across from A.J. Green could be an ideal way to get the most out of Toon.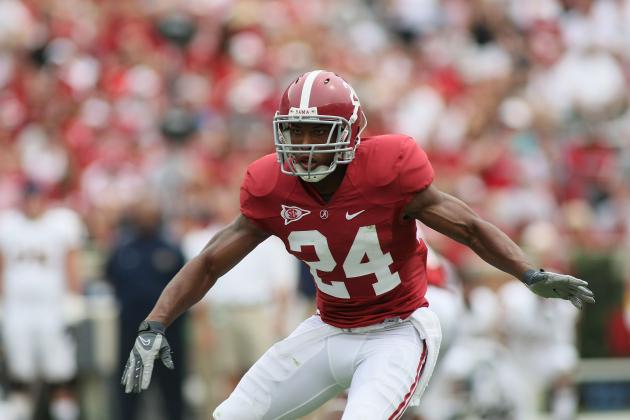 Greg McWilliams/Getty Images

The Bengals need more youth at the cornerback position. The only corners under contract after next season are Jason Allen and Leon Hall (not counting any prospects taken before this point).
DeQuan Menzie is an amazing value here should he fall. Menzie was the starter opposite of the Bengals' first-round selection Dre Kirkpatrick while at Alabama. He's more of a natural corner than Kirkpatrick and has the ability to one day develop into an elite player.
Menzie excelled while playing across from Kirkpatrick. Teams would typically throw at Menzie to avoid throwing at Kirkpatrick and Menzie performed admirably. He's a great pick here that could develop into a significant contributor as early as next season.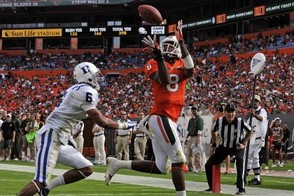 The Bengals still need an insurance policy at the wide receiver position. Jordan Shipley is coming back from a significant injury, Armon Binns and Ryan Whalen are unknowns and Andrew Hawkins is a situational player at best.
Tommy Streeter is an amazing athlete that would be the deep threat the Bengals have been missing dearly since the passing of Chris Henry. The 6'5", 220-lb receiver runs a ridiculous 4.40 40-yard dash with ease, and it translates well onto the field.
Streeter is a freak that could easily come in and be a deep threat for the Bengals right away. On film he's a player that doesn't worry about taking a hit and excels when run-blocking as well. It's hard to figure out why his stock is that of a fifth-rounder, but the Bengals aren't complaining. Streeter and A.J. Green could cause a few headaches for opposing teams next year.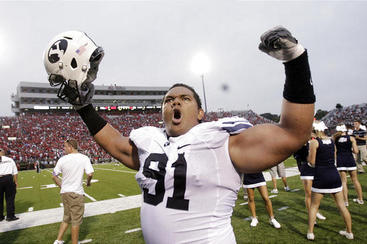 The Bengals need more depth along the defensive line, particularly at the tackle position. Pat Sims finally re-signed with the team, but only on a one-year deal. The team needs another run-stuffer in Sims' mold should he get injured or not return after next season.
A good candidate for that role here is Hebron Fangupo. Fangupo is a big tackle weighing in at 325 lbs and was primarily used in college as run-stopper. He'll do the same for the Bengals.
Fangupo won't be making plays in the backfield, but he'll come in on goal-line and short-yardage situations and be effective. He's a good value here and fills a need looking toward the future.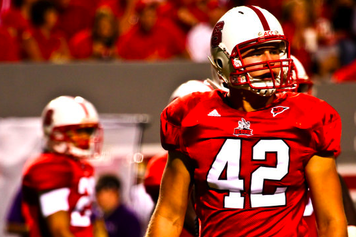 With Rey Maualuga in trouble with the law yet again and Brandon Johnson yet to re-sign, the Bengals need some more depth at the linebacker position. Roddrick Muckelroy is returning from injury and Dan Skuta recently signed, but more depth is important.
Audie Cole is a highly productive prospect that stood out while at North Carolina State. He was praised in college and at the scouting combine for his outstanding personality and leadership qualities.
Cole is versatile enough to fill in at all linebacker spots and would be a welcome addition to the defensive unit. He won't start next year but he could find himself in a rotation once he develops more.