NFL Draft 2012: Predicting Impact of Rookies on the Gridiron and in Madden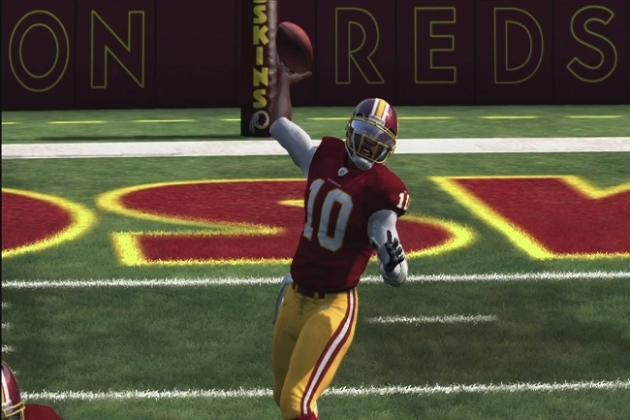 Sports and video games are two of my biggest passions, so naturally, sports video games blend the passions together perfectly. The purchase of Madden, NBA 2K12, MLB the Show and other titles, are as much a part of a new sports season as the real games in my house.
The more realistic the games become, the more closely the two worlds relate.
My mock drafts have evolved over the past few months, but as the draft draws near, the picks have become more and more solid.
Like other fans, I begin to picture the prospects on their potential new teams—and of course, I think about their Madden impact as well.
How would Andrew Luck effect the Indianapolis Colts' roster in real life? What will it feel like to see him rock the No. 12 jersey in Madden?
What type of impact will his presence in Indy have on sports gamers? Does he make the Colts a more attractive pick for gamers outside of Indianapolis?
I aim to answer those questions and a few more over the course of this slideshow.
This top 10 uses Mel Kiper, Jr's Mock Draft 4.0. I have created each prospect in Madden '12, produced a video of them in action, and analyzed their potential impact in the real and virtual world.
Take a look at the result.
Begin Slideshow

»
It's a foregone conclusion that Andrew Luck will be selected by the Colts with the top pick in the draft. Here is how Luck will impact Indy.
In Real Life
Luck gives the team an identity, but as great as he may ultimately become, he'll have his ups and downs as a rookie. The Colts don't have many weapons, but he should show fans some flashes of what is to come.
In Madden
There will be some intrigue because he's the No.1 pick in the draft, but it won't last long. The Colts are going to be largely boring and challenging to play with.
I don't expect many gamers outside of Indianapolis to chose them online, or in their franchise modes.
The Redskins made a substantial investment to be in the position to draft Robert Griffin III, and I believe they will make him the pick—obviously, so does Mel Kiper, Jr.
In Real Life
RG3's situation is a little bit different than Luck's. He may not start from day one, as the Redskins have Rex Grossman to turn to as a starter.
There is no doubt, RG3 would represent the future—but when does the future begin?
In Madden
Almost anyone that plays with the Skins on Madden will be putting RG3 in the starter's spot on the depth chart—immediately.
He'll represent an awesome dual-threat, and he's a lot more fun to play with than Grossman.
Kiper has Kalil going to the Vikes, as do I, though there have been some whispers about Minnesota considering Justin Blackmon and Morris Claiborne with this pick. That is understandable, as WR and CB are also needs—but they aren't as safe a pick as Kalil.
The Vikes gave up 50 sacks in 2011, so they need to upgrade their offensive line immediately.
In Real Life
Kalil would represent an immediate upgrade to a vital position, and he could help the evaluation and progression of Christian Ponder. It would be the smartest and safest pick for the Vikings to make.
In Madden
Who cares about O-Lineman in Madden right?
Well, if you're playing the guy that loves to take control of Julius Peppers and Mario Williams, it helps to have a solid LT.
Don't expect Kalil to be Joe Thomas on Madden 13, but he'll make playing with the Vikes a little easier in the pass game.
Kiper has Richardson going to the Browns, and I agree—but I think it's a bad idea. Cleveland would be better off trading down, grabbing a WR with their highest pick, and selecting a RB in the second or third round.
In Real Life
The Browns need a play-maker at receiver, not a running back. Richardson is going to be a solid pro, and he'll have a decent season. But the Browns will still be 6-10 or 7-9 at best.
In Madden
T-Rich makes the Browns a bit more appealing. He should have a nice Trucking rating, but gamers will still be victimized by the lack of weapons. Unless the Browns take Kendall Wright with their second pick in the first round, gamers that chose the Browns may feel Colt McCoy's pain.
The Bucs defense needs help at several positions, but Claiborne is nice insurance for what could be a departing Aqib Talib.
In Real Life
Claiborne is a dynamic prospect at corner. He has great ball skills and instincts. He would be a solid pick for the rebuilding Buccaneers.
In Madden
Not much is going to make the Bucs popular outside of Tampa. Claiborne may help you deal with that elite receiver if you're brave enough to run with the Bucs—but that's about it.
It seems some teams have cooled on Blackmon, but Kiper still feels the Rams will take him here. I think it would be a strong pick as well.
In Real Life
Sam Bradford needs a No. 1 receiver, and that is what Blackmon is. His presence could take a lot of pressure off Steven Jackson and the running game.
In Madden
The Rams could be a more popular option with Blackmon. Jackson is already a stud at RB, and provided the powers that be give Blackmon better than average hands and speed, he would represent a weapon in the passing game.
The defense already has decent pass-rushers in Chris Long and Robert Quinn. Blackmon would make the Rams a sleeper Madden pick.
Ingram could be a star or a bust. He is an amazing athlete and his 6'2", 270-pound frame lends itself to three possible positions.
In Real Life
The Jags could use a WR like Blackmon, or even Michael Floyd from Notre Dame. But they may not be able to resist Ingram's upside.
In Madden
For gamers that like to take control of dynamic edge-rushers, Ingram could make the Jags worth it. For me, it won't be enough—Blaine Gabbert was terrible in the game last year, and that figures to remain the case.
Kiper believes this is a smart pick for the Dolphins, but I disagree. He doesn't believe Tannehill is an immediate option at QB, but he believes he can be a solid player down the line. I think the same thing about Kirk Cousins, and he'll be available much later.
In Real Life
Tannehill will likely sit, and only play in mop-up-duty for the Dolphins this year. He certainly has some tools, but he is better suited for the second round in my opinion.
In Madden
Tannehill will be much better on Madden in 2012 than he will be in real life. His athleticism will force player raters to give him solid speed. That will make him a weapon, but the Fins still have no receivers.
Poe was a beast at the combine. If the Panthers take him here, they will be hoping he is equally beastly in pads. If he is, he could be one of the draft's biggest impact players.
In Real Life
Poe could have a huge impact on the Panthers' defense. Placing him in the middle of the defensive line could be the single biggest way to improve the unit.
Hopefully he'll live up to the combine hype.
In Madden
Poe's speed and strength should get him impressive ratings initially but we'll see what happens after the first update. If he maintains his ratings, he and Charles Johnson could make the Panthers even more of a popular choice than they already are with Cam Newton.
Reiff is listed here by Kiper, and I think this would be the best selection for the Bills. They could draft a receiver here, but my philosophy is always to make the trenches priority.
In Real Life
Reiff would likely start from day one and upgrade the Bills' pass protection. The tackle position is the team's weakest area.
In Madden
Though Reiff's ratings won't likely be anywhere near Kalil's, he could have the same effect for Madden players who play a franchise mode with the Bills. They may have to wait a couple seasons for his overall rating to eclipse 80.
Follow Brian Mazique
Follow Franchiseplay