MLB Free Agent News: What's the Latest on Who's Targeting Roy Oswalt?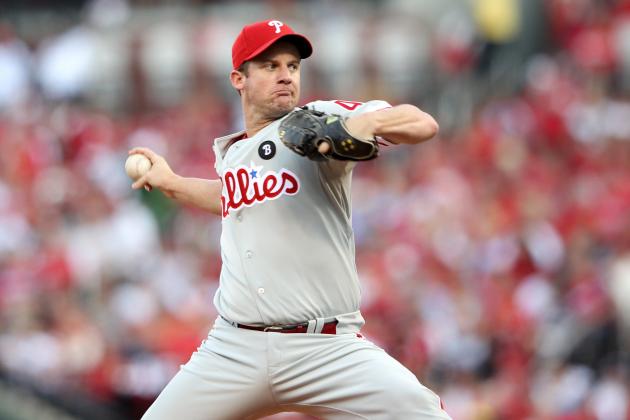 Jamie Squire/Getty Images

Just a couple of months ago, Roy Oswalt was the fop free agent left on the market, and it had come down to two teams—the St. Louis Cardinals and the Texas Rangers—vying for his services. Following the anticipation and ensuing letdown after Oswalt revealed that he planned to wait until midseason to sign, there was little to report on the Oswalt front aside from the occasional tidbit or two.
Now, though, more information has come out, as a couple more teams have once again reached out to Oswalt to see if they can bring him onto their squads and immediately bolster their starting rotations, according to Ken Rosenthal of FOX Sports. Whether Oswalt will sign with either of those teams—or anyone, for that matter—remains to be seen.
We do know that Oswalt would like to sign somewhere where he's in the midst of a playoff race, and we know that he'd also like a good chunk of change from whoever signs him. What we don't know is just how much change we're talking about, or if the money would prevail over the standings of a team for Oswalt.
As I've already covered, recent news has emerged as to two more teams who have interest in Oswalt (I'll get to it in the slideshow unless the anticipation is too much for you to bear, in which case you can click the second hyperlinked phrase), but as for the other teams listed in this presentation, most will be actual reports, but some could be speculation rather than fact. I'll distinguish which is which, though, so no need to worry, and I'll also briefly say why Oswalt would be a good fit for said team.
Let's get started.
Begin Slideshow

»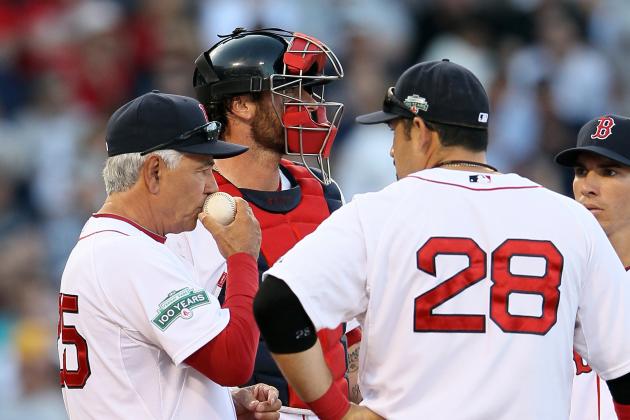 Elsa/Getty Images

One of the two teams mentioned in the previous link, the original author/presenter (the initial news was presented in a video form), FOX Sports' Ken Rosenthal, might have said it best: the Red Sox's need for starting pitching is obvious.
Fronting Beantown's rotation are Jon Lester and Josh Beckett, two very solid options, and Lester can be argued to be a major league ace. However, both Lester and Beckett have had very shaky starts to their seasons, and it only gets more unsettling from there. Clay Buchholz follows the top two, preceding southpaw Felix Doubront and finally setup-man-turned-starter Daniel Bard rounds out the staff.
In almost any other season, that rotation could be among the top. And though we're still only two weeks into this young 2012 season, things have looked ugly in Boston—and that's an overstatement, too. It's looking horrendous.
Lester is 0-2 with a 5.82 ERA, Beckett is 1-2 with a 5.03 ERA, Buchholz is 1-1 with a 9.00 ERA...need I say more? When your top three starters in the rotation all have ERAs of 5.00 or above, that's an awful statement to make.
I know I didn't mention Doubront and Bard, both of whom have been better than their fellow rotation members. But the point still stands: when the top three in your rotation is worse than your No. 4 and 5, that's never a good sign.
Oswalt would be a key player in Boston. With his addition to the team, manager Bobby Valentine could move Bard back to the bullpen as a solid closer—a role they lack in a terrible bullpen—and Oswalt could slot in as the third or fourth starter.
This could be a great move that would work out for both sides, but one has to wonder how much money it would take to get Oswalt to move up north, farther than Philadelphia. With a team ERA of 6.68 that's dead last in the majors, the Red Sox could use virtually anybody, and it'd do them good to bring in a guy like Oswalt. But is he interested considering all the issues this team has had? We'll have to wait and see.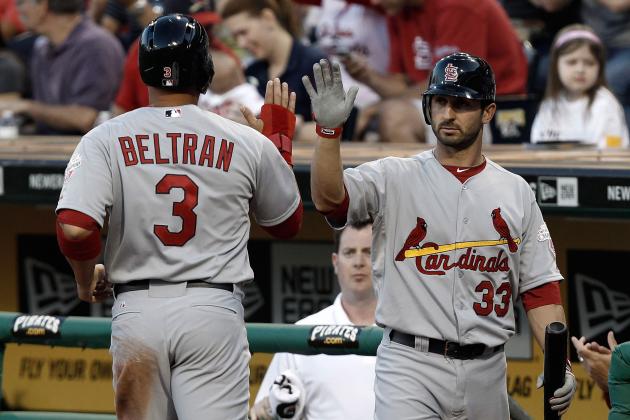 Jared Wickerham/Getty Images

The other team Rosenthal mentioned in his weekly Full Count video, the St. Louis Cardinals are polar opposites of the Red Sox. They are in first place in their division by a solid four-game margin (the Sox are in last and are out by 4.5 games right now) and have few holes to fill.
However, one of the more prominent holes, if not the most so, is the starting rotation.
The Cards have a decent staff on paper with Chris Carpenter, Adam Wainwright, Jaime Garcia, Kyle Lohse and Jake Westbrook. The problem here, though, is that Carpenter's hurt, and while Lance Lynn has filled in nicely for the interim, there's a reason to be concerned about Wainwright, who was expected to have better results returning from Tommy John surgery.
Don't get me wrong, the rest of the team's rotation has looked fantastic and is a huge reason for the team's success thus far.
But with Wainwright falling well below expectations, even after Tommy John surgery, it's not a good thing to see. His 0-3 record and 9.88 ERA are extremely disconcerting, and to think that the 2010 NL Cy Young Award runner-up had his ERA above 10.00 earlier in the year is troubling. Keep in mind that his ERA now is in just 13.2 innings pitched as well.
Oswalt would be a great fit in St. Louis. He'd be close to his native Mississippi (baseball team-wise, anyway) and could complete the rotation. It would be a shame in some ways, though, as Lynn would likely be the candidate to move back to the bullpen first (or Westbrook—what do I know?), and he's having a stellar start to the season.
But with the indefinitely injured Carpenter and the struggling Wainwright, Oswalt's arrival would be a blessing to the rest of the staff.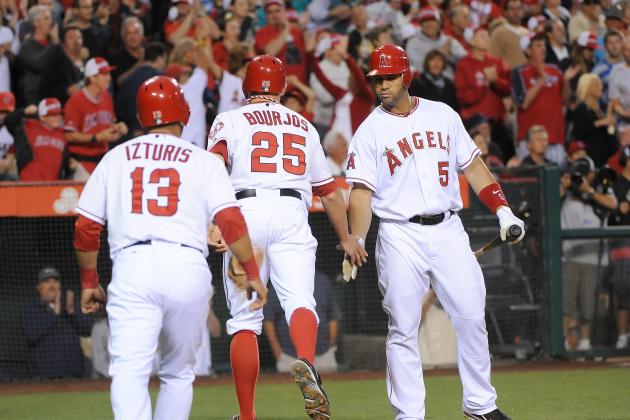 Lisa Blumenfeld/Getty Images

Frankly, the Los Angeles Angels of Anaheim (who I'd love to call the Anaheim Angels because it's shorter and makes more sense) could use help in almost any department right now, let alone starting pitching.
Jered Weaver leads the Angels' starting staff, and considering he placed second in the AL Cy Young Award voting last year, he's a great guy to front the rotation assuming he continues his momentum from last season. Then there's Dan Haren, a guy I'm extremely high on, followed by free-agent acquisition C.J. Wilson, Ervin Santana and Jerome Williams. The team's ERA isn't great at 4.34, but hey, there are much worse around the sport.
What's more baffling than the fact that Albert Pujols has yet to hit a home run this season is that the team's batting average sits at .260, seventh in the majors. Yet why is the team sitting at 6-10 and dead last in the AL West? Furthermore, why are they seven games out of first? This team isn't and shouldn't be this bad...right?
Enter Oswalt. The Angels were at one point considered the "front-runner" to sign him, though the validity to that report is questionable. Oswalt, who could bolster the back end of the Angels rotation by a significant margin, could be a great option for the Halos.
He'd be pitching in the American League (like in Boston), so he wouldn't have to hit (unless that would be a problem for him?) and that reduces injury risk. In addition, he'd have the offense to support him in almost every start. That's all great stuff for a pitcher.
If the Angels signed Oswalt, the fate of Jerome Williams would be unclear. Would he report to the bullpen, Triple-A or elect free agency (if he's allowed? I'm not sure on that one)? It would be an interesting chain of events, but with the Angels the AL favorites for some on paper, Oswalt would only make the team that much scarier.
If he pitches effectively, he could lead the team to have a better rotation than the Phillies or even the Washington Nationals, whose 2.34 team ERA leads the majors.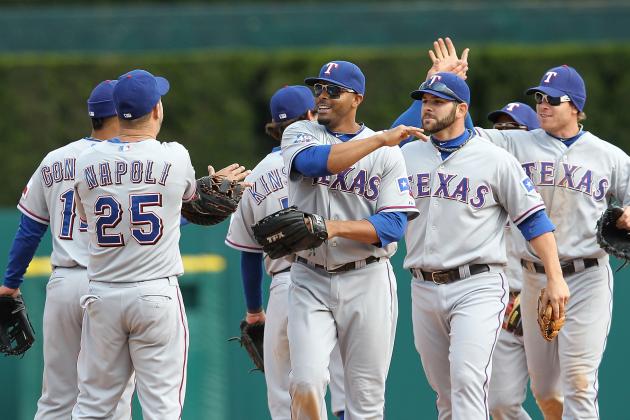 Leon Halip/Getty Images

Earlier in the offseason, it was between the Cardinals and Rangers. The Cards decided to go with internal options, while the Rangers went out and signed international pitching sensation Yu Darvish to a $60 million contract after posting a record-setting $52.7 million or so posting fee just to negotiate with him.
Right now, it's somewhat difficult to say who would have the last laugh. Darvish hasn't pitched to expectations, yet a slow start wasn't exactly out of the question for him, either. And then there's the Cardinals, who have had issues with Wainwright and Carpenter.
However, given that the Rangers' staff ERA right now is 2.48, tops in the AL and third in the majors only to the Phillies and Nationals, I think it's safe to say that the Rangers are content with what they've got.
A rotation consisting of Colby Lewis, Derek Holland, Darvish, Matt Harrison and former closer Neftali Feliz, is not a rotation that would stick out at you as one of the league's best. They've defied the odds, though, and along with their incredibly strong offense, the Rangers are one of baseball's most complete teams.
Feliz has had a great start in the rotation, as had Harrison once again. But what if it doesn't work out for either one, especially Feliz? Does he go back to closing, where he excelled in 2010 as the AL Rookie of the Year, and in 2011, where he still had success? What do the Rangers go with in such a situation?
If Oswalt were to be pursued again by the Rangers, it could lead to an interesting chain of events in Texas. He'd instantly push their staff to a new level, and they could become undisputed World Series favorites. But who knows? Maybe they're not interested at all.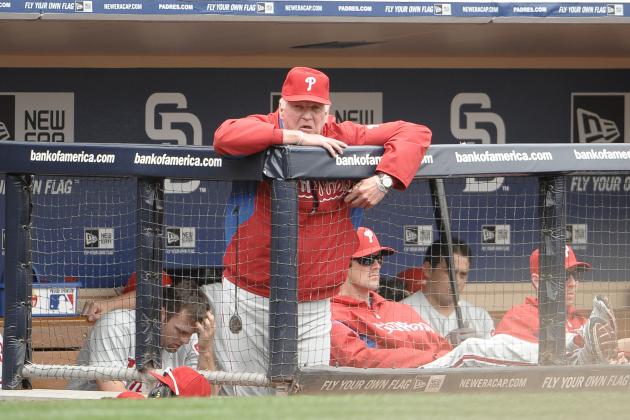 Denis Poroy/Getty Images

Would a return to Philadelphia be in the cards for Oswalt?
The start to the 2012 season has not been a good one by any means for the Philadelphia Phillies. They currently sit at the bottom of the NL East at 7-9, yet despite the second-best team ERA in baseball at 2.46, their offense can't get it together. Even with Jimmy Rollins (who's been hot), Shane Victorino, Hunter Pence and Juan Pierre, who's had a great start to his 2012 campaign, this Phillies team just isn't clicking at the plate.
Although Cliff Lee recently hit the 15-day DL with a left oblique injury, this team's rotation is still among the top in the National League. Headed by workhorse ace Roy Halladay, the staff also has Lee (when healthy), impending top free agent Cole Hamels, sophomore Vance Worley and veteran and also impending free agent Joe Blanton. Until Lee returns, swingman Kyle Kendrick will take his place.
But what if it's May, June or even July and the Phillies are still far out of first place? Would they trade Blanton (assuming he has value), or even Hamels for a bat and/or some prospects? Or might they trade Victorino, also a free agent after 2012, for a younger bat, another starting pitcher or even prospects as well?
This team is in win-now mode, and they'll do whatever it takes to get back to the World Series and get guys like Halladay and Lee the rings they so deserve.
Oswalt might be out of the question now in Philadelphia since Blanton isn't really a bullpen pitcher and Worley's success in the rotation has been too great to demote him. But if Blanton or Hamels (which would be a real shame) were traded for a bat, there would be room for a guy like Oswalt to step in and make a playoff run with the Phillies like he did when they acquired him at the 2010 trade deadline.
With the team's "Four Aces" reunited once more (if Blanton were to be the odd man out) and Vance Worley, that could be a scary rotation all around once more. And if Ryan Howard and Chase Utley both return and the offense steps it up again? The Phillies would instantly be NL favorites, if not favorites to win it all once more.