St. Louis Rams: Friday's Rams News and Notes at Noon
April 20, 2012

Welcome to Friday's St. Louis Rams "News and Notes at Noon", the one-stop destination for all major Rams headlines and information of interest to Rams Nation. 
Bradley Fletcher Ahead of Schedule
It was very good to hear about Bradley Fletcher being back on the field for the just-completed minicamp at Rams Park in Earth City.  
By all indications, and Fletcher's own words, he is ahead of schedule following his second season- ending ACL injury in three years. 
Jim Thomas of the St. Louis Post-Dispatch updates Fletcher's status here.  According to Thomas' article, Fletcher says he is progressing nicely: 
I'm ahead of schedule right now and things are going well. I'm back out here in individual drills with the team. It feels good being with the secondary, getting back in the drill work, catching balls. My knee's feeling really good. It's holding up right now.

I know I'll be ready for training camp.
Training camp is still about three months away, So Fletcher indeed looks to be on track to be ready to roll when camp opens in July. 
Fletcher Cox to St. Louis?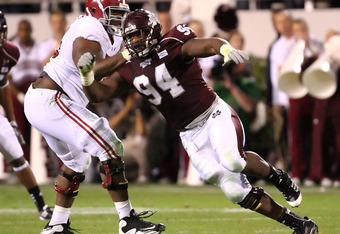 Jason La Canfora contends that Mississippi State defensive tackle Fletcher Cox makes a lot of sense and shares his reasoning for that in this piece for nfl.com. 
Cox is considered the top DT in the draft by many evaluators and continues to see his stock soar. For more on Cox, who is now rated the No. 7 overall prospect by cbssports.com, check here. 
Cox is perhaps the most NFL-ready DT, and only Dontari Poe of Memphis and Michael Brockers of LSU seem to possess as much talent as he does. 
For much, much more on what I feel Cox could bring to the Gateway City, click here. 
Rams Offensive Line Coach Paul Boudreau Weighs In on Jason Smith 
According to an article via Jim Thomas of the St. Louis Post-Dispatch, St. Louis' new offensive line coach, Paul Boudreau, is focusing on some technique issues with 2009 No. 2 pick Jason Smith. 
Boudreau had much to say in regard to Smith in the above-linked article: 
He's a big athletic guy. What we're trying to do with him is we're going to try to change his technique a little bit. He's so intense in everything he does. He does everything in a hurry.

I'm trying to show him some patience. And trying to get him to use his hands more than leaning into blocks. Just trying to slow him down. Trying to make the game slower by using good technique as opposed to going out and killing every guy you play.

Because when he goes out there, if he hits (the defender), he hits him. But if he misses, it's a dead shot on the quarterback. So we're trying to get him to think a little bit more about his balance and his base, and where he is at the collision point. And not always try to go out and try to knock a guy out. Just block a guy. Don't knock him out.
Smith, who is returning from a season-ending head injury for the second time in three seasons, is excited to be back and is ready to step him game up.
Rams Must Handle Their Own Business
According to Rick Venturi for 101sports.com, it is more about St. Louis handling their own business in regard to the upcoming season rather than who is or is not on the 2012 schedule. 
Venturi shares his take on NFL schedules in general via the above-linked article as well as his view of the Rams' upcoming slate. 
Media Member Predicts Rams Record
Alvin Reid, in a submission for 101sports.com, predicts the Rams' record for the coming campaign.
Reid offers a game-by-game breakdown of the St. Louis schedule and shares brief tidbits on each contest in the above-linked piece.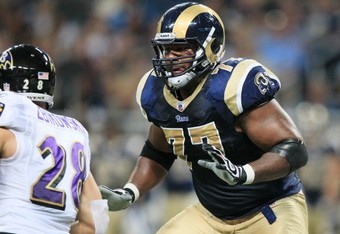 Have a great day as always, STL Rams Nation.
Shane Gray covers the St. Louis Rams daily as a Featured Columnist for Bleacher Report. You are encouraged to check out the rest of his work here. Gray also owns and operates stlramscentral.com.