Los Angeles Dodgers: Matt Kemp's Quest for a 50/50 Season
April 19, 2012

Victor Decolongon/Getty Images
Los Angeles Dodgers center fielder Matt Kemp turned a few heads this offseason when he publicly stated his goal of reaching the unprecedented 50 home run, 50 stolen base plateau this season. The odds certainly aren't in his favor, but the fact that Kemp mentioned it speaks volumes about his improved approach to the game. 
The end result for the Dodgers and their fans could be the greatest single season in the franchise's storied history.
Kemp's raw skills have awed Major League scouts, analysts and fans for the past six seasons. But his lackluster 2010 left many feeling that he'd be another wasted talent lacking the mental toughness and work ethic to put it all together.  
Kemp quickly put those fears to rest in 2011 by posting career bests in every major batting category,  coming only one home run shy of becoming just the fifth player to reach the 40 home run, 40 stolen base mark in the same season.  
He's gotten off to an even hotter start in 2012, hitting at a .451 clip with six home runs, 18 runs batted in and 15 runs scored through the Dodgers' first 13 games. While Kemp's current pace will most certainly cool down as the season progresses, the 50 home runs seem like a distinct possibility.
The Dodgers All-Star has only one stolen base on the year in just three attempts, but it's hard to run when 10 of your 21 hits have gone for extra bases and the equally hot Andre Ethier is driving you in on a regular basis.
Ultimately, those are just two of the primary factors that will make a 50/50 season a near impossibility. He's also not much of a singles hitter, and doesn't walk at a high enough clip to increase his base-stealing opportunities.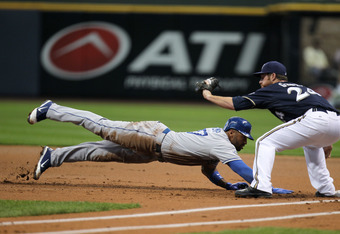 Mike McGinnis/Getty Images
Strangely enough, the Dodgers' winning ways may be the biggest inhibitor to his historic quest. It was easy to let Kemp run wild early last year when the team was losing and Ethier was struggling behind him.
But the team's post All-Star success from 2011 has carried over to a 10-3 start this season. The winning definitely affected Kemp's stolen base totals as he went from 27 steals in 30 attempts before the All-Star break, to just 13 steals in 21 attempts thereafter.
Kemp has responded to the added pressure that came with his eight-year, $160 million contract extension he received during the offseason, and the recently resolved ownership situation has led to renewed hope for the Dodgers. You can bet that he won't put his individual goals above the team's success, even if it costs him a shot at history.
Contact Geoff at geoff@popflyboys.com, follow him on Twitter @snglemarriedguy and read more on sports and pop culture at popflyboys.com