Nicolas Jean-Baptiste: 6 Biggest Strengths and Weaknesses of NFL Draft Prospect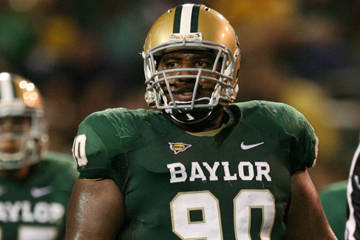 Nicolas Jean-Baptiste is one of those guys who you just can't help but root for.
When it comes to the largest guys in this year's draft class, Jean-Baptiste is near the top of that list, but he is also a motivated individual who plays with toughness when out on the field.
If Jean-Baptiste is going to be drafted, it will likely come in the later rounds because there are aspects of his game that he needs to improve on in order to be successful at the NFL level.
With that said, let's go ahead and break down six strengths and weaknesses of Nicolas Jean-Baptiste's game.
Bleacher Report Style!
Begin Slideshow

»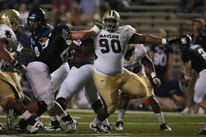 Jean-Baptiste has weighed in at anywhere from 310-335 pounds, but he uses his weight well from the defensive tackle position.
This former walk-on was a disruptive force on Baylor's defensive line last season, totaling 36 tackles, nine of which were for a loss. He also added four sacks, which are all very impressive numbers from a defensive tackle playing in the Big 12.
However, as good as Jean-Baptiste is at disrupting the passing game, he is equally as effective against the run. He uses his mass to hold his ground against the rush and often stops opposing backs trying to run up the middle.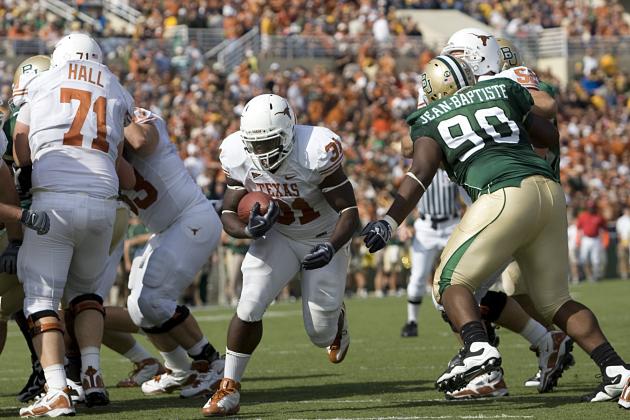 Tom Pennington/Getty Images

Defensive tackles aren't expected to be fast by any means.
But when it comes to Nicolas Jean-Baptiste, he is beyond slow, which could be an issue for him at the NFL level.
Jean-Baptiste did not take part in the NFL Combine, but he did get tested at Baylor's Pro Day, where he ran the 40-yard dash in 5.41 seconds. To understand how slow that is, Fletcher Cox (Mississippi State) and Jerel Worthy (Michigan State), who are considered to be two of the three top defensive tackles in this year's NFL Draft, ran the 40-yard dash at 4.79 and 5.08 seconds respectfully.
Even Michael Brockers, who is considered to be the top DT in the draft, but was widely criticized for his awful 40-yard dash time, ran faster than Jean-Baptist in the drill.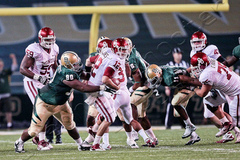 Every defensive tackle expected to be selected in this year's NFL Draft has the strength and power to get into opposing backfields. But it is what they do once they get there, that can really make the difference.
In Jean-Baptiste's case, not only is he able to force his way into the backfield, but he has great tackling form once he gets there. It's rare to see this guy get past an offensive lineman and then not be able to bring down the opposing player.
There are those who rely on their size and strength to bring down quarterbacks and running backs, but Jean-Baptiste has the needed skill set to do it the right way.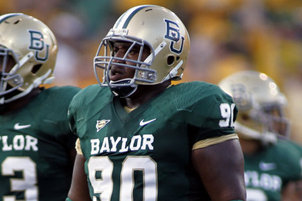 Nicolas Jean-Baptiste is a big boy, but he's not very strong with his upper body.
This former Baylor standout has short arms and it shows in the way he plays at times on the field.
During the lifting portion of Baylor's pro day, Jean-Baptiste only put up 17 reps on the bench press, which is not very impressive for a guy of that size.
Cox (Mississippi State) and Kendall Reyes (UCONN), who again are considered to be two of the top defensive tackle prospects in this year's draft class, put up 30 and 36 reps respectively.
Jean-Baptiste will have to work on his upper body strength in order to be successful at the NFL level next season and beyond.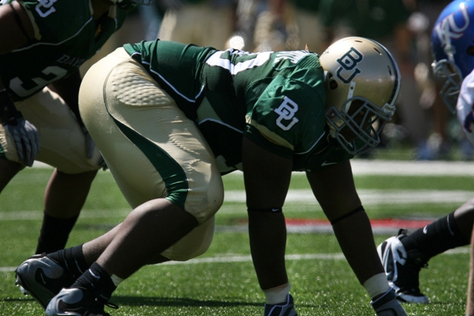 Any player who weighs upwards of 330 pounds would likely work best as a nose tackle in a 3-4 defensive system, but Jean-Baptiste has the ability to play in both a 3-4 and 4-3 defensive scheme, which coaches love to see.
Not only do coaches love to see this type of versatility, but it also helps his draft stock because he can fill a need in multiple schemes, while other players are specifically designed for just one defensive system.
Every player who lined up opposite of Jean-Baptiste in the East vs. West Shrine Game had trouble stopping him. He is great at bull-rushing opposing offensive linemen and getting under their pads to push them backwards.
This guy's ability to fit multiple defensive systems will certainly help him going forward.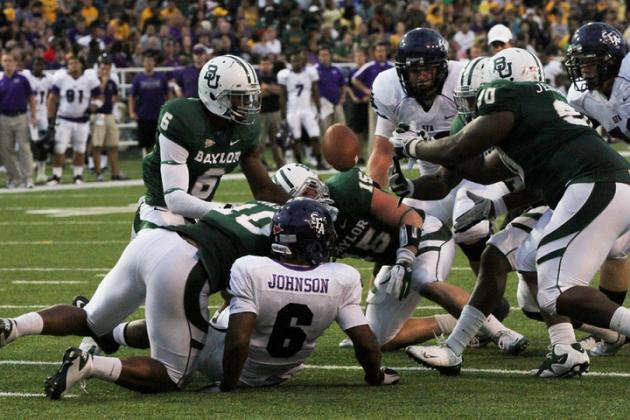 Nicolas Jean-Baptiste is a guy who NFL coaches are going to have to keep an eye on as far as his weight issues go.
Playing at 330 pounds is fine, if his body is able to handle it. Often times it looks like Jean-Baptiste can get gassed easily and his stamina becomes an issue out on the field.
Of course, once this guy gets on an NFL workout plan, that could all change. But as of now, Jean-Baptiste has to work on improving his stamina if he is going to be an every-down player in the NFL.