Marvin Jones: 5 Reasons Why NFL Draft Prospect Will Succeed in the Pros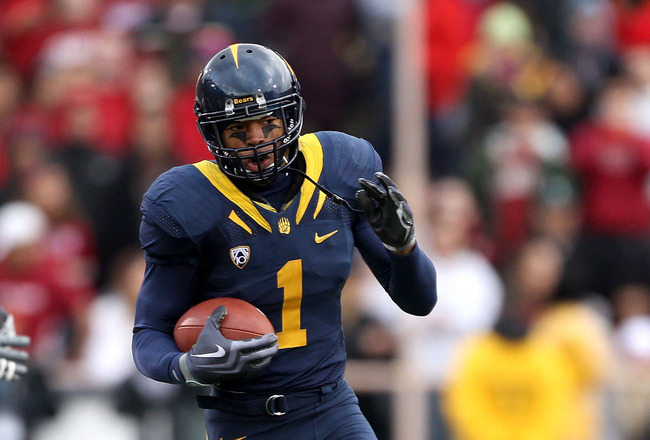 Ezra Shaw/Getty Images
Marvin Jones might be one of the most underrated offensive prospects in the entire 2012 NFL Draft. A lot of the things that he did well at California didn't show up because of incompetent quarterback play.
We have seen the same issues in the past, and it does actually cause some prospects to drop further than they should when draft day approaches.
In reality Jones has first-round talent and skill sets. It is just hard to see them when rummaging through various tapes around the world of the internet.
This article is going to give you five reasons why the Cal product translates well to the National Football League.
5. Field Awareness and Intelligence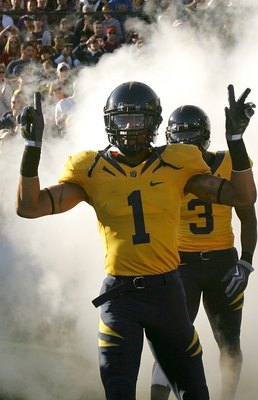 Ezra Shaw/Getty Images
This might be something that is usually reserved for quarterbacks, but it is extremely important in terms of evaluating a wide receiver prospect.
Marvin Jones fully understands where he is on the football field and when to use that to his advantage. He will break off routes in mid-stream if the quarterback and himself are on the same page. This causes major issues for the cornerback on the outside.
Jones also understands when to use the sideline to his advantage. He possesses the frame to be able to make plays in certain situations along the sidelines and uses that to his advantage. It is the idea that I can shield the defender from the ball, especially if I am able to use my frame as an extra offensive weapon separating the sideline and the defender.
We see the likes of Calvin Johnson and Andre Johnson do this a great deal in the National Football League. You will see the same thing in regards to Jones, but to a lesser extent.
4. Height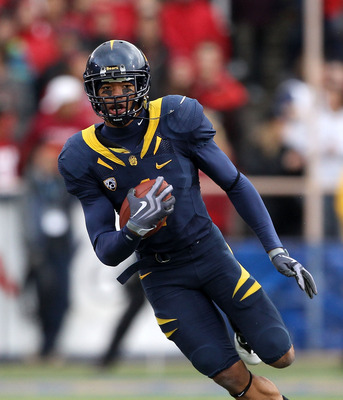 Ezra Shaw/Getty Images
Marvin Jones stands at nearly 6'2" inches tall, which makes him a prototypical outside receiver in the National Football League. He also has great hops, this enables the Cal product to create mismatches down the field and in the end zone.
He didn't have the benefit of an accurate quarterback in college, but still was able to come down with a lot of poorly thrown balls because of this height and leaping ability.
Jones should earn his keep as a rookie on red zone fades, something that some of the best touchdown making receivers in the NFL do well.
3. Route Running
Despite playing with questionable quarterbacks, Marvin Jones does have one huge advantage that other top-flight receiving prospects don't have.
He played in a pro-style offense under Jeff Tedford at California.
This is absolutely huge. Jones is going to come in as a rookie and already have years of experience running routes that his NFL team is going to ask him to run.
There isn't going to be a tremendous learning curve like what we are going to see with some of the other second-tier wide receiver prospects such as Stephen Hill, Rueben Randle and Brian Quick.
2. Speed, Speed and More Speed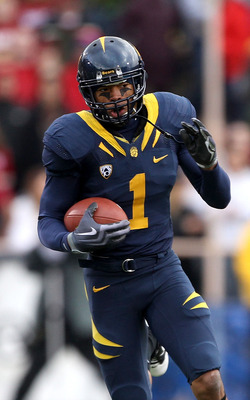 Ezra Shaw/Getty Images
You just cannot teach speed. Players either have it or they don't, Marvin Jones has it. He ran a swift 4.40 40-yard dash at the combine in Indianapolis, and plays at that speed on the football field.
It isn't a sort of speed that shows up on the track field and then goes missing during games. Instead, Jones runs just as fast in his routes as his 40 time would suggest.
This enables the Cal product to be able to beat defenders deep, and cause major mismatch issues when he is actually lined up in the slot.
Just imagine him going full speed ahead on a fly route against a safety or nickel corner. That wont really end well for the defense as long as the ball is on target.
1. Hands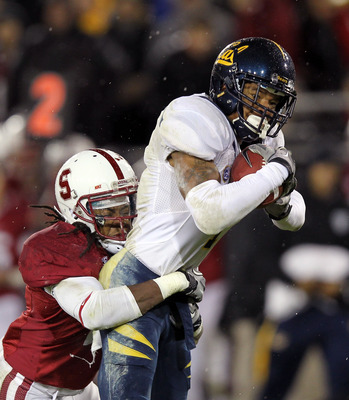 Ezra Shaw/Getty Images
Marvin Jones probably has the best set of hands of any receiver in the 2012 draft not named Michael Floyd. He pretty much catches everything thrown in his direction.
What makes Jones much more dangerous is the fact that he is able to adjust mid route and come down with the ball if it isn't thrown in a particular area.
This is what differentiates solid No. 2 receivers from true go to guys in the National Football League. Jones has this ability, which will lead to the quarterback going in his direction when he sees even an iota of an opening.
Keep Reading