New York Yankees: Is the Slow Start What to Expect from Hiroki Kuroda in 2012?
April 19, 2012

Al Bello/Getty Images
It's been a little bit of a rocky start for Hiroki Kuroda in pinstripes.
In his first three starts for the Yankees, we've seen two different versions of Kuroda.
There's the really good version of Kuroda, who flat out dominated the Los Angeles Angels on Opening Day in a 5-0 victory.
Then there is the flip side, and the not-so-good version of Kuroda, who has two losses to the Tampa Bay Rays and Minnesota Twins.
Against the Rays, Kuroda had 5.2 innings, eight hits, six runs, four walks and two strikeouts in an 8-6 loss, which was Kuroda's American League and Yankees pitching debut.
Then on Wednesday night against the Twins, he had 4.1 innings, 10 hits, six runs, no walks and four strikeouts in a 6-5 loss.
Those two games elevated Kuroda's ERA to 5.00 and dropped his record to 1-2.
Now, I was all for bringing Kuroda to the Bronx when they signed him to the one-year, $10 million deal back in January.
But what can't happen are these types of starts where it's either really good or really bad, because then it's basically A.J. Burnett all over again—maybe not the mind-scratching erratic behavior, but the losing and not knowing which pitcher you're going to get.
Now, Kuroda's not a head-case like Burnett, as he's a total professional who doesn't let the big stage and bright lights affect his performance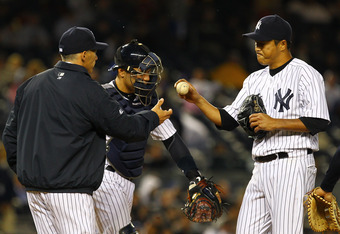 Al Bello/Getty Images
But the early three starts have me a little concerned, especially because Kuroda is pitching in the American League on a regular basis for the first time in his career.
Now, this could just be a slow start, and Kuroda might need a few starts to get adapted to pitching to the stronger lineups of the American League.
If that's the case and Kuroda straightens everything out, then all will be fine and this will be nothing more than a slow April start. Lots of players have them.
But what if this isn't a slow start and this is how Kuroda might end up pitching in 2012?
Remember, Kuroda is the Yankees' No. 2 pitcher in the rotation right now, so they need him to pitch well.
Given the fact that both Phil Hughes and Freddy Garcia have come out of the gate and pitched poorly for the Yankees, that puts more emphasis on getting quality starts from Kuroda.
Honestly, I feel this is just a slow start and a transition period for Kuroda to adapt to pitching against American League lineups.
I think the Kuroda we saw against the Angels, where he held them scoreless for eight innings, is the guy we will see once the season gets going.
I feel that way because Kuroda is a veteran who knows how to get people out with changing speeds and changing locations on his pitches.
For the Yankees' sake of the 2012 season, they have to hope this is just a phase, because he is a huge part of the rotation and they will need him when the season wears on.
Stay tuned, Yankees Universe.