The Most Wildly Inconsistent Player on Each MLB Team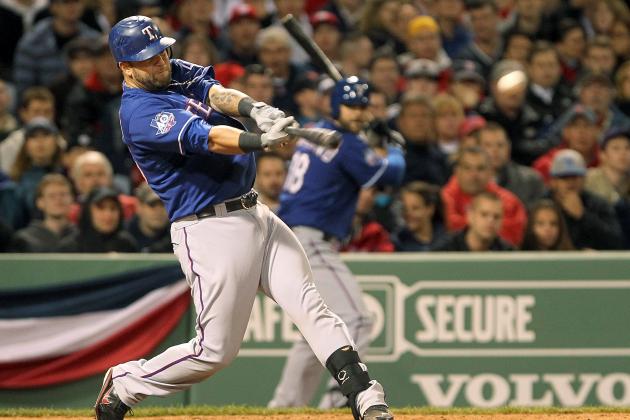 Jim Rogash/Getty Images

On every team, there are players who can be counted on for production day-in and day-out and players who are far streakier with their production.
The inconsistency of those streaky players can be incredibly frustrating, as can a player with big-time potential showing flashes of what he is capable of only to regress back to a low level of production.
So here is a look at the most wildly inconsistent player on each MLB team; the player who brings about the ire of fans despite his end-of-the-season production or incredible potential.
Begin Slideshow

»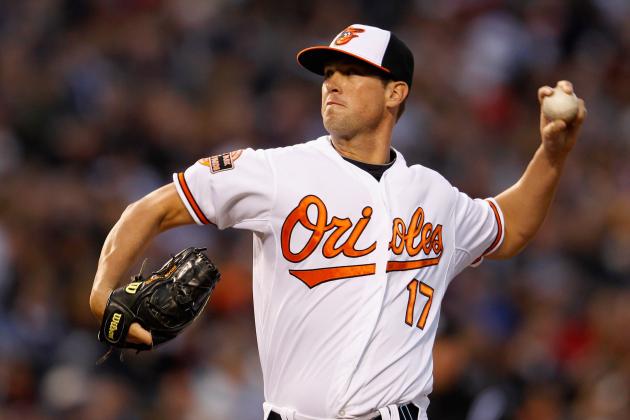 Rob Carr/Getty Images

The fourth overall pick in the 2008 draft, Matusz was in the big leagues by 2009 and a full-time member of the Orioles rotation by 2010, and he looked destined to be the staff ace after those first two seasons in the majors.
2009: 8 GS, 5-2, 4.63 ERA, 38 Ks, 44.2 IP
2010: 32 GS, 10-12, 4.30 ERA, 143 Ks, 175.2 IP
However, he hit a wall last season and ended up spending much of the season in the minor leagues, and he is once again off to a slow start this season.
2011: 12 GS, 1-9, 10.69 ERA, 38 Ks, 49.2 IP
With 11 GS, 2-3, 3.06 ERA, 44 Ks, 64.2 IP in Triple-A
2012: 2 GS, 0-2, 8.38 ERA, 5 Ks, 9.2 IP
Now, the 25-year-old is battling to stay in the Orioles rotation and one has to wonder if he will ever regain his front-of-the-rotation potential.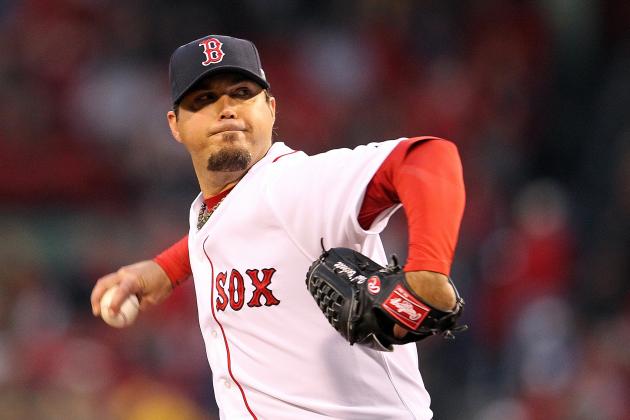 Jim Rogash/Getty Images

Since joining the Red Sox, Beckett has had six seasons of ups and downs, as he has been everything from a 20-game winner and postseason hero to a clubhouse issue and everything in between.
2006: 33 GS, 16-11, 5.01 ERA, 204.2 IP
2007: 30 GS, 20-7, 3.27 ERA, 200.2 IP
2008: 27 GS, 12-10, 4.03 ERA, 174.1 IP
2009: 32 GS, 17-6, 3.86 ERA, 212.1 IP
2010: 21 GS, 6-6, 5.78 ERA, 127.2 IP
2011: 30 GS, 13-7, 2.89 ERA, 193 IP
Thin on starting pitching this season, the Red Sox will need Beckett to pitch at a high level and approach his 2007 numbers if the Red Sox are to be considered serious contenders.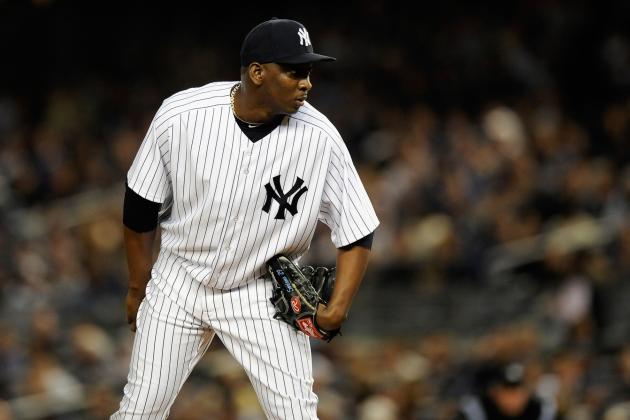 Patrick McDermott/Getty Images

Signed as a free agent prior to last season to a three-year, $35 million contract to setup Mariano Rivera, Soriano was coming off a breakout year in his first opportunity to close full time—but that success did not carry over with the Yankees.
2002-09: 278 G, 8-18, 43 SV, 2.92 ERA
2010: 64 G, 3-2, 45 SV, 1.73 ERA
2011: 42 G, 2-3, 2 SV, 4.12 ERA
While his numbers last season don't quite qualify as horrible on the surface, take into account he had a 5.40 ERA in the first half and quickly lost eighth-inning duties to David Robertson. He has only made three appearances so far this season, as Cory Wade has been the most used right-hander.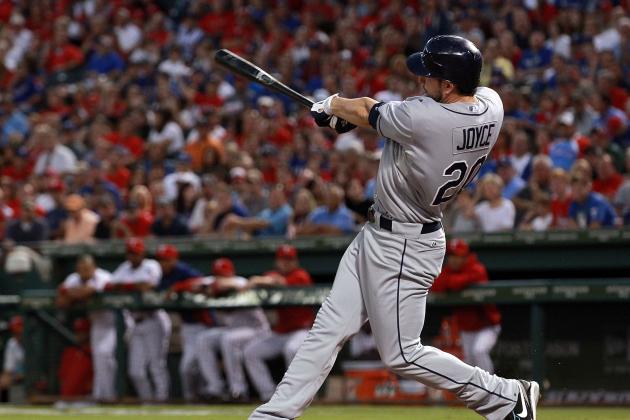 Ronald Martinez/Getty Images

Thanks to a ridiculous May last season, Joyce was named to the AL All-Star team and went into the All-Star break with a .290 BA, 12 HR, 41 RBI line. However, he failed to build off of that big first half and completely fell apart over the summer months, before turning it on again over the final two months.
Mar/Apr: .321 BA, 2 HR, 9 RBI
May: .414 BA, 7 HR, 21 RBI
June: .173 BA, 1 HR, 8 RBI
July: .184 BA, 5 HR, 11 RBI
August: .282 BA, 2 HR, 10 RBI
Sept/Oct: .265 BA, 2 HR, 16 RBI
The sample size is relatively small for the 27-year-old, as last season marked his first as an everyday player—but it was as up-and-down a season as you'll see.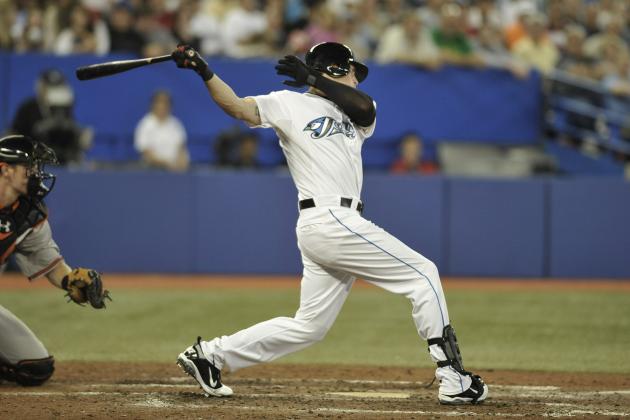 Brad White/Getty Images

Once ranked among the top prospects in the game and a sure-fire future star with the Cardinals, Rasmus was dealt to the Blue Jays at the deadline last season in the deal that brought Edwin Jackson to St. Louis.
He has been incredibly streaky throughout his career, and that is due at least in part to his lack of plate discipline, which oddly seems to get worse after the season's final month, evidenced by his career numbers below.
Mar/Apr: 312 PA, 45 BB, .386 OBP
May: 298 PA, 31 BB, .319 OBP
June: 274 PA, 14 BB, .313 OBP
July: 243 PA, 18 BB, .274 OBP
August: 214 PA, 18 BB, .299 OBP
Sept/Oct: 278 PA, 26 BB, .314 OBP
It is as though he enters each season determined to draw more walks and take more pitches, but quickly decides against it and regresses to his free-swinging ways.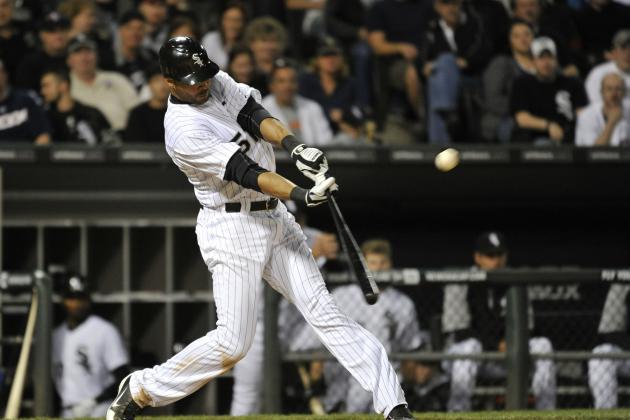 Brian Kersey/Getty Images

When the White Sox selected Rios and the $60.7 million that remained on his contract off of waivers from the Blue Jays back in 2009, it turned more than a few heads—but after a solid 2010, it looked as though the White Sox had made a wise move.
However, a horrible season last year has again made the move look like a terrible one, and as a whole, Rios has been hit-or-miss since becoming a full-time player in 2007.
2007: .297/.354/.498, 24 HR, 85 RBI, 17 SB
2008: .291/.337/.461, 15 HR, 79 RBI, 32 SB
2009: .247/.296/.395, 17 HR, 71 RBI, 24 SB
2010: .284/.334/.457, 21 HR, 88 RBI, 34 SB
2011: 227/.265/.348, 13 HR, 44 RBI, 11 SB
He's under contract through 2014 with a team option for 2015, so for better or worse he'll be in a White Sox uniform for the foreseeable future.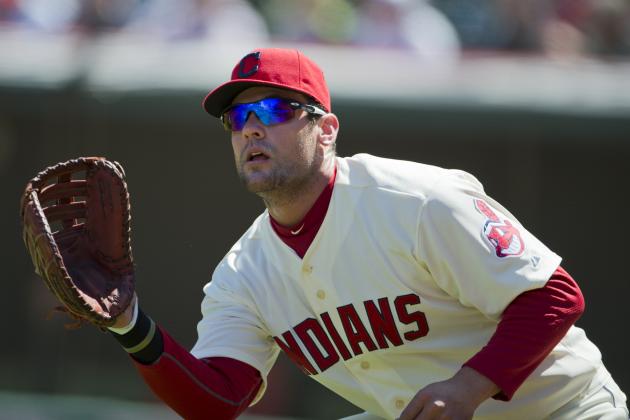 Jason Miller/Getty Images

A former first-round selection by the Angels back in 2001, Kotchman appeared on the Baseball America Top 100 list four straight seasons from 2002-2005, but was never able to carve out a spot with the Angels.
He was eventually traded to the Braves for Mark Teixeira in 2008, and he is now with his fifth team since leaving the Angels. Over that span, he has experienced varying levels of success but has been the furthest thing from consistent.
2007: .296/.372/.467, 11 HR, 68 RBI
2008: .272/.328/.410, 14 HR, 74 RBI
2009: .268/.339/.382, 7 HR, 48 RBI
2010: .217/.280/.336, 9 HR, 51 RBI
2011: .306/.378/.422, 10 HR, 48 RBI
2012: .195/.250/.366, 2 HR, 4 RBI
Last season was a breakout year of sorts for Kotchman, at least in the average department, but his track record was still enough to keep most teams away in free agency as he settled on a one-year, $3 million deal with the Indians and is off to a slow start.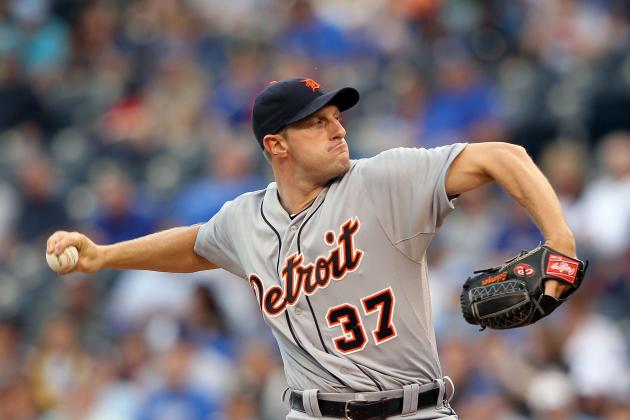 Jamie Squire/Getty Images

Scherzer has shown flashes of brilliance since joining the Tigers in the offseason prior to the 2010 season, as part of the Curtis Granderson/Austin Jackson/Ian Kennedy deal with the Yankees and Diamondbacks.
However, he has also been hit hard time and, again, just when it looks as though he was ready to solidify the No. 2 rotation spot behind Justin Verlander, a quick look at the result of his starts last season shows how inconsistent he was.
Quality Starts: 16
ERA in Quality Starts: 1.57
Non-Quality Starts: 17
ERA in Non-Quality starts: 8.08
Simply put: When he's good he's really good, and when he's bad he's really bad. At 27, there is still time for him to take the next step, but so far in 2012 he has a 7.98 ERA through three starts.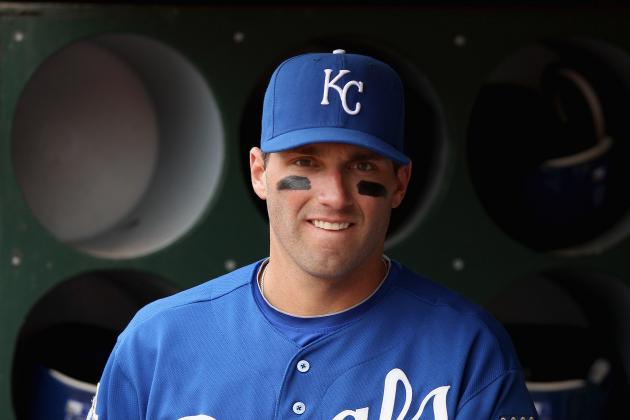 Ezra Shaw/Getty Images

Francoeur burst onto the scene in 2005 as a 21-year-old rookie, hitting .300 BA, 14 HR and 45 RBI over just 257 at-bats.
While he drove in over 100 runs in each of the next two seasons, he never quite turned into the superstar many believed he would be. Dating back to his final full season in Atlanta in 2008, which was the first season he truly struggled as the plate, it has been a toss-up as to which Francoeur will show up year in and year out.
2008: .239/.294/.359, 11 HR, 71 RBI
2009: .280/.309/.423, 15 HR, 76 RBI
2010: .249/.300/.383, 13 HR, 65 RBI
2011: .285/.329/.476, 20 HR, 87 RBI
He seems happy in Kansas City, and perhaps he will build off of an impressive season last year and continue to be a veteran leader for the young Royals team—but history says this will be a down year for Francoeur.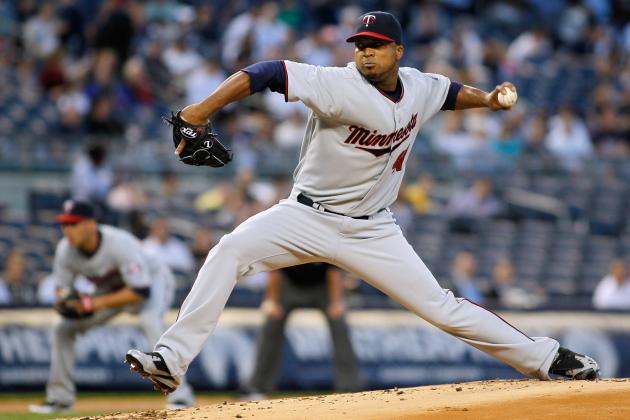 Mike Stobe/Getty Images

We can only speculate as to the type of pitcher Liriano might have been if not for an early-career arm injury that followed a 12-3, 2.16 ERA, 10.7 K/9 rookie season. But since returning from Tommy John surgery after missing all of 2007, he has been as hit-or-miss as any pitcher in the game.
2008: 14 GS, 6-4, 3.91 ERA, 7.9 K/9
2009: 24 GS, 5-13, 5.80 ERA, 8.0 K/9
2010: 31 GS, 14-10, 3.62 ERA, 9.4 K/9
2011: 24 GS, 9-10, 5.09 ERA, 7.5 K/9
He is in a contract year, and it will be interesting to see if he can pitch his way into a big contract despite his less-than-convincing track record.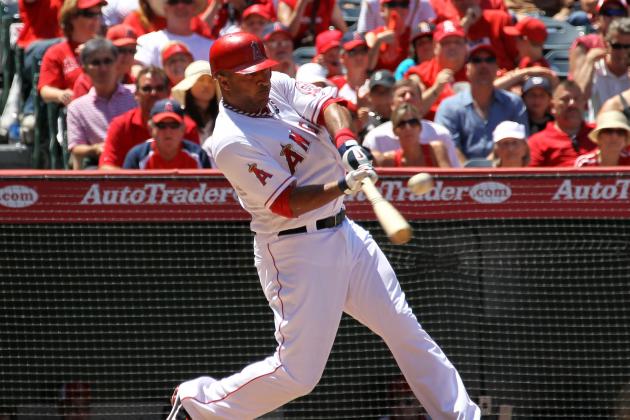 Stephen Dunn/Getty Images

One of the highest paid players in the game, Wells inked a seven-year, $126 million contract prior to the 2007 season, as he was coming off a .303 BA, 32 HR, 106 RBI, 17 SB season at the age of 27 in which he also won the Gold Glove.
Since signing that deal, it has become one of the most criticized contracts in baseball history, as Wells has struggled to consistently perform. That didn't stop the Blue Jays from unloading his contract on the Angels last winter though, and he will be there for the next three years of a back-loaded deal.
2007: .245/.304/.402, 16 HR, 80 RBI
2008: .300/.343/.496, 20 HR, 78 RBI
2009: .260/.311/.400, 15 HR, 66 RBI
2010: .273/.331/.515, 31 HR, 88 RBI
2011: .218/.248/.412, 25 HR, 66 RBI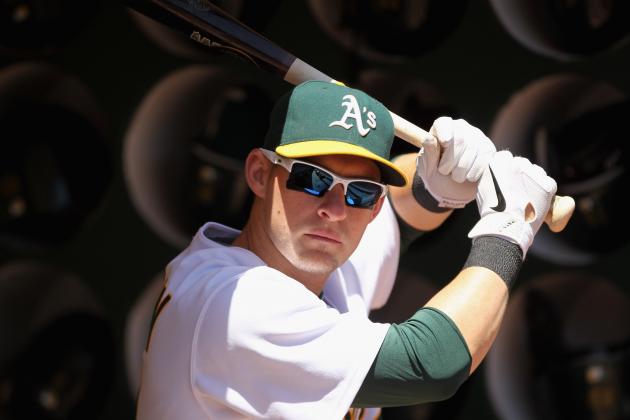 Ezra Shaw/Getty Images

There aren't many players on the A's with a long enough big-league track record to even be considered inconsistent at this point, but Barton has certainly been a frustrating case since debuting at the age of 21 in 2007.
2007: 18 G, .347/.429/.639, 4 HR, 8 RBI
2008: 140 G, .226/.327/.348, 9 HR, 47 RBI
2009: 54 G, .269/.372/.413, 3 HR, 24 RBI
2010: 159 G, .273/.393/.405, 10 HR, 57 RBI
2011: 67 G, .212/.325/.267, 0 HR, 21 RBI
After a 2010 season in which he posted a 4.2 WAR and led the AL with 110 walks, he looked ready to take the next step but spent much of 2011 in Triple-A after struggling early.
Still, after returning from an injury that kept him out to open the season, the team released Brandon Allen to make room for him as the everyday first baseman, as he may be in the midst of his final chance to seize the job.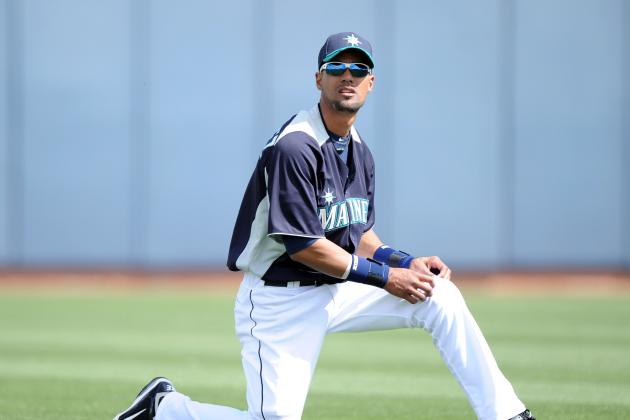 Harry How/Getty Images

A top prospect in the Indians organization, Cleveland seemingly gave up on Gutierrez after he failed to impress in an expanded role in 2008, dealing him to the Mariners as part of a three-team, 12-player trade in the offseason.
He then broke out in a big way for the Mariners in 2009, but since then he has failed to again reach that level of production, leaving fans to wonder which is the real Franklin Gutierrez.
2008: .248/.307/.383, 8 HR, 41 RBI, 9 SB
2009: .283/.339/.425, 18 HR, 70 RBI, 16 SB
2010: .245/.303/.363, 12 HR, 64 RBI, 25 SB
2011: .224/.261/.273, 1 HR, 19 RBI, 13 SB
He has been shelved with a partial pectoral tear to open the 2012 season, but once he returns, it will be interesting to see if the now-28-year-old can regain his 5.4 WAR form of 2009.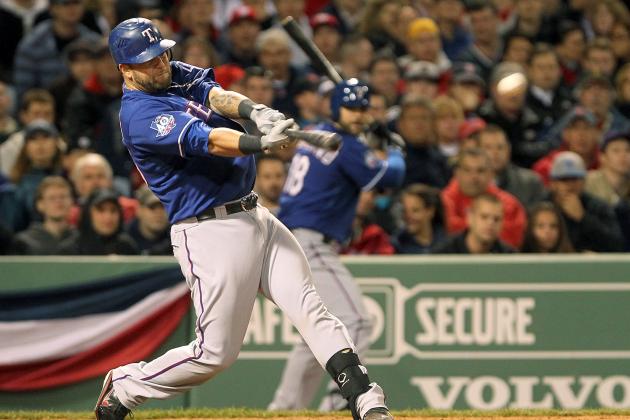 Jim Rogash/Getty Images

Napoli joined the Rangers last offseason, coming from the Angels via the Blue Jays following the Vernon Wells deal. While he always displayed impressive power, no one could have expected a .320 BA, 30 HR, 75 RBI season.
However, a closer look at the season he had reveals just what a hot-streak, cold-streak sort of player he was.
First 11 Games: .313 BA, 5 HR, 9 RBI
Next 23 Games: .115 BA, 1 HR, 7 RBI
Next 4 Games: .533 BA, 4 HR, 9 RBI
Next 10 Games: .182 BA, 0 HR, 0 RBI
Next 7 Games: .500 BA, 3 HR, 9 RBI
Next 21 Games: .347 BA, 5 HR, 14 RBI
Next 18 Games: .297 BA, 4 HR, 10 RBI
Final 19 Games: ..462 BA, 8 HR, 17 RBI
Napoli had eye-opening splits that resulted in a fantastic end-of-the-year line, but took a roller coaster route to get there. It's been more of the same on a smaller scale to open the 2012 season as well.
First 7 Games: .100 BA, 0 HR, 2 RBI
Last 4 Games: .529 BA, 5 HR, 10 RBI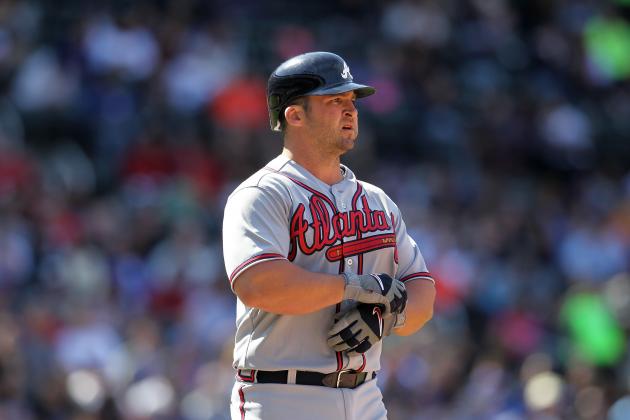 Nick Laham/Getty Images

In his six full seasons in the league, Uggla has always ended the season with at least 27 HR and 82 RBI, as he is one of the better offensive second basemen in the league. However, it is a roller coaster ride of a season to get to those numbers, evidenced by last season.
Mar/Apr: .194 BA, 5 HR, 9 RBI
May: .160 BA, 2 HR, 7 RBI
June: .179 BA, 5 HR, 12 RBI
July: .293 BA, 8 HR, 19 RBI
August: .340 BA, 10 HR, 21 RBI
Sept/Oct: .238 BA, 6 HR, 14 RBI
Had it not been for a 33-game hitting streak that ended on August 14th, who knows how bad his final stats would have looked. So while you can count on his end-of-the-season numbers, it is not as easy game-to-game to get production from Uggla.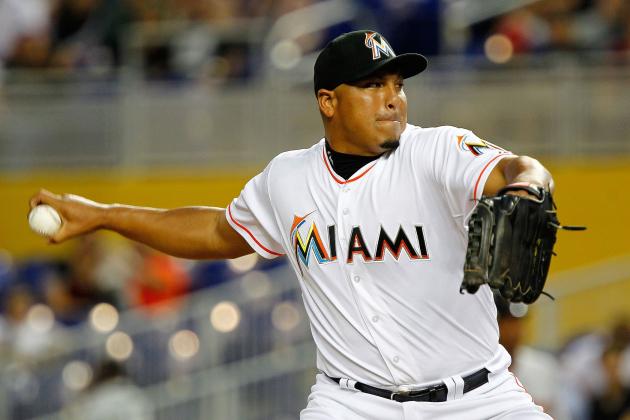 Mike Ehrmann/Getty Images

Always one to wear his emotions on his sleeve, Zambrano was the ace of the Cubs staff following the flops of Kerry Wood and Mark Prior. From 2003-2009 he was fantastic, going 100-58 with a 3.44 ERA.
However, things went south quick in 2010, and he was relegated to the bullpen after four rocky starts. He was later dismissed from the team for much of July before returning to the rotation in August and dominating down the stretch. Since that time, Zambrano has been one of the most frustratingly inconsistent pitchers in the league.
Early 2010: 25 G, 9 GS, 3-6, 5.61 ERA
Late 2010: 11 G, 11 GS, 8-0, 1.41 ERA
Quality Starts 2011: 13 GS, 8-1, 2.24 ERA
Non-Quality Starts 2011: 11 GS, 1-6, 8.84 ERA
That all led up to his "retiring" after a 4.1 IP, 8 ER outing against the Braves on August 12th, in which he cleaned out his locker and declared that he was retiring. That got him suspended from the team for the remainder of the team and dumped on the Marlins for Chris Volstad in a trade this offseason.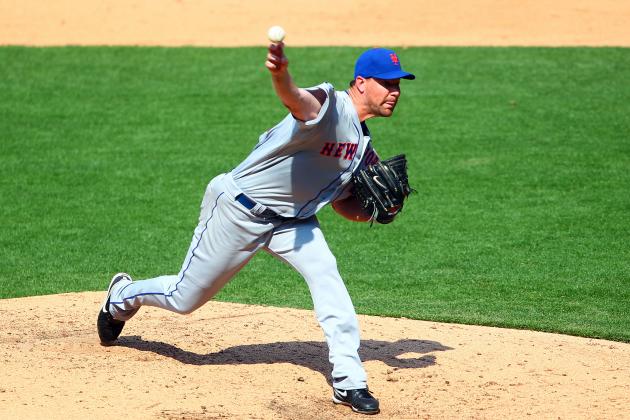 Rich Schultz/Getty Images

The ninth overall pick in the 2005 draft, Pelfrey was fast-tracked to the majors. After a four-start audition in 2006, he became a full-time rotation member in 2007.
He has shown flashes of being a future staff ace with terrific seasons in 2008 and 2010, but also struggled mightily in 2009 and 2011. Now, at 28, he looks like he'll be little more than a back-of-the-rotation arm.
2008: 13-11, 3.72 ERA, 2.9 WAR
2009: 10-12, 5.03 ERA, 0.0 WAR
2010: 15-9, 3.66 ERA, 2.4 WAR
2011: 7-13, 4.74 ERA, 1.4 WAR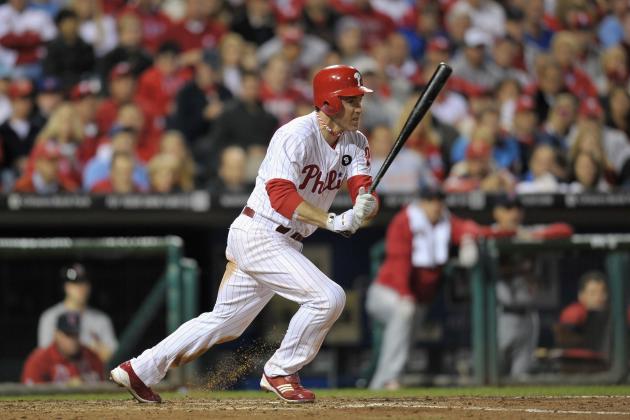 Drew Hallowell/Getty Images

From 2005-2009, there was no more productive second baseman in all of baseball than Chase Utley, as he averaged a line of .301 BA, 29 HR, 101 RBI, winning four Silver Slugger awards.
However, he has hit the injury wall over the past three seasons, and now one has to wonder if he will ever be the dominant force he once was—and if not, just how much his production will drop off once he sees the field again.
2005-2009: 151 G, .301 BA, 29 HR, 101 RBI
2010: 115 G, .275 BA, 16 HR, 65 RBI
2011: 103 G, .259 BA, 11 HR, 44 RBI
He has yet to see the field in 2012 with a sore knee, and the Phillies could be relying heavily on Freddy Galvis for much of the season.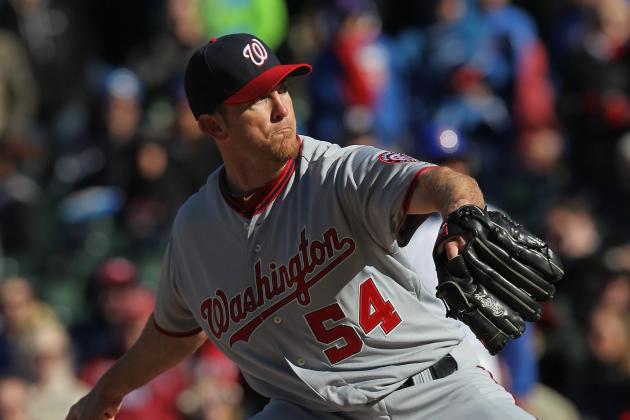 Jonathan Daniel/Getty Images

Lidge was signed to a one-year, $1 million deal this offseason to set up closer Drew Storen, but with Storen on the shelf, Lidge has split closing duties with flame-thrower Henry Rodriguez.
Lidge has had a rocky career as a closer, from a perfect save conversion season in 2008 to a disastrous 2009 season and everything in between.
2008: 41-of-41 saves, 1.95 ERA
2009: 31-of-42 saves, 7.21 ERA
2010: 27-of-32 saves, 2.96 ERA
2011: 1-of-1 saves, 1.40 ERA
2012: 2-of-3 saves, 3.00 ERA
He still has good stuff, but he is far from the lights-out stopper he once was. If the upstart Nationals have to rely on him as the sole closer at any point, they could be in trouble.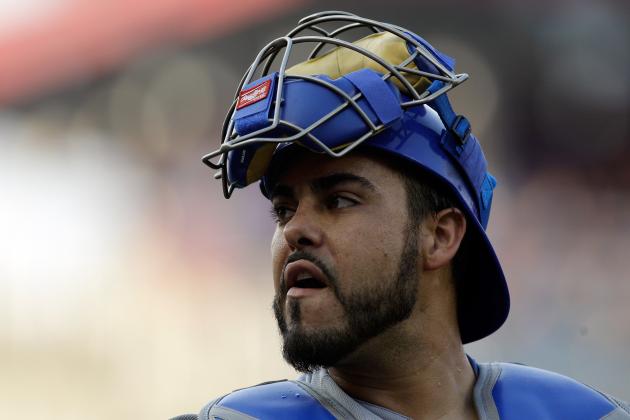 Rob Carr/Getty Images

Soto came out of nowhere in 2007 to post a .353 BA, 26 HR, 109 RBI to win the Pacific Coast League MVP, and he built off that the following season to win NL Rookie of the Year.
However, he has alternated between solid seasons and disastrous seasons since then, and he may be fighting off prospect Welington Castillo for the starting job sooner rather than later, although it is time for him to have another good season.
2008: .285/.364/.504, 23 HR, 86 RBI
2009: .218/.321/.381, 11 HR, 47 RBI
2010: .280/.393/.497, 17 HR, 53 RBI
2011: .228/.310/.411, 17 HR, 54 RBI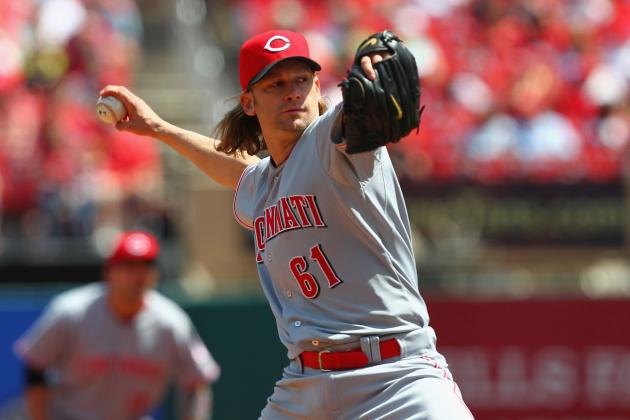 Dilip Vishwanat/Getty Images

Arroyo was traded from the Red Sox to the Reds for Wily Mo Pena following the 2005 season, and after a fantastic first season in Cincinnati, he posted a pair of subpar years.
He turned it around though, with a 17-win season in 2010, earning him a three-year, $35 million extension. He rewarded the Reds for their confidence in him with the worst season of his career last year, and is looking to get back on track in 2012—you never know with Arroyo.
2006: 14-11, 3.29 ERA
2007: 9-15, 4.23 ERA
2008: 15-11, 4.77 ERA
2009: 15-13, 3.84 ERA
2010: 17-10, 3.88 ERA
2011: 9-12, 5.07 ERA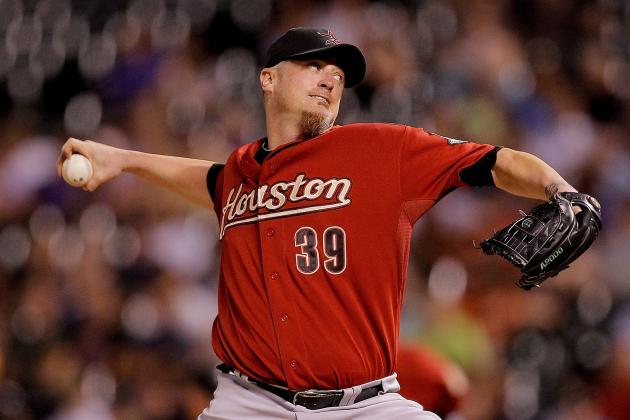 Justin Edmonds/Getty Images

A first-round pick in 1999, Myers was in the Phillies rotation from 2003-2006, as he went 50-35 with a 4.35 ERA, but he was moved to the bullpen in 2007 when he saved 21 saves.
That was followed by consecutive subpar seasons in the rotation that led to the Phillies letting him walk in free agency. The Astros took a chance on him with a one-year, $3 million contract in 2010, and he pitched well enough to finish 10th in NL Cy Young voting, earning him a two-year, $23 million extension.
2008/2009: 14-16, 4.63 ERA
2010: 14-8, 3.14 ERA
2011: 7-14, 4.46 ERA
Now, he's back in the bullpen closing for the Astros and headed for free agency at the end of the season, and he has converted both save opportunities so far this season.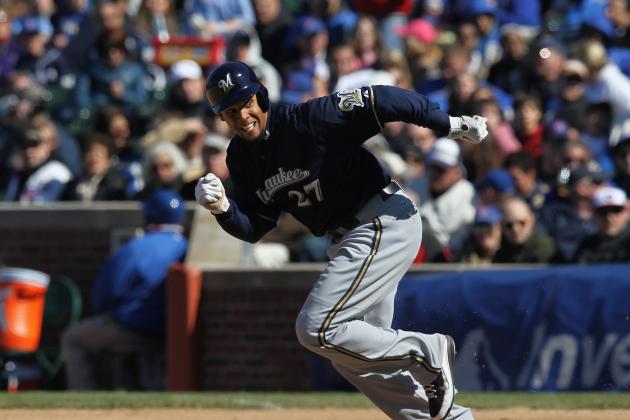 Jonathan Daniel/Getty Images

Twice ranked as one of Baseball America's Top 100 prospects, Gomez was a key piece of the package the Twins acquired for Johan Santana in the 2008 offseason.
After three subpar seasons with the Twins, he was dealt to the Brewers straight up for shortstop J.J. Hardy, and he has continued to post less-than-spectacular numbers and is now in a platoon with Nyjer Morgan.
2008: .258 BA, 7 HR, 59 RBI, 33 SB
2009: .229 BA, 3 HR, 28 RBI, 14 SB
2010: .247 BA, 5 HR, 24 RBI, 18 SB
2011: .225 BA, 8 HR, 24 RBI, 16 SB
Gomez has a fantastic skill set and has the potential to go 20 HR/30 SB over a full season of at-bats, but he is simply too inconsistent to earn everyday at-bats.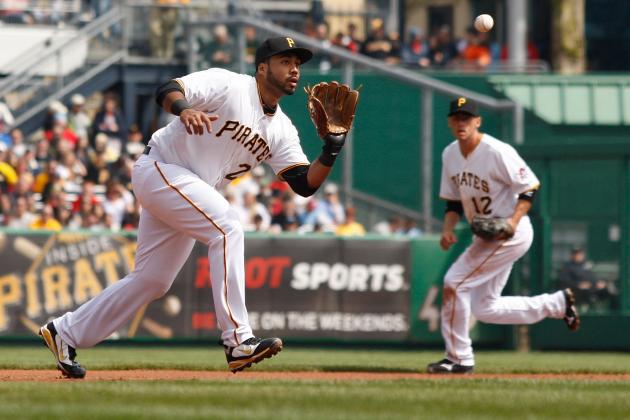 Jared Wickerham/Getty Images

Taken with the second overall pick in 2008, Alvarez was in the majors by 2010, as he showed enough in a 95-game stint to be viewed as the Pirates cleanup hitter of the future.
However, injuries and ineffectiveness limited him to just 74 games in the majors last season, as he was demoted to Triple-A at one point.
2010: .256 BA, 16 HR, 64 RBI, 347 AB
2011: .191 BA, 4 HR, 19 RBI, 235 AB
2012: .074 BA, 2 HR, 2 RBI, 27 AB
Still just 25 years old, Alvarez will be given every chance to regain his 2010 form and emerge as the middle-of-the-order threat the team thought he would be, but things are not looking good.
Dilip Vishwanat/Getty Images

The Cardinals' postseason hero last season, Freese is off to a torrid start this season with a .385 BA, 3 HR, 13 RBI line over his first 39 at-bats.
His inconsistency comes not in his performance, but in his inability to stay on the field for an entire season, as his numbers over a full season of at-bats would put him in the upper echelon of third basemen.
2010 Stats: 70 G, .296 BA, 4 HR, 36 RBI
2011 Stats: 97 G, .297 BA, 10 HR, 55 RBI
His 162-game average: .297 BA, 14 HR, 89 RBI
Already 29 years old, Freese is in his prime. If he can stay healthy this season, this could be the year he finally puts together an eye-opening stat line. However, he has already missed time with an injury.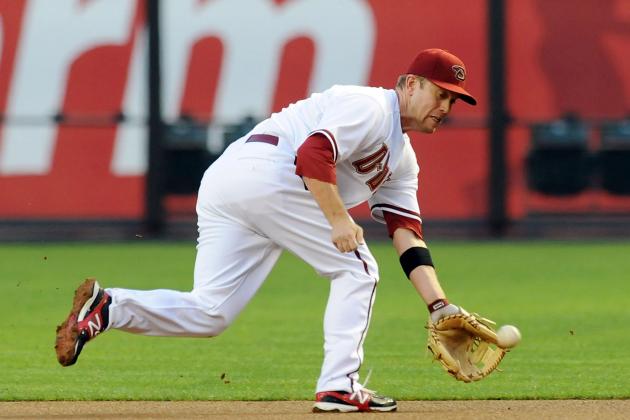 Norm Hall/Getty Images

A simple look at the past three seasons of Hill's career are the perfect representation of just how inconsistent he is.
2009: .286/.330/.499, 36 HR, 108 RBI, 6 SB
2010: .205/.271/.394, 26 HR, 68 RBI, 2 SB
2011: .246/.299/.356, 8 HR, 61 RBI, 21 SB
In 2009, he was one of the most productive offensive second basemen in baseball. The following season, his average was among the lowest of any everyday player, but he still displayed plus-power. Last season he brought his average back up but lost his power stroke, instead replacing it with a new-found running game.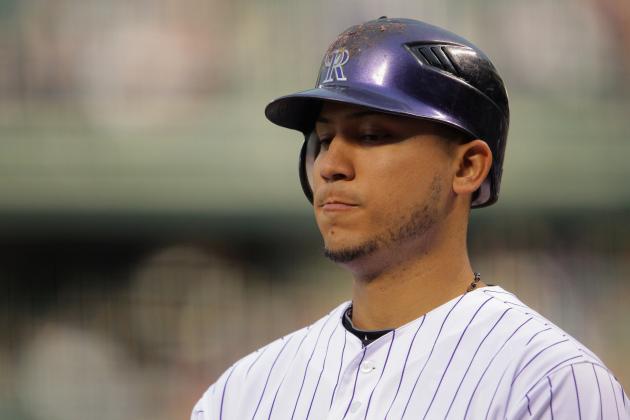 Doug Pensinger/Getty Images

After a long look at the Rockies roster, no one really fits the bill of a player who is wildly inconsistent.
Their roster is one made up of veterans who the team knows what to expect from, and youngsters with a short track record who are still developing.
If Carlos Gonzalez is unable to bounce back from a down and injury-plagued season last year to regain his 2010 form, he could qualify—but for now, no one comes to mind for the Rockies.
I'm open to suggestions to fill this spot if any Rockies fans out there have someone they think is worthy of this spot.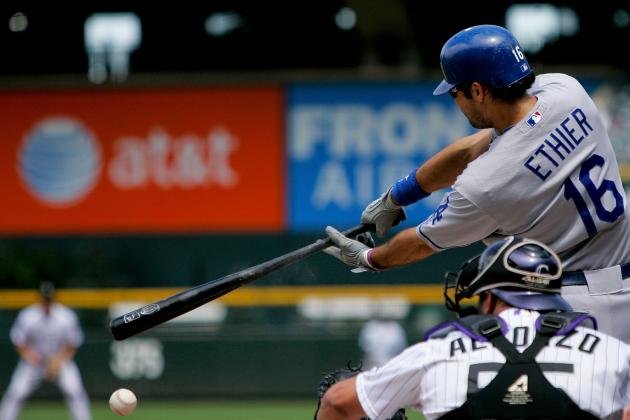 Justin Edmonds/Getty Images

There may be no hotter starter in all of baseball over the past three seasons than Andre Ethier. And while he has always managed to post solid end-of-the-year numbers, he is far from the most consistent player month in and month out.
Last year, for example, he finished the season with a .292 BA, 11 HR, 62 RBI line, but one month into the season it looked as though he'd be a Triple Crown contender and sure-fire MVP.
Mar/Apr: .380 BA, 3 HR, 16 RBI
May: .261 BA, 2 HR, 10 RBI
June: .300 BA, 2 HR, 14 RBI
July: .261 BA, 3 HR, 8 RBI
August: .253 BA, 1 HR, 8 RBI
Sept/Oct: .188 BA, 0 HR, 6 RBI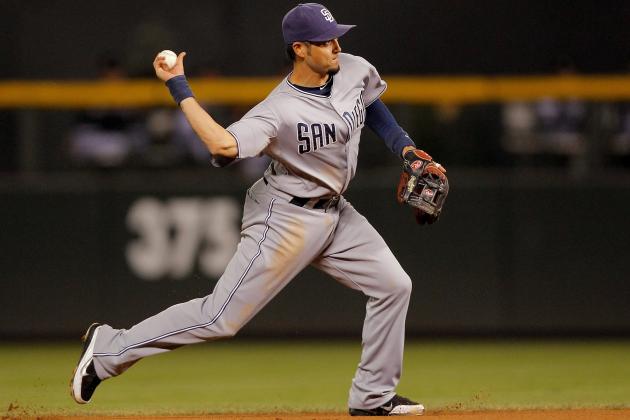 Justin Edmonds/Getty Images

Acquired from the Rays last offseason for four relievers, Bartlett was a huge disappointment in his first season in San Diego.
He has the tools to be one of the league's best all-around shortstops, but he has rarely managed to put it all together over an entire season.
2006: .309 BA, 2.5 WAR
2007: .265 BA, 3.1 WAR
2008: .286 BA, 0.3 WAR
2009: .320 BA, 4.7 WAR
2010: .254 BA, 1.7 WAR
2011: .245 BA, 0.1 WAR
From 18th in AL MVP voting in 2008 and an All-Star in 2009, to hitting eighth in a terrible Padres lineup and on the trading block, Bartlett had a sharp rise to one of the game's top shortstops and a sharp decline to his current level of production.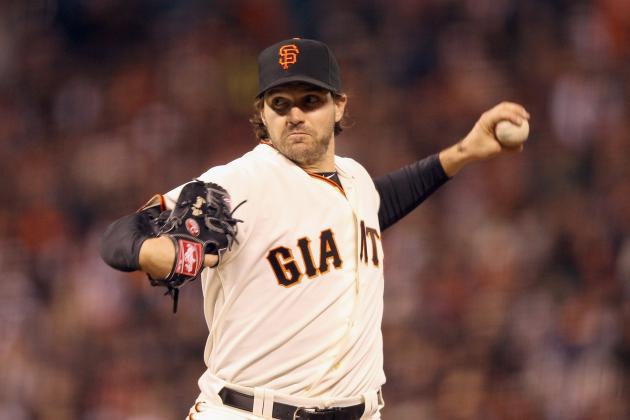 Ezra Shaw/Getty Images

Since signing a seven-year, $126 million contract with the Giants, Zito has been as disappointing as they come, going 44-61 with a 4.48 ERA over the first five seasons and two starts.
However, over that time, he has sprinkled in impressive starts here and there to give fans hope that he will once again return to the form that made him a Cy Young winner with the A's.
8/17/07: 7 IP, 1 H, 0 ER, 8 Ks
8/2/08: 8 IP, 3 H, 0 ER, 5 Ks
5/3/09: 7 IP, 2 H, 0 ER, 4 Ks
7/7/09: 8.1 IP, 4 H, 0 ER, 6 Ks
Start of 2010: 6 GS, 5-0, 1.49 ERA, 28 Ks
7/7/11: 8 IP, 4 H, 1 ER, 7 Ks
4/9/12: 9 IP, 4 H, 0 ER, 4 Ks