Morris Claiborne: 6 Reasons Why NFL Draft Prospect Will Succeed in the Pros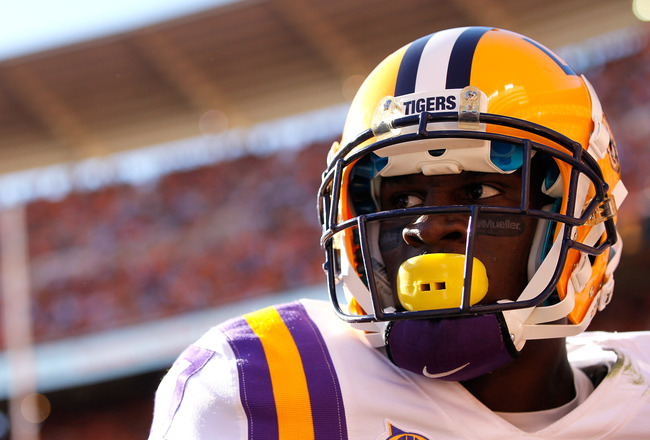 Kevin C. Cox/Getty Images
There is a common belief that this year's draft has five elite players: Andrew Luck, Robert Griffin III, Trent Richardson, Matt Kalil, and Morris Claiborne.
Claiborne is clearly the best cover corner in the draft. Last year, his former teammate, Patrick Peterson, was taken fifth overall. Although Claiborne is not the electric punt returner Peterson has become, he is regarded as a better coverage cornerback.
Here are the reasons why Claiborne's game will translate well at the NFL level.
Size and Length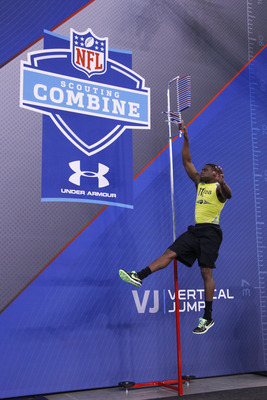 Joe Robbins/Getty Images
When you draft a corner within the top five picks of the draft, he should be your top corner almost immediately, and with some time, should be among the best in football; which means he will be going against a team's top target more often than not.
If you want to find someone who can cover the Calvin and Andre Johnsons of the world, you need to be able to match up with them from a physical standpoint.
Claiborne has arms that are just over 33 inches long. Having long arms increases his catch radius and will allow him to get his hands on a defender quickly, with more room for separation.
With longer arms, press coverage is easier because the corner can give himself more room while still keeping his hands on the receiver.
Conversely, a corner with short arms need to play much more precise coverage to compensate.
Speed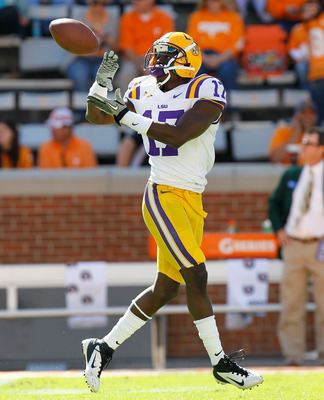 Kevin C. Cox/Getty Images
As the NFL moves away from zone-based Cover 2 schemes, corners who can play in man coverage are becoming more valuable.
While zone corners need to be more instinctive and physical in the run game, man corners need to be able to run with the game's fastest players, and Claiborne has the wheels to do so.
Claiborne ran a 4.47 40-yard dash, which is more than fast enough for any team to take Claiborne without any concerns about his speed.
Fluidity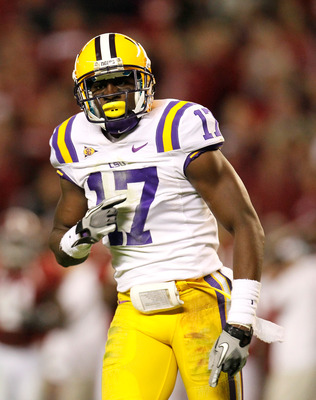 Kevin C. Cox/Getty Images
This is a trait that separates Claiborne from the rest of the pack. Being able to turn and run with receivers is vital to being a successful man cover corner. Stiff hips are an immediate red flag and tends to signal failure at the NFL level.
When you watch Morris change direction, he makes it look so effortless in how he is able to move his body.
When evaluating to see if corners can succeed in the NFL, scouts keep a stern eye on a player's hips. After watching Claiborne, there is little doubt that he can become an elite cover corner sooner rather than later.
Ball Skills
Joe Robbins/Getty Images
Plenty of corners can stay close to defenders, but the guys who can make a play on the football are the ones that last in the NFL.
A former receiver, Claiborne will catch most balls that come his way. But more importantly, he plays the ball, not the receiver.
The players who can execute at the moment of truth when the ball arrives tend to become multi-millionaires from their interception numbers.
Instincts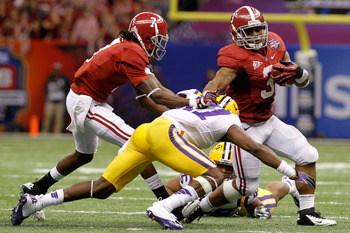 Chris Graythen/Getty Images
Speed, ball skills and fluidity are all great attributes, but without the instincts to know when to turn and look for the football, they become a moot point.
Claiborne not only knows when to turn and get the football, but he also has a natural feel for routes and can anticipate where a receiver is going to run.
Instincts cannot be taught, so it is important that they are developed in the early stages of a player's career. Morris' instincts will allow him to make a big impact in his rookie season.
Intangibles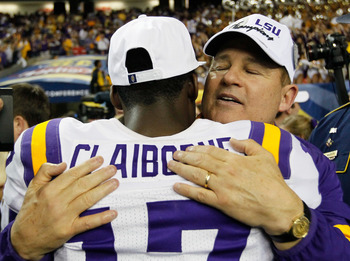 Kevin C. Cox/Getty Images
Every year, there are a handful of prospects that waste their talents with off-field issues because they do not have good intangibles, which includes both work ethic and character.
By all accounts, Claiborne has a clean record and is a very hard worker. He is still learning the corner position, and the fact that he is as good as he is already is a tribute to how hard he works off the field.
Whoever takes Morris should have no concerns that he will turn into the next Pac-Man Jones.
Keep Reading