Houston Texans 2012 Schedule: Full Listing of Dates, Time and TV Information
April 18, 2012

Chris Trotman/Getty Images
Are you ready for some football??!!
Rejoice, football fans, as the release of the NFL schedule has finally been announced.
The Houston Texans have always been on the cusp of becoming one of the elite franchises in the NFL, but every time they had a signature win in the grasp of their hands, suddenly it would slip away for a crushing defeat.
After years of frustration, the Texans finally captured the AFC South title in 2011. Their reward for this upcoming season is playing on a larger stage, as the Texans will be seen in five nationally televised games this fall. Unfortunately, only one of these contests will be played at Reliant Stadium.
According to nfl.com, here is the 2012 Houston Texans schedule:
Week 1: 9-9 1:00PM EST Miami Dolphins CBS
Week 2: 9-16 1:00PM EST at Jacksonville Jaguars CBS
Week 3: 9-23 4:15PM EST at Denver Broncos CBS
Week 4: 9-30 1:00PM EST Tennessee Titans CBS
Week 5: 10-8 8:30PM EST at New York Jets ESPN
Week 6: 10-14 8:20PM EST Green Bay Packers NBC
Week 7: 10-21 1:00PM EST Baltimore Ravens CBS
Week 8: BYE
Week 9: 11-4 1:00PM EST Buffalo Bills CBS
Week 10: 11-11 8:20PM EST at Chicago Bears NBC
Week 11: 11-18 1:00PM EST Jacksonville Jaguars CBS
Week 12: 11-22 12:30PM EST at Detroit Lions CBS
Week 13: 12-2 1:00PM EST at Tennessee Titans CBS
Week 14: 12-10 8:30PM EST at New England Patriots ESPN
Week 15: 12-16 1:00PM EST Indianapolis Colts CBS
Week 16: 12-23 1:00PM EST Minnesota Vikings Fox
Week 17: 12-30 1:00PM EST at Indianapolis Colts CBS
Schedule Analysis
The Texans open the season at home for the fourth consecutive year and close the 2012 campaign on the road (four of their last six games are on the road) for only the second time in team history. From Oct. 14 through Nov. 4, they don't leave the state of Texas, albeit the Texans have a bye week sandwiched in between games against the Green Bay Packers, Baltimore Ravens and the Buffalo Bills.
The Texans will travel to two cold-weather sites, as they play in Chicago against the Bears on Nov.11 and one month later, they're in Foxboro against the Patriots. Both games are in prime-time and it's imperative for the Texans to have a solid running game.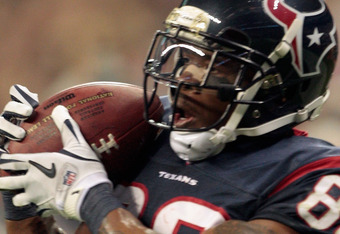 Bob Levey/Getty Images
As the temperature dips, head coach Gary Kubiak cannot rely solely on his precision passing attack to score all of the points. RB Arian Foster will have an important role in determining the success of the Texans, as their ground attack must be running on all cylinders late in the season.
If the AFC South is in doubt, the Texans' final three games could seal them consecutive divisional titles, as they play the Indianapolis Colts twice and the Minnesota Vikings at home. Arguably two of the most inexperienced teams in the NFL, this gives the Texans an excellent opportunity to finish the season on a strong note.
Their strength of schedule comes with a huge asterisk, as some teams with bad records will improve the following season and some good teams will slip in the standings due to undetermined circumstances.
That being said, their opponents' combined record is 121-135 for a .473 winning percentage, with six games against opponents that have won at least nine wins last season.
Most Pivotal Matchup
Often, the outcome of five games will help determine a team's final record, but everyone has one game that is circled as the must-see game of the year. On Nov. 4, emotions will be running high inside Reliant Stadium, as DE Mario Williams will be returning to Houston for the first time since leaving for Buffalo via free agency this offseason.
It was time for both sides to part ways. The Texans showed no ill effects with the absence of Williams in the lineup, as he missed the majority of last season due to injury. They won a divisional title and almost stole a road playoff victory in Baltimore.
It will interesting to see the reaction to him by the Houston fans. They should take a moment to salute Williams for his years of service to the Texans before the game.