Boston Marathon 2012 Results: Breaking Down Celebrity Finishes and Top Times
April 18, 2012

Jim Rogash/Getty Images
They came, they saw, and they ran the Boston Marathon in sweltering heat most of us wouldn't dare attempt doing. 
It's on to next year, but first comes the breakdown of a great event that was salvaged despite a hot day that had most runners taking it easy around the course. 
Nothing could keep the following people away from finishing the most famed marathon in the nation, and here are the results from another fantastic day in Boston. 
Top Times*

Men:
1. Wesley Korir, Kenya, 2:12:40, 2. Levy Matebo, Kenya, 2:13:06, 3. Bernard Kipyego, Kenya, 2:13:13, 4. Jason Hartmann, Boulder, Colo., 2:14:31. 5. Wilson Chebet, Kenya, 2:14:56.
Women: 
1. Sharon Cherop, Kenya, 2:31:50, 2. Jemima Jelagat Sumgong, Kenya, 2:31:52, 3. Georgina Rono, Kenya, 2:33:09, 4. Firehiwot Dado, Ethiopia, 2:34:56, 5. Diana Sigei, Kenya, 2:35:40.
One name you will not see among the top times is that of Geoffrey Mutai. The man who is widely considered to be the best marathon runner in the world didn't finish the race because of stomach cramps and may now lose out on an Olympic berth because of it, via USA Today.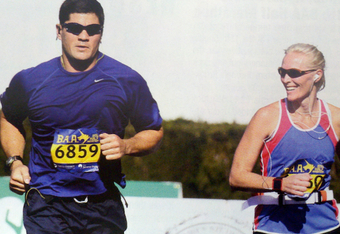 Celebrity Finishes
The former NFL star and current analyst chose to run for his organization, Tedy's Team, which is a group of runners raising money for the American Stroke Association. 
Time: 5:26:02
Ryan Sutter: 
The Bachlorette star ran for his friend and Survivor winner Ethan Zohn. When a recurring case of Hodgkin's lymphoma negated Zohn from qualifying for the marathon, Sutter ran instead. 
Time: 3:36:02
Kristine Lilly
The former US National Women's team star ran to support Children's Hospital Boston, and her soccer endurance helped her beat the heat. 
Time: 4:27:45
*Times according to Fox News.