6 2012 NFL Draft Projects Who Could Reward Their New Teams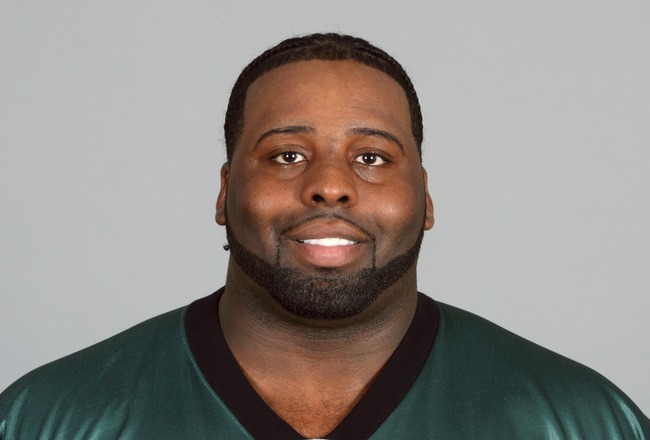 Peters has gone from undrafted TE to elite NFL LT.
Handout/Getty Images
Evaluating, unearthing and projecting NFL draft projects into successful scouting and player development outcomes is one of the most enjoyable caveats on the draftnik work plate. As a certain amount of pride can be understood for the teams and position coaches that affect such a transformation, so is there a congruent level of "finder's joy" in calling for the possibility to occur.
On a purely functional level, the impact realization of a project prospect can produce a similar value as hitting on a sleeper or late-round flier. Expectations are likely low for this player and the draft slot, or even undrafted status, often indicates a lengthy distance to reaching starter caliber.
If a club produces overachieving value from this depth of the procurement process, it acts as a bonus to that class's haul and can create real difference-making flexibility on the roster over a window of several years. This is especially true if the upstart takes place during a player's rookie contract before he has reached any kind of financial maturity.
The term "project" typically refers to a development case that carries even longer odds than most late-round or incomplete prospects. This reference may be apt because of a position conversion or a deep and specific set of traits seen as missing from a player's game before he can tap into his lone or few present strengths.
Currently injured Philadelphia Eagles left tackle Jason Peters is a unicorn example of an impact project result. After going undrafted as a mammoth tight end (6'4.5", 330 lbs.) in 2004 out of the University of Arkansas, the Buffalo Bills signed him and he progressed from special teams bully and blocking tight end to right tackle before being named to his first Pro Bowl at left tackle in 2007 and every year since.
Much of the credit for Peters' development as a tackle is attributed to now-retired offensive line coach Jim McNally, whose final stint came with Buffalo from 2004 to 2007, though he was recently hired by the Cincinnati Bengals as a consultant.
By definition, predicting a project player into even a functional role, let alone a consistent or impact starter, is a low-percentage play. Beyond the basic difficulties of the football aspects, it also requires the right mindset and determination on the part of the player and positional coach, as well as patience from an organization. And even if all of that lines up favorably, like with any other competitive climate, an opportunity must somehow be forged.
Have a look at this slideshow that examines six potential projects in the 2012 draft class that could pay off for their initial NFL clubs.
From Duck to Swan: Darron Thomas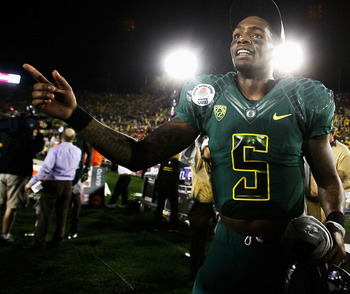 Thomas has athleticism and passing skill that point to upside.
Jeff Gross/Getty Images
Darron Thomas, QB, University of Oregon, 6'3", 220 lbs., redshirt junior, DOB: 5/23/1990
When Darron Thomas announced in mid-January, following his lead role in a Rose Bowl victory over Russell Wilson and the University of Wisconsin, that he would declare for the NFL draft, it was viewed with puzzlement and condemnation.
Little has changed in the draft analysis community with regard to his decision in the ensuing three months.
The criticism is easy to understand. Thomas would have returned to Oregon as a third-year starter, helming one of the most potent offenses in the country with preseason individual and team accolades a plenty.
More relevantly from an NFL projection standpoint, he continues to be viewed as a quarterback that needs to add strength weight to his frame to withstand punishment at the next level and improve on his progression-reading and delivery. And these are all assertions that I agree with.
For a quick and dirty, but informative, scouting report on Thomas, I encourage you to read fellow NFL draft Twitter community mate and Bleacher Report writer Alen Dumonjic's take. It is the most thorough public analysis that I am aware of.
The only area in which Dumonjic and I diverge greatly is in the accuracy grade. Thomas' present results in this category, including his natural feel for ball placement, are part of what has me believing he has starter upside and is a worthwhile project play in the draft.
He carries a sixth-round grade from me, but the majority of established draftniks, including many whose opinions and work I respect, rate him as undraftable and think his premature come-out keys his undoing.
Thomas is an above-average athlete for the position and to me has clearly shown the ability to pass the football at an NFL level when given time to see and stick his reads. However, there is also no question that he will need to adjust to the footwork and read process from under center, getting the football out quicker in general from snap, to read, to release.
A team that can be patient, though, and develop him steadily over the course of several years could receive a huge payoff for its prescience.
Swervin' to Avoid Contact: Bruce Irvin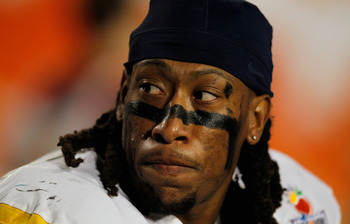 Irvin's one-dimensionality should give teams pause.
Streeter Lecka/Getty Images
Bruce Irvin, OLB, West Virginia University, 6'2.5", 245 lbs., senior, DOB: 1/11/1990
Irvin is undoubtedly the most high-profile name, and in turn perhaps the most controversial, on this list because of his widely established regard as an exciting day-two prospect.
After transferring to the Mountaineers from Mount San Antonio College (a California community college), Irvin posted 22.5 sacks and 29 tackles for loss in 26 games over two upper-class seasons. He was inauspiciously absent from the All-Star game circuit, but then returned with force at the combine when he ran 4.50 in the 40, a 4.03 short shuttle and 6.70 seconds in the three-cone drill. He also leaped 33.5 inches vertically, 10'3" in the broad jump and posted 23 repetitions of 225 lbs. on the bench press.
So what is not to love? That is excellent production in a BCS conference and an elite workout at his size. The "F" in "NFL" stands for football and not fitness. There is no denying Irvin's sick athleticism, which was even on display successfully on the football field at times during the last two seasons.
As it is presently packaged, however, I simply do not see him playing productively right away at the NFL level. Even from his junior to senior campaign, Irvin saw a significant drop-off in sack production from 14 to 8.5. This result is blatantly attributable to his pass-rush repertoire being "an army of one," as in one move: speed.
Opposing offensive coordinators and offensive tackles quickly learned during the offseason that Irvin's approach, literally on almost every down that I saw on film, was to blow upfield off the snap and try to run around the blocker and get to the quarterback. Periodically, if the tackle or tight end set up or shuffled outside too far, Irvin would wisely cut back inside.
Not only was he turned into a much less effective sack artist, but his contribution in other phases of the game (namely run defense and coverage) were negligible and project the same in the NFL because he has not developed the skill set or demeanor for them.
There is no doubt an NFL defensive coaching staff will be getting a tremendous athlete to work with in Irvin. However, teaching him additional pass-rush techniques, movement skills to work in coverage space, as well as to shed and disengage from blockers means that he is a huge project no matter when he comes off the board.
I currently have him graded as undraftable but realize the allure of his physical tools, especially as they apply to a potential source of pass-rush production, will compel some team to turn in his draft card later this month.
Mirror Image for This Convert: Taylor Thompson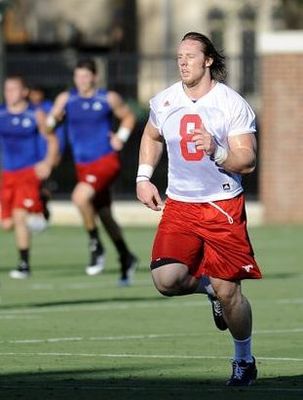 Thompson's ability to run could make him offensive.
Taylor Thompson, DE, Southern Methodist University, 6'6", 260 lbs., senior, DOB: 10/19/1989
Here is a 3-4 five-technique defensive end prospect: elite height, length (approximately 80-inch wingspan) and athleticism, who was a three-time Conference USA honoree, including first team the last two seasons, capitulated with a senior campaign that saw him record seven sacks and six forced fumbles.
That is Taylor Thompson during his college football career when he played between 280 and 290 lbs. and was certainly a draftable prospect at defensive end. However, he has foregone that path, which ironically may result in a lower draft standing, for a higher-upside calling just across the line of scrimmage at tight end.
With an ideal frame and rare physical gifts for the position, Thompson shed weight, checking in at 260 lbs. for his April 14 pro day, that still has him as the best size prospect in this tight end class anywhere in the top 10 or 12.
He proceeded to rip off a 4.55 40-yard dash time, put up a vertical of 37 inches, broad jump 10'6" and rep 22 times on the bench press.
And the conversion to tight end may not be as crude as one might think at first blush. Thompson was one of the top prep tight ends in the country at Prosper High School in Texas. His initial transition to defensive end made sense at Southern Methodist because of the constant four- and five-receiver sets it runs out of the spread.
In a league that has recently seen the tight end position redefined by Rob Gronkowski, taking a chance on a position conversion with Thompson's roots and athletic characteristics is going to intrigue a lot of teams.
From Beloit to the Big Time: Derek Carrier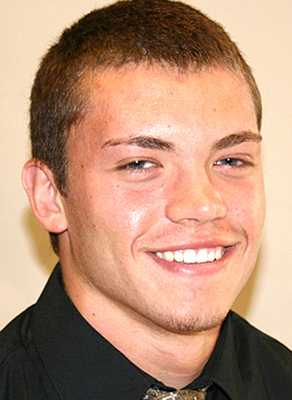 Carrier could take off as a flexed, oversized slot receiver.
Derek Carrier, WR, Beloit College, 6'3.5", 240, senior, DOB: 7/25/1990
This player's sleepy and somewhat longshot profile make him one of this class's favorite projects of mine to root for. Check out some of his answers about life as a student-athlete in this interview.
Because of my previous work in baseball statistical analysis, I am familiar with more college programs than most people but had never heard of Beloit College before looking into Carrier. A member of the Midwest Conference at the NCAA Division III ranks, he also participated in track and basketball at the university level.
This athleticism, along with his size and college productivity, landed him a spot at one of the newer yet burgeoning college All-Star games, the Players All-Star Classic. He was a teammate there, coincidentally, of conference-opponent quarterback Alex Tanney. While not on this list, and only a priority free-agent grade from me, Tanney is my favorite non-Football Bowl Subdivision passer in this class.
Carrier lands here, though, because at his size, he may not have the suddenness, separation and route-running skills to translate consistently outside in the NFL. His niche could be as an oversized slot receiver or flexed joker tight end, the latter especially if he can bulk up some and develop as a blocker.
After a career that saw him haul in 189 passes for 3,111 yards and 29 touchdowns, Carrier did well for himself at his pro day with a 4.5 40 time, 38" vertical, 10'2" broad jump and tremendous scores in the short shuttle (4.08) and three-cone drill (6.65).
Despite some of the upside, Carrier still remains a project, especially if he moves inside due to some of the nuances and extra contact that occurs there, not to mention the overall speed of the game. Pure athleticism does not always equal football skill, but it does provide a canvas on which to work.
A Journey to Safety: Jerico Nelson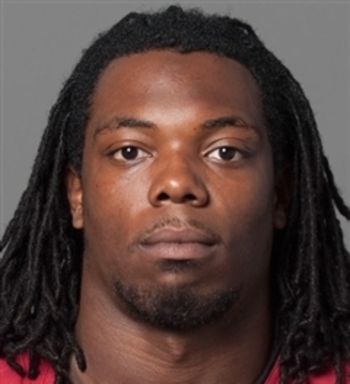 If Nelson can cover in space, strong safety might work.
Jerico Nelson, OLB, University of Arkansas, 5'9.5", 205 lbs, senior, DOB: 9/19/1989
Coming out of high school in Louisiana, Nelson was a running back and received several high ratings at that position or classified as athlete. He began his career at Arkansas as a special teams maven and the defensive secondary. His playmaking tenacity and in-the-box impact got him moved even closer to the line of scrimmage, however, and he played most of his last two seasons as a very undersized outside linebacker.
If Nelson is to stick in the National Football League, he will have to return to his roots and make his early hay on special teams and projecting back to the secondary, likely strong safety where his skill set translates the best.
What I love about Nelson is that he shows up on tape. I originally stumbled upon him when watching film of two higher-profile Razorbacks: wide receiver Jarius Wright and, on his side of the ball, defensive end/outside linebacker Jake Bequette. Nelson kept grabbing my attention by flying around and making plays.
The biggest compliment I can pay him based on his size, position and role in 2011 is that he was like a smaller version of Lavonte David from the University of Nebraska. And whereas David will be able to stay in the front seven at the next level, Nelson's best chance will be further back.
I have been unable to dig up any 2009 tape on Nelson when he was playing more of a traditional safety alignment, which leaves me somewhat light in a fuller and more confident analysis projection of his coverage and movement skills from that depth.
Relevant questions would be: how are his angles further away from the line of scrimmage; ball skills; ability to read the quarterback; coverage deeper down the field or if given half or quarter responsibility.
We know he has the violence and natural instincts for the game overall—that much is apparent just from watching him—and to further pique the intrigue on his transition, he did test very well in the movement times at his pro day: 4.56-40, 1.50 10-yard split, 4.13 short shuttle and 6.82 three-cone drill are all excellent figures.
Even if Nelson goes undrafted, he is a player that I fully expect to sign in undrafted free agency and make a club because of immediate special teams value on top of whatever projection a team should have; he is just one of those guys that is a football player.
This Guy Has Grown on Me: Dale Moss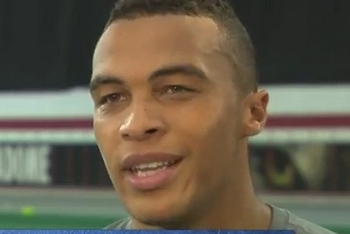 Moss could be the next Miles Austin FCS success profile.
Dale Moss, WR, South Dakota State University, 6'3", 215 lbs., senior, DOB: unknown
His uncle is 1972 Heisman Trophy winner Johnny Rodgers of University of Nebraska fame. His cousin is Bobby Newcombe, who also played for the Cornhuskers before going on to a career in the NFL. Moss, however, went to South Dakota State and played basketball for four years, starting at guard in his senior campaign.
After basketball was over, and the National Basketball Association was not calling, Moss' decision to stay in school a little longer and play one year of football will likely shape the rest of his life.
Despite not having played since high school, Moss returned to the gridiron and became the Jacks' primary offensive weapon. In the process he totaled 61 receptions for 949 yards and six touchdowns. And more importantly, he looked fairly natural doing it in his receiving skills and footwork.
Moss participated in the East-West Shrine All-Star Game event, where the unanimous consensus was his arrow left pointing up and he showed surprising polish for his stark inexperience, before wowing again at his pro day.
He ran a 4.51 40-yard sprint with a vertical leap of 41.5 inches, broad jumped 10'10", and for his length turned in ridiculous short shuttle (4.13) and three-cone (6.35) times, perhaps befitting of agility and explosion required on a basketball court.
The project component is very much present, just the same. After only one season of college football, and that at the Football Championship Subdivision level in a middling conference, following only two years of high school football, Moss will have a lot of catching up to do already at the NFL level.
Watching him play basketball, he was an obviously dynamic athlete. That same confidence and rare athleticism does not immediately show up on film in football. Part of that is experience and nuance, honing his craft at the position and figuring out how to use his gifts and beat guys.
Another component is strength, something Moss has already made strides in during the draft preparation season to the tune of 15 to 20 pounds, especially in his legs so he can maintain as much explosion as possible with his equipment on and working off grass as opposed to the hardwood.
This guy has the chance to be the best high-pointer in the class and with his other physical traits and advanced feel for the position given how raw he is overall, I see Moss as a better value on day three or after the draft than Appalachian State's Brian Quick is on day two, even being discussed as high up as top 40 or 50.
Keep Reading