Fantasy Baseball Waiver Wire: 6 Players That Will Hurt Your Team
April 17, 2012

Nick Laham/Getty Images
Now that we're one week into the 2012 fantasy baseball season, it's time to begin the over-analyzation of your fantasy roster.
A successful draft day very seldom leads to a league title without making multiple in-season changes to your roster—meaning that picture-perfect lineup card will certainly need some tweaking once the spring training studs do not pan out. Here are six players to avoid that are likely to keep your rotisserie team out of the playoffs. 
Buster Posey - San Francisco Giants (C) 
Perhaps the Giants' most popular player, Posey is fresh off a terrible leg injury that raises serious questions about how many days he has left behind the dish. Posey took the questions comically, commenting "I'm too slow for the outfield...well, (Pat) Burrell played out there."
He's been considered a top-five catcher in the league with some draft owners snagging him as early as the fourth and fifth rounds. Posey's bat is what's most questionable from a fantasy standpoint as he's targeting a .300/20-HR/100-RBI season. 
His rehab process seems to be going well, sharing the position with Giants prospect Hector Sanchez. But his injury has affected him far too largely for fantasy owners.  
Sleeper Replacement - Alex Avila, Detroit Tigers (C) 
Avila had incredible success in fantasy leagues last season thanks to Tigers skipper Jim Leyland, who frequently swaps Avila with their other power-hitting catcher Victor Martinez, one at the DH spot. Avila is a steal in fantasy leagues because he still gets three to four at-bats per game while not being subject to the dangers of the catching position.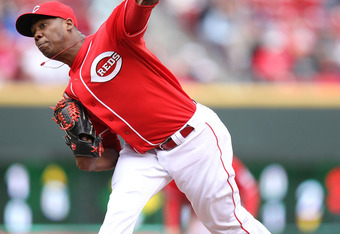 Andy Lyons/Getty Images
Aroldis Chapman - Cincinnati Reds (LHP) 
Chapman was one of the highest rated young stars in MLB once his 100+ mph heater hit the radar gun. However, that was all the way back in 2005 and he's since been struggling to find consistency on the mound.
Cincinnati's pitching professors have shuffled him between starter, reliever and closer hoping that Chapman would break out as the "Cuban Missle Crisis." So far, Chapman is 2-0 this April with 15 strikeouts, only giving up three hits in eight innings of work.  
Sleeper Replacement - Juan Nicasio, Colorado Rockies (RHP) 
In the Cactus league, Nicasio lead the Rockies with a 15-2 strikeout-walk (K-BB) ratio and recorded a solid 3.06 ERA. Once Nicasio fully morphs into a mature major leaguer, he will likely replace the 49-year-old Jamie Moyer as the club's No. 2 starting pitcher. 
Derek Jeter - New York Yankees (SS) 
Jeter has certainly made his mark in Yankee history and will be the last Yankee to ever wear that sweet No. 2 pinstripe jersey. The reality is he's getting old and his fantasy stock is on a steady downturn. 
Last season, Jeter hit .297 with only six home runs and 61 RBI in that ridiculously stacked "Murderers' Row and Cano" Yanks lineup. Last year Jeter struggled driving the ball and continues to lack his usual base-stealing threat. 
Sleeper Replacement - Dee Gordon, Los Angeles Dodgers (SS) 
Gordon's only risk is the unbalanced lineup on the Dodgers, however he's surprising owners with a .304 batting average in just 224 lifetime plate appearances. Now that he's the everyday shortstop for Magic's Dodgers, he is sure to break out for 70 stolen bases while targeting a batting average around .300.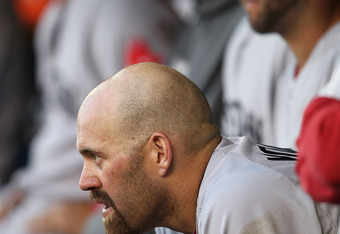 Leon Halip/Getty Images
Kevin Youkilis - Boston Red Sox (1B/3B/DH)  
There isn't one member of Red Sox Nation that doesn't absolutely love Kevin Youkilis. He worked his way from the eighth round of the 2001 draft to become a three-time All-Star—winning two World Series rings in the process.
In the movie Moneyball, Youk was exposed as the former "Greek God of Walks" to MLB scouts. Walks are perfect for a hitter-friendly park like Fenway, but they certainly aren't the best thing for your fantasy team.
Aside from the walks, Youkilis is fresh off posting a mediocre .258/17-HR/80-RBI season. He's declining at the plate, climbing the ranks as one of the older guys in the clubhouse, and is poised for an extremely similar season to the Yankees' Derek Jeter.  
Sleeper Replacement - Brandon Belt, San Francisco Giants (1B/OF)
Brandon Belt is currently shuffling around the diamond with Aubrey Huff, swapping first base and left field. However, Belt has proven to be one of the top hitters in the Giants lineup as far as consistency. "The Baby Giraffe" will certainly shock your fantasy league this season.
Jacoby Ellsbury - Boston Red Sox (RF) 
It's a bit of a stretch to prove that a speedy contact hitter won't have a good season with a 33 foot wall to hit at half of the season. But Fenway's hitter-friendly nature hasn't proven to help Ellsbury's struggles at the plate. Jacoby is projected to produce unreal fantasy numbers (in the .300/30-HR/100-RBI/40-SB range), but his roller coaster-like consistency at the plate hints at another disappointing season.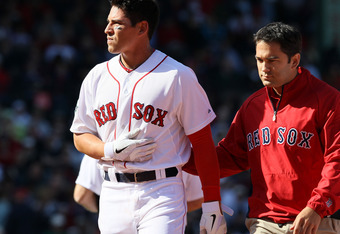 Elsa/Getty Images
Sleeper Replacement - Yoenis Cespedes, Oakland Athletics (CF) 
Cespedes is the epitome of a true five-tool talent, but the most important fantasy aspect is his ridiculous power. Cespedes explodes baseballs off of his bat, and as an Athletics fan and fantasy owner I can only hope he continues this success for the full four years of his $36 million contract.  
Ichiro - Seattle Mariners (RF)  
The Mariners have encompassed the Japanese national team's strategy to put Ichiro in the No. 3 spot in the batting order. However, Ichiro's slap style at the plate hasn't propelled many fantasy owners to league titles. 
He's extremely likely to reach the 3,000-hit milestone in the near future, but the fantasy aspect tags Ichiro as an aging veteran that's no longer a steal to raise your fantasy teams's batting average while swiping bags on the base paths. 
Sleeper Replacement - Jose Tabata, Pittsburgh Pirates (RF) 
The Pirates have three young, prospecting outfielders in Alex Presley, Andrew McCutchen and Jose Tabata—all 25 years old or younger. Tabata overshadows Presley and McCutchen in fantasy leagues for his surprising power and consistent hitting, mostly because McCutchen was probably drafted in the first two or three rounds.