2012 NFL Mock Draft: Combine Busts Still Worthy of First-Round Pick
April 18, 2012

Joe Murphy/Getty Images
The NFL's Scouting Combine is not the end-all-be-all of prospect evaluation. Sometimes the results there can lead teams astray.
There have been notable players to shine at the combine—only to be less than stellar as pros. A recent example was Bruce Campbell, formerly of the Raiders, but recently traded to the Carolina Panthers.
Campbell put on a show at the combine in 2010, but has yet to distinguish himself in games.
On the flip side, Anquan Boldin was a player whose draft stock took a hit after a slow 40-time at the combine in 2003.
Nine years, 54 TDs and three Pro Bowls later, there are a lot of teams that regret letting him slip to the second round.
Who are the Anquan Boldins of this draft?
Here is a first-round mock with a spotlight on some that could have a similar impact after a subpar combine. 
1. Indianapolis Colts: Andrew Luck, QB, Stanford
Luck is a lock for this top spot, nothing short of a disaster could change that.
2. Washington Redskins: Robert Griffin III, QB, Baylor (via trade with St. Louis)
RG3 is as cemented in as a Skin as Luck is as a Colt.
3. Minnesota Vikings: Matt Kalil, OT, USC
It is becoming apparent that Kalil is going to be the Vikings' pick. Protecting Ponder is justifiably the priority.
4. Cleveland Browns: Trent Richardson, HB, Alabama
I don't like this pick for the Browns—though I love Richardson. I think they should trade down for Kendall Wright or Michael Floyd.
5. Tampa Bay Buccaneers: Morris Claiborne, CB, LSU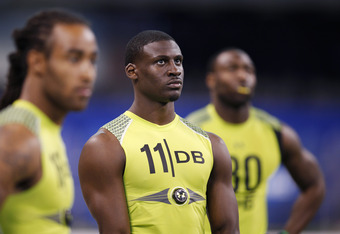 Joe Robbins/Getty Images
Claiborne is going to be a top 10 CB in the NFL for the next five to seven years, barring injury. His success will be the most recent example that the Wonderlic is a useless part of the draft evaluation process.
Much has been made about Claiborne's low score on the test, but what should be noted is that he has a learning disability. That wasn't noted in the vicious and insensitive article posted by Mike Florio of Pro Football Talk, entitled "Claiborne Gives Birth to a 4 on the Wonderlic"
Without a doubt, Claiborne has heard the childish jeers before. But just like the kids in the schoolyard that delivered similar insults, Florio will be watching Claiborne perform every Sunday.
6. St. Louis Rams: Justin Blackmon, WR, Oklahoma State
If Blackmon makes it to the sixth pick, the Rams will be ecstatic. He is the perfect weapon for Sam Bradford and a no-brainer selection here.
7. Jacksonville Jaguars: Melvin Ingram, DE, South Carolina
Ingram could be a monster—but he could also be a bust. I worry about the fact that he doesn't seem to have a definite position.
8. Miami Dolphins: Ryan Tannehill, QB, Texas A&M
Tannehill is a second-round pick that will be selected much higher, because this is a weak QB class after Luck and RG3.
9. Carolina Panthers: Michael Brockers, DT, LSU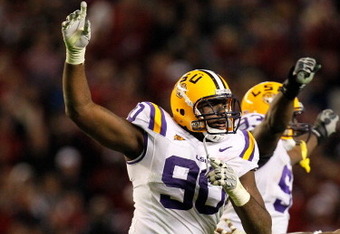 Kevin C. Cox/Getty Images
Brockers is one of the lesser known, but potentially high-impact players in the draft. He did not have a good NFL combine, but he still has enormous potential.
He is a gamble because he effectively showed up for the biggest job interview of his life overweight.
That said—he was only a sophomore and ESPN's Kevin Weidl offered this perspective:
Brockers had a poor showing in pretty much every area: 5.36 in the 40; 26.5-inch vertical jump; 8-foot-1 broad jump; 4.81 short shuttle; 7.46 three-cone drill.

However, Brockers has impressive natural core strength and power—as opposed to weight-room strength—and the tape of his regular-season performance against Alabama is one of the most dominant I saw from a 2012 prospect. The Crimson Tide simply had no answer for him inside.
He is one of the few players in the draft that has the versatility to play just about any defensive line position in any scheme. That is rare, and it will get him drafted high.
10. Buffalo Bills: Michael Floyd, WR, Notre Dame
I could see Floyd going a little higher, but if he does slip to Buffalo, they will be lucky to have him. He would instantly become the team's No. 1 receiver—even over Stevie Johnson.
11. Kansas City Chiefs: David DeCastro, G, Stanford
Guards don't get enough love. Were the position more respected—DeCastro could be a top seven pick.
12. Seattle Seahawks: Luke Kuechly, MLB, Boston College
I love this pick for the Seahawks. Though I'm not sold on Matt Flynn at QB—still the position was addressed—now it's time to fix the LB corps. Kuechly would be a great pick for that reason.
13. Arizona Cardinals: Riley Reiff, OT, Iowa
Reiff is a solid tackle prospect that I believe has a chance to be on the same level as Kalil.
14. Dallas Cowboys: Dontari Poe, NT, Memphis
Three years from now Poe's name could be added to the Bruce Campbell' list. If not, the Cowboys could have a perennial Pro Bowler if they select him here.
15. Philadelphia Eagles: Fletcher Cox, DT Mississippi State
Cox fills a major need for Philly, as they need to shore up their run-defense.
16. New York Jets: Courtney Upshaw, OLB/DE Alabama
I have heard whispers about the Jets taking a safety, but I still think they go out and draft a pass-rusher.
17. Cincinnati Bengals: Dre Kirkpatrick, CB, Alabama
The Bengals biggest need is at CB. Dre Kirkpatrick is the best player that'll be available at that position.
18. San Diego Chargers: Nick Perry, DE/OLB, USC
Perry will be a solid pass-rusher if he lands in a system like the Chargers'. San Diego is hoping they can find another Shawne Merriman (pre-injury).  
19. Chicago Bears: Whitney Mercilus, DE/OLB, Illinois
With the receiver position addressed through trade and free agency, I expect Lovie Smith to address his defense.
20. Tennessee Titans: Cordy Glenn, G, Georgia
Glenn is a solid pick for the Titans. It allows them to keep the bread and butter of their team strong. Jake Locker will need a strong running game in his first full season as QB, and Glenn helps sustain that.
21. Cincinnati Bengals: Doug Martin, RB, Boise State
I love Doug Martin. He reminds me a bit of Ray Rice, and the Bengals will have a steal if they get him here.
22. Cleveland Browns: Jonathan Martin, OT, Stanford
The Browns should continue to shore up the offense with this pick. Joe Thomas and Martin could be nice bookend tackles.
23. Detroit Lions: Stephon Gilmore, CB, South Carolina
Gilmore is emerging as one of the best CB prospects in the draft. The Lions need help in coverage and Gilmore would deliver that.
24. Pittsburgh Steelers: Donta Hightower, LB, Alabama
It is time for the Steelers to start rebuilding vital pieces of their defense. Hightower would be an excellent selection at No. 24.
25. Denver Broncos: Kendall Wright, WR, Baylor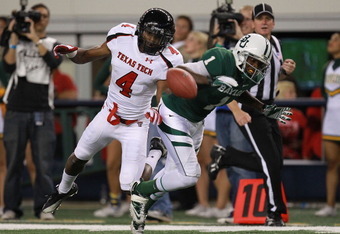 Ronald Martinez/Getty Images
If NFL teams sleep on Kendall Wright's ability as a play-maker and difference-maker—they will regret it. Wright is for real and the 4.61 40-time is not indicative of the impact he'll have at the next level.
Simply put—Wright can and will get separation from defenders. At the end of the day—that is all scouts are looking for. You can't see that in a combine workout.
It doesn't take into consideration how a player reacts to a defender in front of him—or how deceptive or illusive a receiver is in his initial movements.
Those things led to 108 receptions, 1,663 yards and 14 TDs as a senior at Baylor. Those skills will lead to a successful NFL career, barring injury of course.
He reminds me a lot of Greg Jennings—who wouldn't draft him if they could?
26. Houston Texans: Stephen Hill, WR, Georgia Tech
Hill is like the opposite of Wright. He had a less than distinguished career at Georgia Tech, but he was great at the combine. This would be a smart selection for the Texans as Hill and Andre Johnson could be amazing.
27. New England Patriots: Quinton Coples, DE, North Carolina
Coples with New England could be scary. He will need to maximize on his enormous potential. If he does, he could be the biggest difference maker on a good team in this draft.
28. Green Bay Packers: Chase Minnifield CB, Virginia
Minnifield would be an excellent selection as the eventual successor to Charles Woodson.
29. Baltimore Ravens: Peter Konz, C, Wisconsin
The Ravens could try to find Ray Lewis' successor, but Konz is too good a prospect to pass up. 
30. San Francisco 49ers: Coby Fleener, TE, Stanford
This pick could give the Niners the NFL's best TE tandem with Vernon Davis and Fleener.
31. New England Patriots: Alshon Jeffery, WR, South Carolina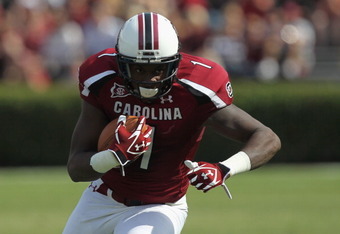 Streeter Lecka/Getty Images
The Patriots could pull a huge get with this selection. Jeffery's absence at the combine—especially in speed drills—may have knocked him out of the first round.
His 40-time at his pro day could have gone a long way in easing concerns about his speed.
He is a 6'4", 230-pound WR with great hands and leaping ability. He has to get better at route-running, but he's already shown the ability to produce against top competition in the SEC.
Jeffery had 3,042 yards receiving and 23 TDs in three seasons at South Carolina.
Jeffery could add the same type of element to the Patriots offense that Randy Moss did.
That will only make the Pats' attack that much more dangerous with Rob Gronkowski, Aaron Hernandez and Wes Welker.
It could be scary. 
32. New York Giants: David Wilson, RB, Virginia Tech
David Wilson's great speed and swivel would be a great addition to the Giants' attack.
Follow Brian Mazique
and Franchiseplay - A Haven For Sports Expression