Bobby Valentine's Remarks About Kevin Youkilis Will Plague His Tenure in Boston
April 16, 2012

Jim Rogash/Getty Images
Boston Red Sox manager Bobby Valentine has a lot of critics, and he obliged every single one of them on Sunday night.
I'm assuming you've heard all about what Bobby V had to say about Sox third baseman Kevin Youkilis, who is off to a slow start this year after going through a tough season in 2011.
If not, here's what Valentine had to say about Youkilis on WHDH's Sports Xtra show on Sunday night, via the Boston Globe:
"'I don't think he's as physically or emotionally into the game as he has been in the past for some reason. But [on Saturday] it seemed, you know, he's seeing the ball well, got those two walks, got his on-base percentage up higher than his batting average, which is always a good thing, and he'll move on from there.'"
It's the first part that stands out. Valentine questions Youkilis' commitment to the game, which is a very dangerous game to play with veteran players.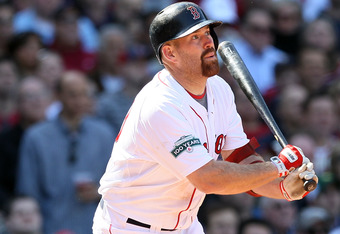 Elsa/Getty Images
The question immediately became what Valentine was trying to do by calling out Youkilis in front of the media. The easiest conclusion to draw was that he was merely making an attempt to light a fire under Youkilis' posterior. Perhaps he was trying to give him a little incentive to snap out of his early funk.
That ship, if it was ever there in the first place, sailed on Monday as soon as Sox players got their turn to speak to the media.
MLB.com has all the quotes. Here's this one from Youk himself:
"'I go out every day and play as hard as I can -- take every ground ball in the morning, take every at-bat like it's my last. I don't think my game has changed at all. I still get upset with myself. I still get mad. That's just not how I go about the game of baseball.'"
Translation: You're damn right I'm into the game. Anybody who says otherwise is a moron.
As he is known to do, Sox second baseman Dustin Pedroia provided a few noteworthy quotes. He got Youkilis' back by saying he, "plays as hard as anyone I've ever seen in my life," and he said he wasn't quite sure what Valentine was trying to do.
When asked if maybe Valentine was trying to motivate Youkilis, Pedroia basically threw Valentine under the bus:
"'Maybe in Japan or something, but over here in the U.S., we've got a three-game winning streak and we want to feel good and keep it rolling. We feel we have a good team and we've just got to get each other's backs and play together. If you don't do that, I don't care what sport you're playing, you're not going to win.'"
Valentine, of course, used to manage in Japan.
So yeah, shots fired.
As if Valentine wasn't in a deep enough hole, he proceeded to make it even deeper when he tried to rationalize his remarks:
"'I think the question was like, 'This is not Youk-like the way he's playing.' I think that was the question I answered. I should have explained that his swing isn't what he wants it to be, the physical part of his swing is frustrating. Frustration leads to emotion. I haven't seen him break as many helmets as I saw him break on TV, so, you know, it just seemed different.'"
Okay, so Valentine was trying to make a point about Youkilis' swing being off and his temperament being more subdued than usual. That's a point any observer would be right to make, including the team's manager.
Yet Valentine managed to twist this point into, "I don't think he's as physically or emotionally into the game as he has been in the past." He could have just as easily have said, "I just don't think he's right," and nobody would have argued.
I think there are two possibilities here: Valentine is either sincere about saying he misspoke, or he meant what he said when he spoke on Sunday night and was merely trying to control the damage with his explanation.
Either way, he looks like a fool. Plain and simple.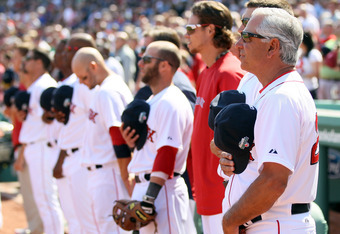 Elsa/Getty Images
It gets worse. Valentine further explained his comments by saying this:
"'At the end of the thing, I said, 'I don't know what the reason is, because I haven't been here long enough.' I don't know why his swing isn't exactly the way he wants it to be and why he's not throwing as many helmets. I thought it was rather innocuous. As a matter of fact, it seemed like they were trying to bang him, and I think I started it by saying how good his at-bats were that day, his two walks.'"
I don't know what the reason is, because I haven't been here long enough.
Then why the heck open your mouth? If you don't know enough to comment about something, don't comment about it—especially not when there are microphones around and especially not when said microphones are in possession of the bloodthirsty Boston media.
Hey, at least Valentine apologized to Youkilis personally. He called him in and explained his comments first-hand, and he let Youk know that he wasn't trying to be a bad guy.
In other words, it was a mea culpa.
Well, so much for the whole authoritarian act. Valentine was supposed to be the tough guy who restored order after it was lost under Terry Francona and his buddy-buddy style of managing. Instead, the Sox are just 10 games into the season, and their manager already looks like a buffoon. Meanwhile, the veteran players, one of whom openly ripped Valentine, look like they're in the right.
That's because they are in the right. None of them deserve blame, and Valentine does.
The story goes that Francona lost control of the club last season. If Valentine hasn't lost control of the very same club, he soon will.
Personally, I think it's already too late. The cards were stacked against Valentine as soon as he was hired, as he was tasked with getting a veteran team to follow a guy who hadn't managed in the big leagues in a decade. Worse, Valentine also had to convince his team to follow him despite the fact his most recent job had been as an ESPN stooge.
Wouldn't you know it, he's taken that act into the Red Sox's clubhouse.
Valentine can't risk letting things getting any worse than they already are. He's going to have to go out of his way to make sure his players support him, and that's going to be exceedingly difficult now that every player in the clubhouse knows that he called out one of the team's most notable veterans. 
Winning will cure all. If the Sox start winning, nobody's going to care that Valentine made some stupid remarks once upon a time. More and more wins will make him look more and more like a genius who knows what he's doing.
The danger is what will happen once this Red Sox team starts losing. That's when Valentine will be tasked with motivating his players. It's already obvious that his motivational skills are a work in progress, and he'll be trying to motivate players who will remember the whole Youkilis incident.
Nobody should be surprised if Valentine is not in Boston long enough to bring them up to speed.