Chicago Bears: Why Jonathan Martin Should Be Their First Pick in the Draft
April 17, 2012

Ezra Shaw/Getty Images
If you ask any Chicago Bears fan, from a casual observer to a die-hard analyst, what's the biggest problem the Bears have had in recent years, a vast majority would say protection of the quarterback.
The Bears' greatest asset on the field is not an aging defense, a stubborn running back who's worried about a contract or the best kick returner in the history of the game, it is a young, athletic quarterback, Jay Cutler.
In Cutler's three seasons in Chicago, he has been sacked a staggering 110 times including being sacked 52 times during the 2010 season.
The Bears took a step in the right direction last season with drafting Wisconsin tackle Gabe Carimi.  Carimi was moved to right tackle and played well before being injured in Week 2 against the New Orleans Saints.  The Bears have been adamant with their stance that seventh-round draft choice J'Marcus Webb has the ability to play left tackle, arguably one of the most important positions in the game.
Webb has athleticism and has shown to be a solid left tackle at times, but is often over-matched and when the going gets tough, he often loses any semblance of technique.
With no real option available in free agency, the Bears must look at the draft as the best possible place to find a replacement.
Enter Jonathan Martin.
Martin, who is viewed as the third-best tackle in this year's draft behind Matt Kalil and Riley Reiff, is viewed as a more athletic and much more polished blocker in comparison to Webb.  At 6'6" and 300 pounds, he has prototypical left tackle size and moves off the line of scrimmage much quicker than most.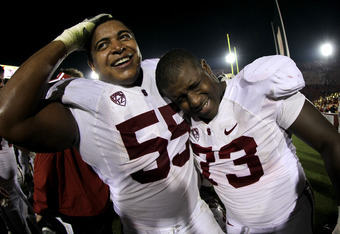 Stephen Dunn/Getty Images
Martin does not have the strength that many coaches desire of a left tackle, but that is certainly an aspect that Martin can improve on.  He has very quick feet and because of his good burst off the line he is able to set the edge in the running game and uses his speed and athleticism to gain leverage against his opponent in the passing game.
The biggest reason why Martin would fit in well on the Bears is his experience in a pro-style offense as well as having protected the blindside for projected No. 1 overall pick Andrew Luck.  Luck is known as a guy who excelled in all aspects of the passing game including when getting out of the pocket.  Given Cutler's desire to work more outside of the pocket this season, Martin would become even more of an asset given his experience with Luck.
When it's the Bears turn to draft at No. 19 next Thursday night, do not be surprised if they pass on a wide receiver (Kendall Wright) or a defensive end (Whitney Mercilus) and finally address the one area of this team that has struggled the most since the arrival of Cutler.