Which NFC North Team Needs the Best Class in 2012 NFL Draft?
April 16, 2012

Scott Boehm/Getty Images
It would be simple to point to the Minnesota Vikings here, drop the microphone on the stage floor and walk off.
It wouldn't be right though.
Listen, every team needs to get their drafts right in order to secure the future of the team, because even an initially stocked franchise will fade if they miss on draft after draft.
That said, there is one team who needs to nail their draft in a way the others don't—and it isn't the Vikings.
The Vikings don't, not because they are close to awesome or anything, but because they are so far from awesome. They are rebuilding and to do that right, takes time. They are just starting and it will take years to get the team 100 percent where it needs to be.
They can't miss every pick, no, but they can miss a few here or there. Less is better, but still, even a perfect draft won't impact immediately.
No, the team who needs the best class next week is the Chicago Bears.
The Packers are deep in talent and a lot of their flaws are ones which require a tweak here or there. The Lions have done a good job retaining their players and, again, the things they need are minor additions. Both teams have young core groups as well.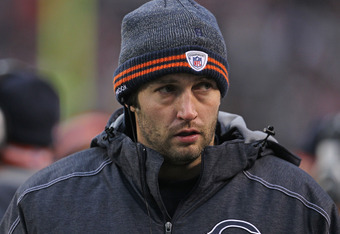 Jonathan Daniel/Getty Images
The Bears have a slightly gray defense, no offensive line, one very gifted wide receiver and a quarterback who gets hit frequently. With the age of the defense (and no secondary—forgot that), the team is kind of in their Super Bowl window.
If the defense gets too much older, it could be a long road to regain the chance they have now.
Remember, this is a tight division and as much as we thought maybe three teams from it would make the playoffs in 2011, that's always chancy.
The older a team gets, the harder it is to come back each year and compete.
The Bears can start shoring up their defense now, getting younger. However, they still have key pieces missing offensively as well.
This is a team which needs to make every single pick count. They need offensive line help, even if they don't go first round with that pick. They need help in the secondary. They need a younger, dynamic wide receiver (easily grabbed in the second or third rounds) and depth in the defensive front seven which, again, needs some young upside.
Some of those needs are more critical than others. If they miss a bit on a wide receiver, it won't kill them.
However, they really do need a best-case scenario of good, productive draft picks to get back into the playoffs and, more importantly, the Super Bowl.
Because that window is closing. They need players to step in now.
Before it slams shut on their fingers.