2012 NFL Draft: Ryan Tannehill and Players Who Aren't Worth the Hype
April 16, 2012

Darren Carroll/Getty Images
NFL scouts and analysts love to hype up undeserving players before the draft, and this year is no different. Texas A&M quarterback Ryan Tannehill leads a list of the three most overrated players in the 2012 NFL draft. 
Here are the three guys who look like they could be top-20 picks, but don't belong there and could be the year's biggest busts.

Ryan Tannehill, Texas A&M
Like almost everyone who has watched tape on him, I love Ryan Tannehill's upside. At nearly 6'4" and 221 pounds, he has the prototypical size for the position, plus excellent mobility, good arm strength and excellent accuracy. His overall lack of experience is what troubles me.
Tannehill made just 19 career starts, after taking over under center for the Aggies midway through his junior year, following a conversion from wide receiver. In his only full season as a starter, Tannehill completed 61.6 percent of his passes for 3,744 yards, with 29 touchdowns and 15 interceptions. 
After acing his pro day Tannehill has all but solidified himself as a top-10 pick. That's a little crazy for me. His numbers in college were solid but not worthy of top-10 selection, and his stock has been boosted by the fact that USC's Matt Barkley and Oklahoma's Landry Jones decided to return to school.
If Barkley and Jones were in this draft, I think Tannehill would be a high-upside second-round pick. I like the kid, but not that much.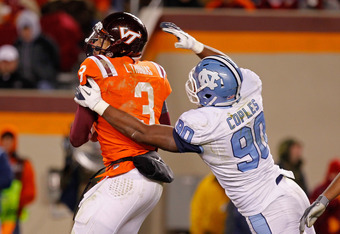 Geoff Burke/Getty Images
Quinton Coples, North Carolina
Since before the 2011 college football season Coples looked like a sure top-10 pick. During his final collegiate season he just didn't dominate the way a guy with his level of talent should have. That's why I have a major problem slotting him into the top 15. 
At nearly 6'6" and 285 pounds, Coples possesses outstanding size, speed, quickness, strength and overall athleticism. Physically, he is in every way the prototypical 4-3 defensive end. The problem is his motor, and overall desire. He just lacks the kind of drive that someone at his position needs to be a great NFL player, and that shows up on tape again and again.
Coples registered just 7.5 sacks during the 2011 season, that is an incredibly disappointing number for a guy with his natural gifts. He is the kind of guy you're pulling for to figure it out, because if he does, he'll have the talent to be an all-time great. 
When Coples attacks and plays through the whistle, he reminds me of the kind of game-changing defensive linemen that can take over a game. It's not hard to see Mario Williams or Julius Peppers when you look at him. The problem is, those glimpses of his full potential are few and far between, which makes him a serious risk to go bust.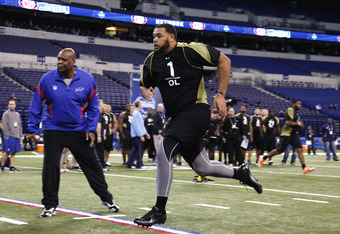 Joe Robbins/Getty Images
Mike Adams, Ohio State
Adams is a monster of a young man, checking in at 6'7" and 323 pounds. But like Coples, he just hasn't taken advantage of his physical gifts.
The mammoth offensive tackle has been pegged as high as the top 20 in some projections, but I think that would be a complete waste of a pick. He just doesn't seem to have the kind of drive or awareness needed to have success at his position at the next level. 
He has never been noted for his work ethic, and despite being a very good pass protector, he has never shown the ability to dominate in the run game. Adams is the classic guy who has always been able to rely on his size and talent to get by—that won't fly in the NFL. 
He just isn't the kind of consistent guy a team could put on the outside of its offensive line and be able to rely upon for years. 
In addition to that, Adams had a run-in with the law in 2009 and was suspended for two games that year for violating team rules as well. Then he missed the first five games of 2011 as part of the NCAA's punishment for Adams and fellow Buckeyes selling memorabilia for tattoos. 
Adams has as much natural talent as anyone in the 2012 NFL draft, but he doesn't have the kind of drive to ever improve, and he has never shown himself to be reliable or consistent. Unless there is a huge change in his attitude and personality, you can go ahead and ticket him for Bustville.