2012 NFL Draft: 10 Possible UDFAs the Philadelphia Eagles Should Sign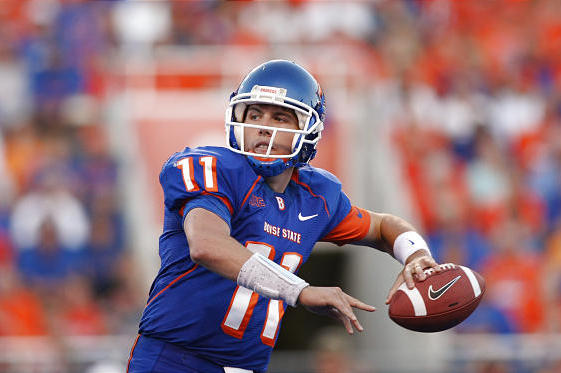 Although there will be 253 players selected during this year's NFL Draft, some undrafted prospects will still go on to make a 53-man roster.
The Philadelphia Eagles don't have any glaring needs, but would still be wise to remain active after the draft.
Undrafted free agents come with little financial risk and can be easily released if they don't pan out.
If any of these 10 prospects become UDFAs, look for Philly to come calling.
Begin Slideshow

»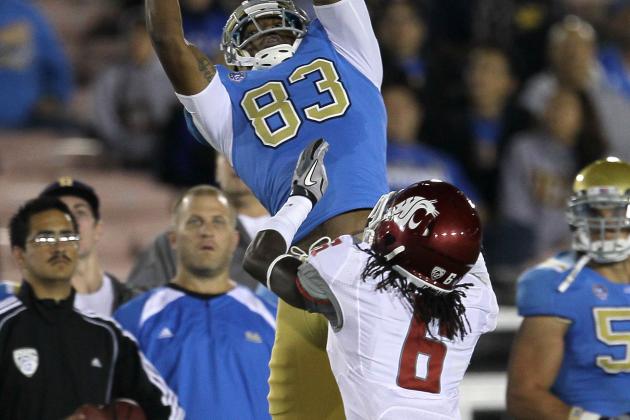 Stephen Dunn/Getty Images

The verdict is still out on the 6'5" wideout.
While UCLA fans are most likely to remember Nelson Rosario for his drops and inconsistent play, it's possible that a team selects him with a late-round pick.
If the California native somehow manages to slip through the cracks, Andy Reid should consider the skill-set and dynamic the receiver has to offer.
Although Rosario lacks elite speed, he did quietly finish his senior season with 1,161 receiving yards, five touchdowns and an average of 18.1 yards per catch.
Rosario would come to Philadelphia and immediately provide Michael Vick with a huge red-zone target.
If the team is unable to get a big-bodied receiver in the draft, they might be looking here.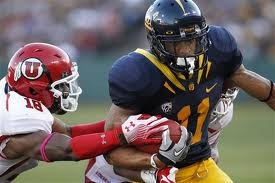 Michael Calvin put some of his knee injury concerns to rest with an impressive Pro Day workout.
Calvin ran a 4.32-40 yard dash, which would've been the fastest recorded time at the combine. He also recorded an 11'1" broad jump and a 40.5" vertical leap.
Even with these impressive measurables, the former Cal product shouldn't expect his name called come draft day.
This would open the door for a reunion with another speedy Golden Bear alumni DeSean Jackson.
At 6'3", 210 pounds, Calvin doesn't exactly fit the mold of Jackson, but would be a solid alternative on special teams.
Last year, Jackson looked to avoid contact on punt returns. His fear of injury during a contract season handicapped the Philadelphia Eagles' offense with mediocre field position.
If signed, Calvin would provide the team with comparable speed in the return game, but in a sturdier frame.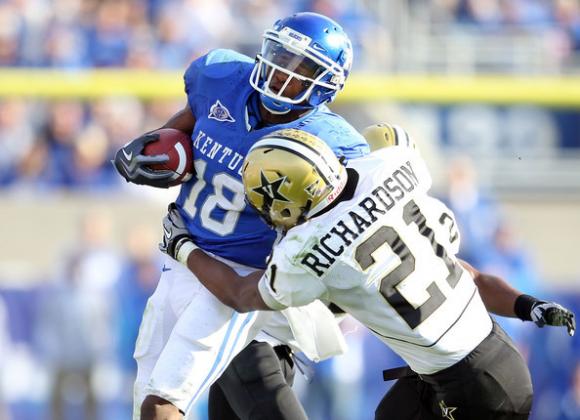 Although Sean Richardson finished his collegiate career with only one interception, the Philadelphia Eagles would prefer their safeties to be reliable tacklers than ball-hawks.
Richardson was a three-year starter for the Commodores and started all 13 games during his senior season.
He has shown the versatility to play both deep in coverage and down near the line of scrimmage.
Richardson finished his final year with 63 total tackles—including 41 solo stops, 6.5 tackles for loss and two quarterback sacks.
The Eagles remain extremely young in the back-end of their secondary and could use another player for position battles in training camp or in case of injuries.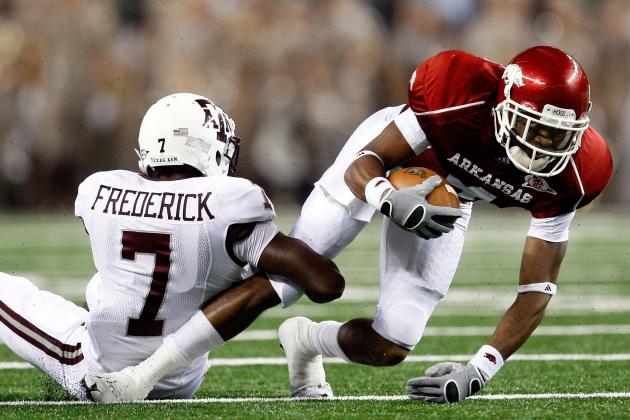 Ronald Martinez/Getty Images

While the Philadelphia Eagles are far from short on cornerback talent, today's pass-happy NFL dictates that they continue to acquire prospects.
After starting six games as a true freshman, Terrence Frederick went on to finish his collegiate career starting 39 consecutive contests as a mainstay on the Texas A&M defense.
The 5'10", 187-pound ex-Aggie compares similarly to Joselio Hanson, who will begin the 2012 season as a 31-year old nickel cornerback.
While the team actively shops Asante Samuel, Hanson and Nnamdi Asomugha continue to climb in age. This leaves Dominique Rodgers-Cromartie as the only young reliable corner on the roster. However, he is set to become a free agent after this season.
This means that Philly is one injury or trade away from having one of their deepest strengths become a flaw.
With the coaching of veteran teammates and defensive backs coach Todd Bowles, I fully expect Frederick to become a solid NFL starter.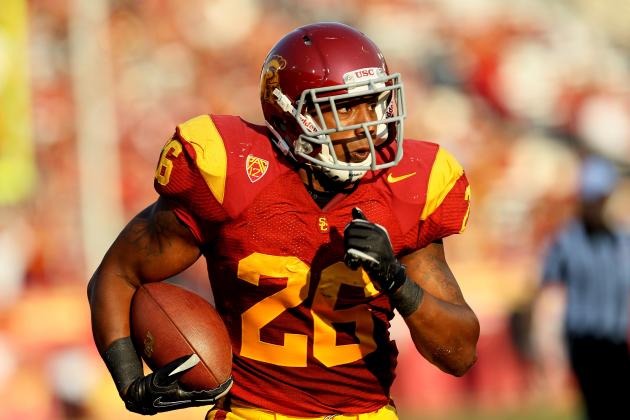 Stephen Dunn/Getty Images

The Philadelphia Eagles are in the market for another ball carrier.
Even with the emergence of LeSean McCoy, the Philadelphia rushing attack still lacks a bruiser.
McCoy is a dual-threat out of the backfield, but remains a make-you-miss expert.
Although Marc Tyler of USC comes out with off-field concerns, he has proven to be a solid tailback that can carry a featured workload.
In his last two years at Southern Cal, Tyler received 293 carries and turned them in 1,481 yards. Along with his 13 rushing scores, Tyler also boasts an average of over five yards per carry.
While the 230-pound back lacks breakaway speed, he remains a downhill runner that hits the hole hard and drives the pile.
He would fill the void of short-yardage back extremely well for Andy Reid and this Eagles offense.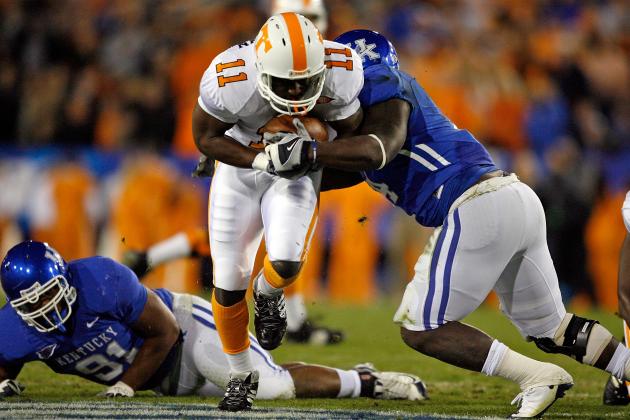 Andy Lyons/Getty Images

One running back that certainly doesn't warrant a draft selection is Kansas State's Bryce Brown.
Brown enrolled at Tennessee as a five-star recruit and was the second highest rated back in his class behind only Alabama's Trent Richardson.
While Richardson will be a top-10 selection, Brown should become an intriguing UDFA.
After suffering from a season-ending foot injury in the season opener, Brown finishes his collegiate career with a grand total of 104 carries and 476 yards.
At 6'0", 223 pounds, the controversial prospect runs a 4.48-40 yard dash and recorded 22 reps on the bench press.
Although he lacks in-game experience, Brown remains incredibly fresh and talented.
He should find his way onto a training camp roster and will probably earn himself a roster spot.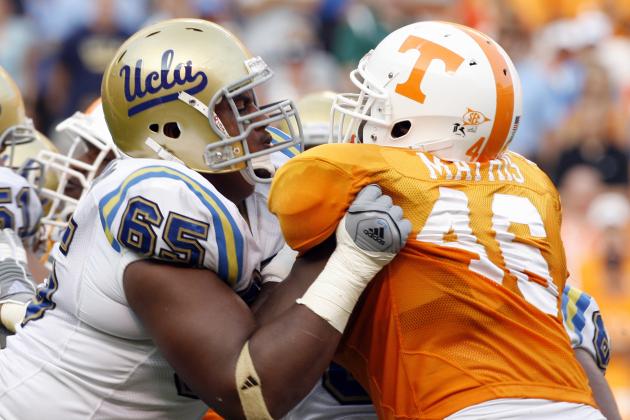 Joe Murphy/Getty Images

Although the Philadelphia Eagles have addressed the loss of left tackle Jason Peters by signing Demetress Bell, they could still add depth to their offensive line with the signing of Mike Harris.
Harris played four years at UCLA and routinely started at right tackle during his last three seasons.
At 6'5", 326 pounds, Harris was an integral part of a rushing attack that totaled 2,497 yards in 2011.
Harris is a finesse blocker who does a good job of sealing the edges against the run and has nimble feet to mirror pass-rushers.
While I don't expect him to start for the Eagles, he should prove to be a decent insurance policy if anyone gets hurt.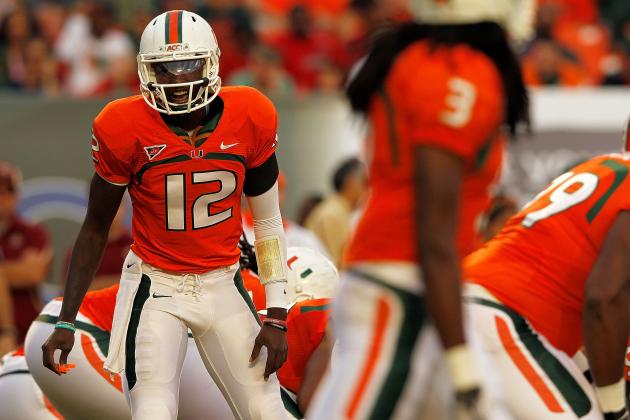 Mike Ehrmann/Getty Images

The hype surrounding the top-end of this year's quarterback draft class will leave a few solid options to be UDFAs.
Jacory Harris will fall victim to this trend, but should get an opportunity to make a roster through training camp.
Although the former Hurricane is a four-year starter, he remains a bit unpolished and has a tendency to bring the ball down in his wind-up.
Harris has excellent mobility, and uses his feet to extend plays out of the pocket. While this buys extra time for his receivers, it does limit his vision and forces him into playing with half a field.
Andy Reid has routinely dealt with signal-callers with a "scrambler's mentality" in Donovan McNabb, Michael Vick and Vince Young, so Harris should challenge him with nothing new.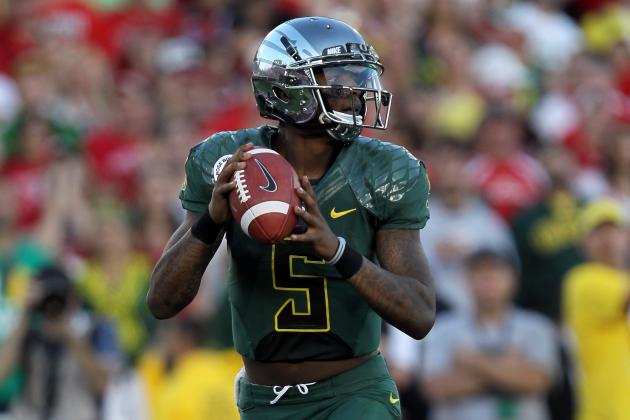 Stephen Dunn/Getty Images

It's amazing to think that the quarterback of a top-five offense won't be one of this year's 253 selections. However, this is the consequence that comes along with running Chip Kelley's style of "spread" offense.
If Andy Reid is looking for the new-breed of Michael Vick, look no further than Oregon's Darron Thomas.
Thomas is a dual-threat quarterback who excels at reading defenses, forcing the tempo and operating under duress.
While in Eugene, the 6'3" signal-caller routinely ran plays without the benefit of a huddle, yet finished the season with 33 touchdown tosses and only seven interceptions.
Although Thomas is tremendous on the run, he would rather move the chains through the air—an invaluable lesson that took Vick years to learn.
He comes with championship-caliber experience and could force Reid to deploy him as a wide receiver or even feature him in "wildcat" packages.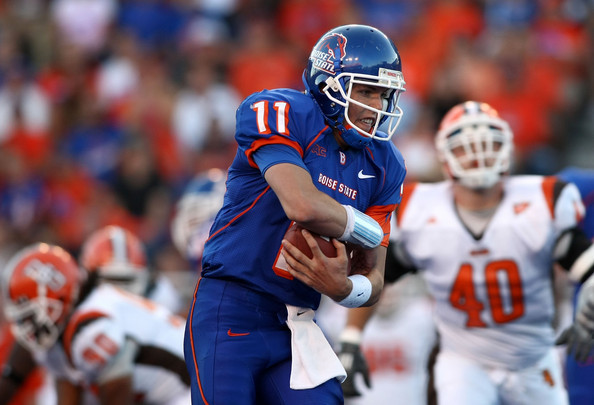 There are quite a few knocks against the winningest quarterback in college football history.
For one, at 6'0", he lacks ideal height and arm strength—which limits his overall potential and negates his ability to zip the ball downfield and into tight windows. Unlike Jacory Harris and Darron Thomas, Kellen Moore also lacks the mobility to escape pressure within the pocket.
With that said, there are also parts of Moore's game that Andy Reid can appreciate.
The ex-Bronco is deadly accurate and finished his collegiate career with 142 touchdowns and only 28 interceptions, while completing nearly 70 percent of his attempts.
Moore is incredibly smart and only took 31 sacks in college. He has good pocket-awareness and has an uncanny ability to deliver passes once his target makes their break.
Starting quarterback Michael Vick has finished a complete season only once in his nine-year career and has also been labeled as "under-sized".
If Reid is looking for a suitable backup with quality traits that remain unmeasurable, he should look no more.