Breaking Down Special Jackie Robinson Memorial Cleats
April 15, 2012
 Sunday is Jackie Robinson Day in Major League Baseball and as in recent tradition, all players on the field during Sunday's games will wear the retired No. 42 of the baseball legend.
While the entire league is making a gesture, several stars are planning their own tribute to the revolutionary. Players like Atlanta Braves outfielder Jason Heyward and Baltimore Orioles outfielder Adam Jones are both paying respect with throwback cleats designed for the occasion.
This year's spikes are shocking to say the least, but the thought behind them is undeniably good. Unfortunately, the shoes just look too goofy for such a special occasion.
"WOW" Factor: 10 out of 10 (and not a good WOW, either)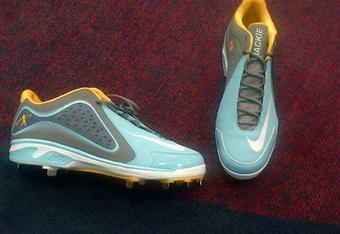 Nothing says Jackie Robinson like…baby blue?
While the concept of the shoes is the UCLA colors because it was Robinson's school, the majority of fans will have no idea that's the reason behind the color scheme.
Exactly how the Philadelphia Eagles busted out the yellow and blue uniforms before and no one liked it, these spikes will not go over well. The thought is great, but the cleats are not.
Design: 5 out of 10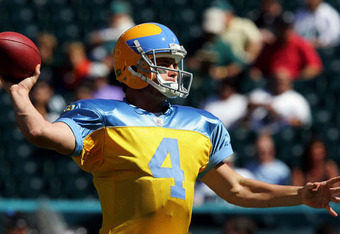 With the color scheme consisting of light yellow, baby blue and light grey, these kicks resemble an Easter egg more than they represent anything Jackie Robinson. They essentially have the Swedish flag on their feet.
The shoe itself looks like a standard, top-of-the-line Nike cleat that would be comfortable as any shoe you'd wear out and about. There is no denying the comfort factor in anything Nike puts out.
A major flaw that hasn't been addressed yet is the mesh texture right in the middle of the side of the shoe. While the baby blue shading behind it saves it a bit, it's an unnecessary addition to what was at least a sleeker set of spikes.
Overall Swag Grade: 7 out of 10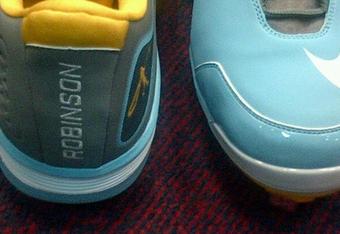 Paying tribute to a legend and a revolutionary like Jackie Robinson gets a player 10 out of 10 in terms of class and respect, but the color scheme just doesn't do it for me.
If they were the Dodgers' blue and white, I could see the grade being much higher. Anytime you have baby blue and yellow near each other, it will never be good.
With many young players across the world looking to get these spikes, the least Nike can do is come up with a pair of cleats that can be used after Easter is over.
No matter how the kicks look, it is the respect being paid to Jackie Robinson and all he did for not only baseball, but for the world, that should and will remain the focal point of the day.
Check back for more on the Major League Baseball as it comes and check out Bleacher Report's MLB Page to get your fill of all things baseball.