Ryan Tannehill and Overdrafting Quarterbacks: An NFL Epidemic
April 15, 2012

Ronald Martinez/Getty Images
Every team who could have upgraded at the quarterback position made a mistake when they allowed California quarterback Aaron Rodgers to fall to the 24th pick of the 2005 NFL Draft. With that selection, the Green Bay Packers drafted him to be the heir apparent to Brett Favre, their legendary quarterback.
Seven years later, Rodgers has already led the Packers to a Super Bowl championship and has won an NFL MVP award. After a decade of Peyton Manning and Tom Brady dominating the argument for NFL's best quarterback, Rodgers may finally be the player to surpass them.
To be fair to the many teams that passed on Rodgers, there were definite concerns about him as a draft prospect. Aspects of his game that have become strengths for him since, including downfield accuracy and decision-making, were concerns about him at the time.
Rodgers was a very talented prospect, and many thought he would be the No. 1 overall pick in 2005 of the San Francisco 49ers, who instead drafted Utah quarterback Alex Smith. If Rodgers came along as a draft prospect seven years later, he would no longer fall to selection No. 24.
Rodgers was not an Andrew Luck-caliber prospect, and was not even at the same caliber as Robert Griffin III this year. That said, he was a solid first-round prospect who would have been much better than any other quarterback prospects in this year's draft class.
A disturbing trend has escalated in recent years: NFL teams are selecting subpar quarterback prospects out of positional need and desperation.
Less than two weeks away from the 2012 NFL Draft, all indications are that Texas A&M quarterback Ryan Tannehill is set to become the next beneficiary of this pattern.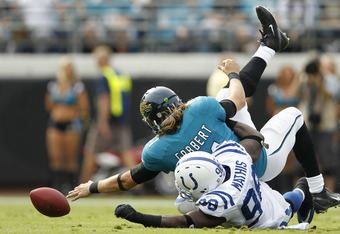 Joe Robbins/Getty Images
There are many reasons to like Tannehill's game. He has a strong arm, great size and great athleticism, and has the upside to be a very good NFL quarterback.
That said, Tannehill is a developmental prospect who is far from ready to be thrown into the fire as an NFL starter. He only completed 61.7 percent of his passes last season, and had a touchdown-to-interception ratio of less than 2:1. His accuracy and decision-making are areas where he needs significant improvement.
Given that he rates as my No. 55 overall prospect and is a quarterback with high upside, a second-round pick would be very reasonable for Tannehill. He is really a third-round talent, but could end up being the third overall pick.
With the aforementioned Luck and Griffin all but guaranteed to be the top two overall selections in the 2012 NFL Draft, other teams looking to upgrade at quarterback have set their sights on Tannehill.
The NFL is a quarterback-driven league, and teams have become impatient with quarterbacks who fail to live up to expectations.
This has many teams, ranging from the Miami Dolphins and Cleveland Browns to the Buffalo Bills and Kansas City Chiefs, considering making the ill-advised move of drafting Tannehill as a first-round quarterback, considering him to be the next-best option after Luck and Griffin (Oklahoma State's Brandon Weeden actually ranks third, with Tannehill fourth, in my quarterback rankings).
The Minnesota Vikings find themselves in a perfect situation at the No. 3 overall pick. They have the chance to fill their biggest need, left tackle, by drafting USC's Matt Kalil, one of three elite prospects in this draft (the others being Luck and Griffin).
However, the Vikings have stated that they are willing to trade down, and it is sounding more and more likely that a team could end up making a big offer to move up to No. 3 for a sure chance at drafting Tannehill. With the Browns being a possible suitor for Tannehill sitting at the No. 4 overall pick, a team who desperately covets him knows that they may need to move up that high.
While the Vikings are passing up a great opportunity to make an ideal selection if they trade down, they are open to the possibility because they understand first-hand how desperate teams can become in overdrafting a quarterback. The Vikings demonstrated the same desperation last year by drafting Florida State quarterback Christian Ponder with the No. 12 overall pick.
Ponder never should have been a first-round consideration, let alone a top-12 selection. Ponder was graded as a fifth- to sixth-round talent, and ranked 164th overall among my top 400 prospects.
The Vikings seriously overdrafted their quarterback, but they were following a trend that had already begun.
Washington quarterback Jake Locker, who graded as a third- to fourth-round prospect and ranked 93rd overall, was the No. 8 overall pick by the Tennessee Titans. Missouri quarterback Blaine Gabbert, who graded as a third-round prospect and ranked 77th overall, was the No. 10 overall pick by the Jacksonville Jaguars.
Last year was when the NFL's overdrafting quarterbacks epidemic truly hit full swing. Three quarterbacks drafted in the top 12 were drafted multiple rounds too early, and to this point, all three teams have had mixed results with their young quarterbacks.
While all three quarterbacks have the potential to be very solid starting quarterbacks, all of them were developmental quarterback prospects who should have selected in the middle rounds. None of them are franchise quarterback talents, just like Tannehill is not this year.
For as bad as the overdrafting of quarterbacks last year was, this draft could take the epidemic to a whole new extreme if Tannehill is selected third overall.
Do not expect Tannehill to be the only overdrafted quarterback. Oklahoma State's Weeden, who ranks at No. 48 on my overall rankings, could end up being a first-round draft choice. Lower-rated quarterbacks, including Arizona's Nick Foles and Arizona State's Brock Osweiler, could end up as second-round picks if the pattern really gets out of hand.
There is a huge gap in talent between the top two quarterbacks and Tannehill, and the draft should reflect that. But if last year's draft was any indication, it will not. Auburn quarterback Cam Newton, who went No. 1 overall to the Carolina Panthers, was a much better prospect than Locker, Gabbert and Ponder, but within 11 picks of Newton being selected, all three of the latter were off the board.
Quarterbacks have historically been drafted No. 1 overall in most years, and that has turned up some very poor results, most recently being with the Oakland Raiders' selection of LSU's JaMarcus Russell in 2007. However, this growing epidemic could lead to the worst abuse of quarterback overdrafting since the 1999 NFL Draft, when five quarterbacks were selected in the top 12 picks.
Syracuse quarterback Donovan McNabb, the No. 2 overall pick, went on to a successful career with the Philadelphia Eagles, as did Central Florida quarterback Daunte Culpepper, the No. 11 overall pick, with the Vikings.
On the other hand, that draft also featured the Browns' No. 1 overall pick, Tim Couch out of Kentucky; the Cincinnati Bengals' No. 3 overall pick, Akili Smith out of Oregon; and the Bears' No. 12 overall pick, Cade McNown out of UCLA. By all estimations, all three of these players were major busts in the National Football League.
Newton's career is off to a terrific start, and it is very likely that Luck and Griffin will both be very successful NFL quarterbacks. On the other hand, chances are good that among Locker, Gabbert, Ponder and Tannehill, some of those quarterbacks will leave the teams that drafted them with the serious ramifications of investing in a bust that they thought would be an NFL franchise quarterback.
---
Thanks for reading!
For more coverage of the 2012 NFL Draft, follow me on Twitter @Dan_Hope.