What We Learned from This Week in NFC North Media Coverage
April 14, 2012

Chris Trotman/Getty Images
There was a lot of Draft talk in the NFC North this week as we are just under two weeks away from that glorious day of days.
I will once again be live at Radio City Music Hall for both nights and the whole of Saturday and will be sure to keep you apprised of everything that goes on for the NFC North (as well as the whole NFL) during the extravaganza.
If you aren't following me on twitter not only are you missing a laugh riot, you're going to miss out on my live Draft info.
Special thanks to CheeseheadTV and Aaron Nagler for hooking me up this year. Brian Bassett of The Jets Blog was also working on it as well so I had fallback.
Both are awesome guys and founts of great info, so make sure you read their stuff early and often.
Back to the NFC North, as much of the news was Draft related, much of what we learned was Draft related as well.
Makes some kinda wacky sense.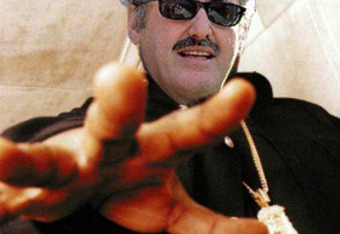 We learned that every analyst on Earth thinks the Minnesota Vikings are selecting USC LT Matt Kalil. The Vikings are open to trades and have an unusual ally in beating the bushes for trades in one Colts owner Jim Isray, who in the course of saying somebody had to trade up with the Vikings for a crack at Ryan Tannehill, coined the term "Zygie the Biggie".
The result of which is to the right.
Thanks, Jim!
The Lions seem to be befuddling everyone, and there is no real consensus on who they should pick. Cornerback seems to be a consistent theme, but as always, so are offensive linemen.
At this point the best guess is they will pick someone, but that's about as much as anyone knows.
The Bears, meanwhile, continue to swear up and down that their offensive line is fine. I talked about that a bit this week, including on my first B/R video and will continue to say that the issues in Chicago were not only the result of Mike Martz.
The Bears ignore that at their own peril.
They also signed Lance Briggs to a nice contract, and now the question is: will they ever take care of Matt Forte?
Finally, the Packers continue to wait for a clue from Nick Collins as to his plans regarding a return to the NFL after a spinal injury. They need to know soon, as the team should plan to address the secondary at some point in the Draft—Collins' status lets them know how high a priority that need is.