2012 NFL Draft: Oakland Raiders' Late Round and Undrafted Possibilities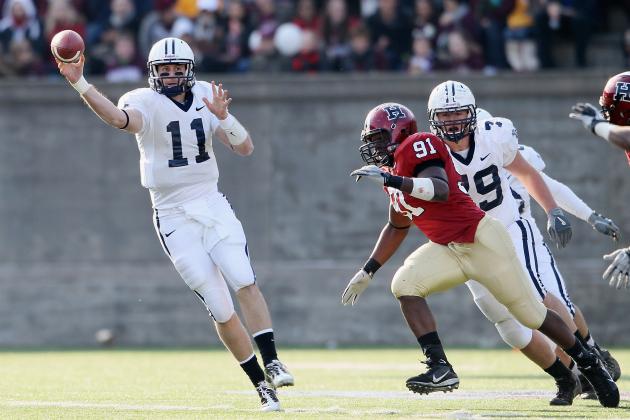 Elsa/Getty Images

Can't wait for day three of the 2012 draft. I have been digging through the crates trying to find some projected late-round and undrafted gems.
It's tough to gauge where these guys will fall. All have issues that could be corrected, overlooked or improved upon.
The Oakland Raiders gotta make the most of this draft, and find quality players who add depth.
This piece is only showcasing players with late round or undrafted grades (sixt and seventh round and UDFA's)
Begin Slideshow

»
Jonas Grey is an intelligent back with a wealth of talent. He will not wow you, but can do it all from the halfback position. Had potential as at least a mid-round pick prior to an ACL injury in November. He's a low to the ground banger who can wear down defenses. Remind you of anyone?
Pros: Great feet, Intelligent, comes from pro-style, good pass-pro, hard worker
Cons: Coming off ACL tear, unable to run 40 at pro day, probably won't be full speed until mid summer, may not be explosive at next level.
He's a solid built potential possession receiver out of Michigan's spread offense. By no means is he polished in his route running, but shows great ability to block down field. To me, his greatest asset is his ability to catch the ball in traffic at its highest point. He's a real threat with the ball in the air, goes up and gets it.
Pros: Ablity to snag ball out of the air, end zone threat, good hands, not afraid of contact, physical receiver, long arms, competitive
Cons: Route running, wouldn't win any races in Oakland, needs work on fundamentals, injury concerns from 2008
Dennis Kelly is a true team leader and solid starter at LT for the Boilermakers. Kelly started 37 consecutive games at LT, including every game the past three seasons. He's tall tackle at 6'8" who is still growing into his large frame. Recently meet with Detroit Lions.
Pros: Tall and still growing, solid starter with no major injury concerns, team leader, good movement
Cons: Not overly agile, possible switch to RT in pros, needs more aggression, a bit of a finesse blocker, trouble getting low against pass rushers
Can you say Cooper Carlisle's replacement? I'm staring to believe Coop is gonna be a Raider til he's 40! Back to Jaymes Brooks. He looks like a solid Zone blocking guard who can slide to center if needed. He has good intelligence and a Nasty streak...gotta love it.
Pros: Competitve starter for Virginia Tech, nasty and aggressive, moves well and fits for new ZBS, versatile and can be moved around on the inside of the line
Cons: Not overly strong, can be beaten with speed and strength of the NFL, doesn't have great measurables
A supreb athlete with 34-inch arms and a 37-inch vertical, Derrick Shelby will be a nice find late in the draft. He's not a finished product, but has great upside.
Pros: Great potential, long arms and athletic, solid pass rush
Cons: Some injury concerns early at Utah, not overly productive, still a work in progress
A physical freak, who projects as a late round pick due to an assault charge and transfer to UNA. He had an awesome pro day, ranking near the top when ranked with LBs at the combine. He's a true sleeper who could surprise and may sneak into the early rounds.
Pros: Physically gifted, a true Al Davis pick, vicious tackler, great speed, versatile can play inside or outside, productive at Georgia and North Alabama, ideal size
Cons: Assault conviction from a bar fight....
Jerrell Harris a strong player from a solid program. He looks to be a run stuffer at OLB in the pros. There's nothing to exciting about his play, no real wow factor (couldn't even find highlights), but could be a contributor at the next level.
Pros: Solid fundamentals out of college, wrap up tackler, shows ablity to shed blocks, high character player from good program
Cons: No pass rush skills, trouble with athletic tight ends in coverage, not a real playmaker
Desmond Marrow had some injury concerns early in college career. He has great frame to handle bigger receivers at the next level. He doesn't have elite speed, but shows he can move. He could be a project his first couple seasons, but potential to really be elite with his build. He also played free safety.
Pros: Great frame (6'3" 210 lbs.), shows toughness, willing tackler, long frame, fluid hips
Cons: Good speed not elite, still lacks fudamentals (footwork and hand placement), injury concerns
I was going to go Dominique Davis here, but chose the highly intelligent Patrick Witt instead. Could be a surprise if given some time. Had good size, and decent movement in the pocket. Love the work ethic and metal ability to conquer a playbook.
Pros: Obviously has high IQ, quick release, strong frame and good size, work ethic to get better
Cons: Funky release, not the strongest arm, needs to improve throwing mechanics, not a threat to run, too intelligent?