2012 NFL Draft: Do the Cleveland Browns Have a Chance?
April 13, 2012

Mike Lawrie/Getty Images
Since the start of free agency, much has been said about the Cleveland Browns and their fourth overall selection in the upcoming NFL Draft.  Some believe that the Browns are in the worst possible position they could be in.  By losing out in the Robert Griffin III sweepstakes, the Browns will now have to settle for another top-five ranked prospect.  With that said, where does that now leave the Cleveland Browns concerning the upcoming NFL Draft?
4th Pick (1st Round):  The three obvious selections for this pick are Morris Claiborne of LSU, Justin Blackmon of Oklahoma State and Trent Richardson of Alabama.  Some experts believe that Ryan Tannehill of Texas A&M could get some serious consideration with this selection, but I do not buy into it.  
I could argue that the Browns' best plan of action right now would be to trade down and collect as many draft picks as possible.  But that is a discussion for another time, and I will focus today on what the Browns could/will do with the selections they currently posses.
I have had the selection of Morris Claiborne here since day one.  I would love to keep Claiborne as the pick, as I still believe that he is the best available talent left on the board.  But with the contract handed out to Dimitri Patterson—three years worth $16 million—I do not believe the Browns will spend any more big money on their secondary.
Which leads us to the Justin Blackmon versus Trent Richardson debate.  Either player could come in right away and start for the Cleveland Browns' offense.  The Browns are in desperate need of a number-one wide receiver and a number-one running back.
Most experts believe that Justin Blackmon will be the selection.  Their rationale behind this belief is that the Browns want to be a pass-first offense, and Blackmon is a more direct compliment to this ideology.  Blackmon has proven to be an ideal wide receiver while on the football field, catching 121 passes for 1,522 yards and 18 touchdowns during the 2011 regular season at Oklahoma State.  
The reason I do not like this selection for the Cleveland Browns is because Blackmon was not as good as advertised.  Heading into the scouting combine, Blackmon was supposed to be a 6'5'' 225 pound wide receiver prospect that could run the forty-yard dash in a sub 4.4.  
Blackmon turned out to be a 6'1'' 215 pound wide receiver prospect that ran his forty in the mid 4.4's-4.46 at Oklahoma State. 
In my opinion, Blackmon compares very favorably to Anquan Boldin, whose draft stock fell during the 2003 NFL Draft to 54th pick in the second round.  His fall from the first round was due to his lack of elite speed, and inability to break away from NFL caliber corners.  With all that noted, Bolden has put together a very solid but unspectacular NFL career.  Which is underwhelming when you consider that he played with both Larry Fitzgerald and Kurt Warner while at Arizona.
So can you imagine if that comparison is true, the lack of impact that Justin Blackmon will have on the Cleveland Browns' offense?
I now believe the Browns will pick in Trent Richardson of Alabama.  
Do I agree with the pick, NO!  
Do I understand why they are making the selection, YES!  
With the loss of Peyton Hillis to the Kansas City Chiefs, the Browns have no one on the roster that should even be taking first team snaps as an NFL running back.  
Trent Richardson looks to possess all the tools for an elite running back at the NFL level.  The problem with Richardson is that he has already shown some injury concerns, and the running back position is at an all time low for positional value within the NFL.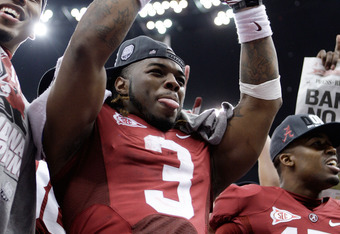 Andy Lyons/Getty Images
Even with that said, Richardson looked like a man among boys when running against the talented defenses of the SEC.  For Richardson to validate the Browns selecting him at number four, he better prove to be an elite NFL running back within the first two years of his professional career.  Even putting up better statistics than already proven NFL runner and current Minnesota Vikings' running back Adrian Peterson.
22nd Pick (1st Round):  I really only see two viable positions to get drafted by the Browns with this selection.  The Browns have already released both Tony Pashos and Eric Steinbach, and could use another offensive lineman or two to solidify some of their offensive line question marks.  As stated above, the Browns still really need a legitimate play maker at the wide receiver position and a second tier wide receiver could be the Browns' draft selection here also.
Looking at the Browns' foreseeable needs and the prospects that may still be available, three names really stand out to me: Cordy Glenn of Georgia, Kendall Wright of Baylor and Stephen Hill of Georgia Tech.  
I believe Cordy Glenn would be the top prospect available for the Browns with this selection.  He could come to Cleveland and compete for either a guard or right tackle position that the Browns desperately need help with.
As for Kendall Wright and Stephen Hill, I believe this choice will come down to availability and who Tom Heckert and company have rated higher on their draft boards.  
Kendall Wright is probably the safer selection.  As even if he is a total bust as a wide receiver, you still have an individual who can stretch the field and provide some help on special teams with kick and punt returning.  I view Wright at his very worst to compare to Ted Ginn Jr., formerly of Ohio State University.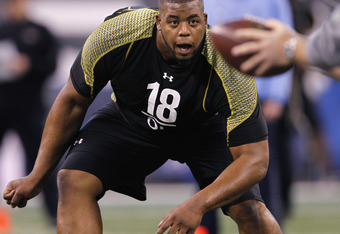 Joe Robbins/Getty Images
Stephen Hill, on the other hand, is a very intriguing prospect.  Georgia Tech did not provide him the opportunity to showcase his skills on a regular basis because of the triple option offense that they run.  
Hill proved to have natural speed and skills at both his pro day and the NFL scouting combine.  Hill has the most upside of any receiver available within this year's draft.  
A couple years down the line, he could be a legitimate number-one wide receiver within the NFL.  For that to happen though, the team that selects Hill needs to realize that he is a raw prospect who will need time to develop.
37th Pick (2nd Round):  This pick really depends on who the Browns select with their two first-round selections.  Even with that said, I only see three prospects making sense for the Browns with this pick.
Those prospects are Brandon Weeden of Oklahoma State, Zach Brown of North Carolina and Bobby Massie of Ole Miss.
I think Brandon Weeden is the early favorite for this selection.  
The Browns have made it pretty clear that they want to leave this off-season with a new quarterback on their roster.  Weeden looks to have all the physical and mental tools needed to be a successful NFL quarterback.  
The problem with Weeden is his age.  Brandon Weeden will be 29 years old at the start of his rookie season.  This of course, makes his window for adjustment and development to the NFL level of play much smaller.  
Also, if you draft Weeden with this selection, than you are immediately placing a lot of pressure on his shoulders to become a successful starting quarterback for the Browns either this season or the next.
Zach Brown is a best player available-type selection.  
He could come to Cleveland right away, and start for the Browns next to D'Qwell Jackson and Chris Gocong.  
He is a superb athlete who will immediately make the Browns' defense more dynamic and athletic.  At 6'1'' and 244 pounds, Brown projects to be a three-down linebacker that can help any 4-3 defense in either the run or the pass.
In his last season at North Carolina, Brown recorded 105 tackles, 13.5 tackles for loss, 5.5 sacks, four passes broken up, three interceptions, and three forced fumbles.
Finally, Bobby Massie of Ole Miss.  
This selection will obviously only occur if the Browns do not take an offensive lineman within the first round of the draft.  
Massie is a raw prospect with a lot of SEC playing experience.  
Massie stands 6'6'' and 315 pounds and started for Ole Miss his freshman season.  
He is a powerful offensive lineman who projects very well into an NFL right tackle.  Massie looks to have all the skills to help an NFL team out in both pass protection and creating running lanes for a running back.  Massie seems to pass the eye test by all reports.  He is long and fluid and looks to carry his weight very well.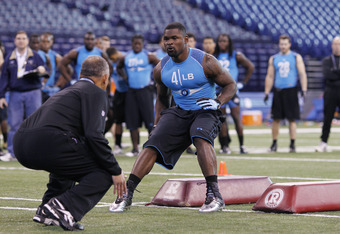 Joe Robbins/Getty Images
The problem with Massie is that he offers no versatility for the team that drafts him.  He only projects as a right tackle prospect, and until he can start that really limits whether he will be placed on a game-day roster.
67th Pick (3rd Round):  I see the Browns addressing a need with this pick that they were unable to accomplish earlier in the draft.  I also see the Browns looking at a riskier prospect with this selection, that has a lot of upside.  
The two prospects that pop into my mind are Isaiah Pead of Cincinnati and Tommy Streeter of Miami University.  
Isaiah Pead is a smaller running back who has proven to be a versatile and a tough runner.  Pead pulled in the MVP award at the Senior Bowl and has continued to impress ever since.
Tom Heckert has proven through his track record that smaller running backs will not scare him off.
Pead has already shown that he can catch the ball out of the backfield, help on special teams as a returner, and also be a tough between-the-tackles-type running back.
Tommy Streeter on the other hand, is like every other U wide receiver that has come out before him.  
His athleticism is off the charts.  His size is ideal at 6'5'' and 220 pounds, and he only had one solid season while at Miami.  
Streeter is a raw prospect who will have a lot to work to do once he enters the NFL. His route running needs to be worked on desperately, and Streeter needs to learn how to be a wide receiver, not just an athlete.
This is a very important draft for the Cleveland Browns.  The Browns and their fans need players to be brought to Cleveland who the team and the fan base can rally around.  
The first three rounds of picks that I mentioned above should all realistically help the Browns as soon as they touch the football field.  
The free agents signed this off-season and the upcoming draft will really define the Tom Heckert and Mike Holmgren regime. Heckert and Holmgren need to show the fans and the NFL that the Cleveland Browns have a young nucleus of players to produce for them next season and into the future.