The Best Video Highlights of Chris Rainey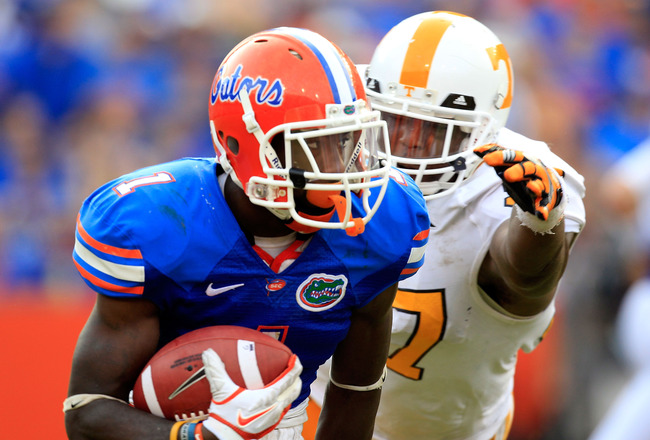 Sam Greenwood/Getty Images
To use a comment made by the legendary wrestling commentator, Gordon Solie, with regard to Chris Rainey, "He isn't quick, he is sudden."
That is how Rainey has been since he set foot on the turf at Ben Hill Griffin Stadium. And in the four years he has been in Orange and Blue, he may have been the most electric player to play football in Gainesville since guys named Tebow and Harvin.
Rainey may be one of the smaller running backs/returners in this draft, but he is one part Darren Sproles, one part Lionel "Little Train" James (for those of you who remember the Auburn great) and two parts Warrick Dunn.
And he can stop on a dime and change direction like Barry Sanders, although he is not as talented.
I believe at some point in the third round, he will hear his name called.
Here are some highlights to show you just how valuable he can be to an NFL team as a runner, receiver and returner.
Rainey is truly a triple threat.
Tennessee 2011
This just shows how one player can take over a game and make all the difference.
Here against Tennessee, Rainey was all over the field and the Volunteers could do nothing about it.
If Dan Patrick had been covering the game he may have uttered his favorite quote, "you can't stop him, you can only hope to contain him."
The Rainmaker
Even as a freshman, Rainey was the spark in the Gators' running game.
And remember, that was when some guy named Tebow was the rock of the Gator running game.
Thunder and Lightning
The best thing about Rainey at Florida was his durability, which is tough when you are a little spark plug that gets lost in a pile of linemen. He was also aided by the running of Jeff Demps.
Demps was one of the fastest players in the nation and a track superstar. He spelled Rainey on occasion, which allowed the speedster to rest and then come into the game to change the direction of the contest.
Nobody Is Going to Stop Him
Maybe the best way to show you how fast Rainey is can be illustrated by his track career.
The kid really is sudden.
NFL teams will use him in various ways within the offense. He will return kicks and will spend time on special teams.
More of the Energizer Bunny
There wasn't an opening he could not get through.
Rainey (and Demps) showed everyone in the country that they did not need to be huge to be a factor.
Both scored at will in many games during the 2011 season.
Keep Reading