Fantasy Baseball 2012: Early-Season Breakdowns of Tim Lincecum, Josh Johnson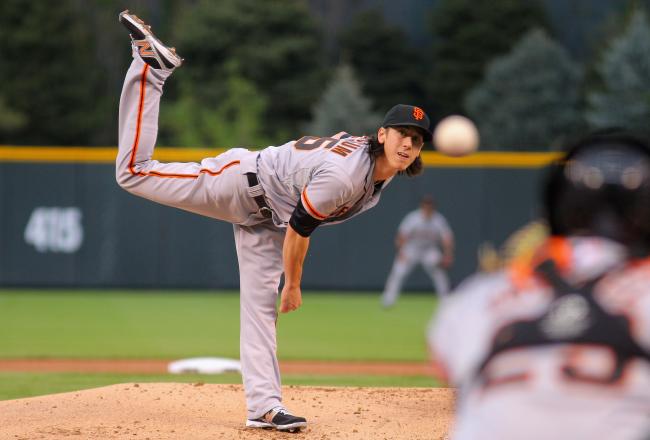 Giants ace Tim Lincecum surrendered two homers, 11 runs and 14 hits in his first two starts against the D-backs and Rockies.
Doug Pensinger/Getty Images
We'll reveal the All-Shaky Team later next week; but for today, let's focus on the early struggles of fantasy stars Tim Lincecum, Giancarlo Stanton, Josh Johnson —and their perceived, or adjusted, trade values.

Lincecum

The Skinny

Outside of a healthy 10/3 K-BB ratio, there are no positives to glean from Lincecum's two-start flameout: Two homers allowed, 11 earned runs, 14 hits, a 12.91 ERA and 2.22 WHIP in just 7.2 innings.

To further crystallize the slump, opposing batters are hitting .368 against a pitcher who seemingly hasn't lost one bit of velocity on his fastball. (Location, location, location.)

The Market

At this point, most fantasy owners would still submit excellent offers for Lincecum (career marks: 69-42, 3.05 ERA, 1,137/382 K-BB) on the open market, even with the Debbie Downer start to the season. After all, Lincecum is a top-10 fantasy ace with a knack for getting hot as the summer progresses; plus, everyone needs starting pitching in 12- and 14-team leagues.

Just be ready to quickly dismiss any GM who submits a low-ball offer and then has the moxie to rationalize the subpar proposal off two poor games.
1-for-1 value: Josh Hamilton or Adrian Beltre
2-for-1 value: Alex Gordon/Brandon Morrow or Hunter Pence/Mat Latos
3-for-1 value: Shin-Soo Choo/Michael Cuddyer/Cory Luebke or Billy Butler/Huston Street/Mark Trumbo


Stanton

The Skinny

Stanton (.240 batting, one run, three RBI) has been OK as a pure hitter; but the power numbers (.280 slugging, .520 OPS) simply aren't there yet. His knee problems may not be season-threatening, but it's certainly worrisome enough to quickly retract any March predictions of 40 homers. Assuming Stanton plays 135 games and avoids surgery, the new projections modestly drop to 24 homers and 76 RBI.

The Market

Similar to Lincecum, it's not too late to get reasonable value for Stanton; but it must come with the knowledge that most fantasy owners likely ignored Stanton's No. 26 status on draft day—because of knee concerns. The more accurate value comes in at Round 4.
1-for-1 value: Starlin Castro or Dan Haren
2-for-1 value: Brett Lawrie/Neftali Feliz or Aramis Ramirez/Brandon Beachy
2-for-3 value: Stanton/Daniel Bard for Dee Gordon/Carlos Lee/John Axford


Johnson

The Skinny

You'd be hard-pressed to find two worse opening starts than what Johnson wrought (0-2, 21 hits allowed, nine runs, 8.38 ERA, 2.48 WHIP over 9.2 innings), but that's no reason to believe the sky is falling. In 12-team leagues, Johnson is a No. 3 or 4 starter and may need time to find his groove again after last season's shoulder woes.

Let's not forget that, when fully healthy, Johnson (11 wins, 2.30 ERA, 1.11 WHIP, 186 Ks in 2010) is a top-15 pitching asset. He also has the capacity to carry fantasy teams for long stretches, when strutting his usual K/BB dominance.

In this instance, the best advice is also the most cliche advice: Let things play out with Johnson.

Give him until mid-May to justify being a steal at the 99th overall pick.

The Market

I own Johnson in two leagues and have no interest in dumping him right now. He wasn't a top-20 starting pitcher entering spring training; so why should I expect top-30 value after two horrific starts? He never tallied double-digit Ks in any game last year (April/May), so why should I expect to land a quality strikeout option in return?

To get commensurate value on the pitcher Johnson can become this year, fantasy GMs will have to think creatively.
2-for-2: Johnson/Andrew McCutchen for Ben Zobrist/C.J. Wilson


3-for-3: Johnson/B.J. Upton/Ryan Zimmerman for Felix Hernandez/Shane Victorino/Alex Rodriguez


3-for-4: Johnson/Jose Bautista/Mat Gamel for Madison Bumgarner/Brian McCann/Rickie Weeks/Yu Darvish
Jay Clemons can be reached on Twitter, day or night, at @ATL_JayClemons.
This article is
What is the duplicate article?
Why is this article offensive?
Where is this article plagiarized from?
Why is this article poorly edited?