2012 NFL Draft: Denver Broncos Must Draft a Defensive Tackle
April 13, 2012

Gregory Shamus/Getty Images
The Denver Broncos own the 25th pick in this years NFL Draft, they must select a defensive tackle with that pick or they will regret it. 
The Broncos' front office have done an amazing job in bringing in Peyton Manning, along with Jacob Tamme, Andre Caldwell and Joel Dreesen. 
The arrival of Petyon Manning will put more pressure on the defense—and the run defense especially. Teams will look to run the ball to take time off the clock, thus keeping Peyton Manning on the sideline.
Last season, opponent's knew that the Broncos offense was not explosive, it was very far from it.
With Tim Tebow under center, Denver had to focus on getting yardage in small doses, with the goal being getting the first down.
The arrival of Manning will make the Broncos offense more explosive. This year's offense will be stretch the field and will be a threat to beat defenses down the field.
The Broncos finished last season ranked 22nd in the league, allowing 126.3 yards per game. 
Since then, the team has lost their best defensive tackle, Brodrick Bunkley. They have done very little to improve their run defense instead focusing adding weapons on offensive.
The team did sign Justin Bannan, who was released by the St. Louis Rams earlier this off-season. Bannan may add depth but he won't be able to replace Bunkely's production by himself.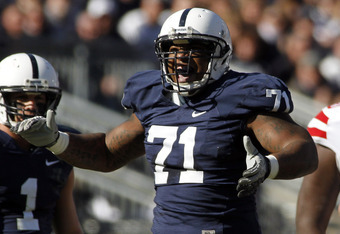 Justin K. Aller/Getty Images
Luckily for the Broncos there are plenty of very talented defensive tackles in this years class. 
When it is the turn for the Broncos to pick, there will be a couple quality defensive tackle left on the board. 
The most likely candidates for the selection are Jerel Worthy out of Michigan State, Kendall Reyes from the University of Connecticut and Devon Still out of Penn State. 
Worthy was once thought of to be the top defensive tackle in the class, he has now fallen behind a trio of talented defensive tackles on most draft boards. 
Fletcher Cox, Michael Brockers and Dontari Poe are expected to be the first three defensive tackles off the board later this month. It would be very surprising to see any of these three players fall to the Broncos in the late-first round. 
If Worthy falls to the Broncos then they should not hesitate to select him. The Michigan State alum produced every season while in East Lansing. 
In Worthy, the Broncos would be getting a stout run defender and an explosive pass rusher. Worthy is already strong enough to play in the NFL and will be a nightmare to move for offensive lineman. Jerel would be able to start for the Broncos in Week 1 and will improve the run defense.
Kendall Reyes is a natural athlete, he was a three sport athlete at the high school level. 
Reyes is smaller than Worthy, coming in 299 pounds. Kendall played both defensive lineman positions at UConn, both end and tackle.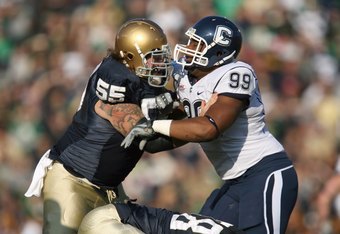 Jonathan Daniel/Getty Images
A team drafting Reyes will be drafting a man with great leadership, he was a two-time captain for the Connecticut football team. 
Reyes will need to add size to his frame, if he does this then he will be perfect size for an interior defensive lineman. 
Kendall would not make the same impact that Worthy would make in Week 1, but he has the potential to warrant selecting him in the first round.
Penn State All- American, Devon Stills' draft stock has suffered due to the amount of talented defensive tackles in this year's class. 
Still is confident in his abilities and is on record saying that he is the best defensive tackle in this years' class. There is nothing wrong with being confident but Still may want to keep thoughts like that to himself. With so many talented defensive tackles in this years' draft it is unlikely that Still will finish with the best NFL career. 
Still has excellent size, he is 6'5" and 303 pounds. He struggles sometimes with getting the proper leverage against offensive lineman, but due to his size and strength he often makes up for some of his technical mistakes. 
If Still, Worthy and Reyes are all available when Denver selects then they should pick worthy Worthy. 
He is ready to contribute now and still has great upside. Worthy was more productive than Still and Reyes in college and that should continue for at least his first couple of seasons in the NFL. 
The Broncos have a small window to win championships with Peyton Manning at quarterback. They have to select the players that are most NFL-ready now, rather than spending time developing players who won't be ready to contribute for a season or two.