'Risers and Fallers' Are Doing so in Public, Not on (Smart) Team's Draft Boards
April 13, 2012
Joe Robbins/Getty Images
As I wrote a few weeks ago, the annual silly season is in full swing, where our dear friends in the Draftnik Industrial Complex fill our heads with more mock drafts than we could ever need (seriously—one national pundit is on his sixth mock. Sixth!) and tales of prospects "rising" and "falling" on draft boards are part of the daily news cycle.
Stop the madness. 
This year, a lot of smoke has been blown around a couple of wide receivers likely to be taken in the first round (Oklahoma State's Justin Blackmon and Notre Dame's Michael Floyd). The media does a fantastic job of making it seem as though prospect's names are being moved up and down NFL team's draft boards on a daily basis. This, of course, feeds the Draftnik Industrial Complex and gives NFL fans something to invest in at this time of year which, in turn, keeps them coming back for more. More clicks, more page views, more draft guides, more, more, more. 
The truth, however, is that 95 percent of the names on teams' draft boards have been set since before the scouting combine took place back in March, and very few of them have moved since then. Oh sure, guys will move a spot or two after a medical discovery or when a scout or GM goes back and watches a bit more tape. But more often than not, draft boards are pretty much locked in well before the Industrial Complex gets to work telling us how players are "flying up draft boards."
There is one position that seems to be an exception to this, and that's quarterback. The NFL's game demands a quarterback which, in turn, drives teams to overvalue and overdraft quarterbacks earlier and earlier.
Last year's draft serves as a prime example. Guys like Christian Ponder, Jake Locker and Blaine Gabbert were all second-round talents that were drafted in the first round.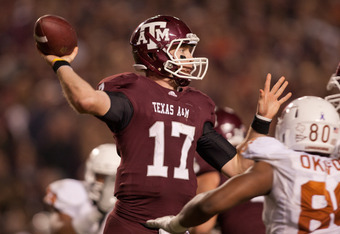 Darren Carroll/Getty Images
The same phenomenon is seemingly at work this year in the form of Ryan Tannehill, a quarterback that is suddenly being talked about as though it makes all the sense in the world to be drafted in the Top 10, when in fact, he's got no business being drafted in the first round. 
Remember, the majority of draft information you see in public is all so much entertainment. No one has any idea how NFL teams actually have these prospects rated. Even draft guys who get information "from scouts" are getting a sanitized version that clubs have put out there for a reason. Oh yes, make no mistake, teams use the media as a means of trying to manipulate the perception of players.
So just remember, as you read about "risers and fallers" over the course of the next two weeks prior to the draft, more often than not, those players aren't moving anywhere on the draft boards that actually matter.