Ranking the Best Player from Every MLB Team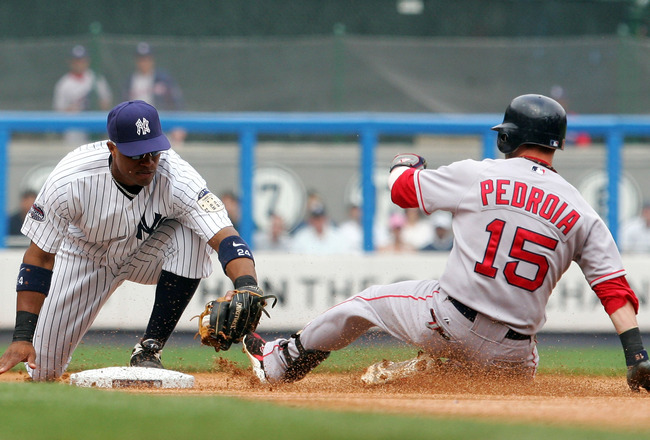 Jim McIsaac/Getty Images
A team's star is the guy who sells tickets and the guy who is expected to step up in big moments. From experience, fans often feel a special bond with their team's best player, and will go to sometimes unreasonable lengths to defend them in an argument. In fact, a debate with a friend of mine inspired me to make this list.
It's pretty straightforward: pick every team's best player and rank them. It was tough, because you can, and hopefully will, make a convincing argument for seven or eight guys to be No.1. Of course, only one player can be ranked first, so read on to find out.
Enjoy.
30. Huston Street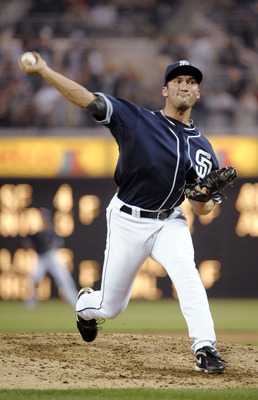 Denis Poroy/Getty Images
San Diego Padres
Huston Street is the closest thing the Padres have to a good player. After opening his career with Oakland, Street was shipped to Colorado in 2008's deal for Matt Holliday. This offseason, Street was again traded, this time to San Diego. In eight big-league seasons, Street has 179 saves and an impressive 1.060 WHIP.
Lately his numbers have been trending in the wrong direction. Street posted career-highs in WHIP, H/9, HR/9, and ERA last year. He could very well be traded for a third time, as San Diego is already out of contention. There are plenty of contenders who could use another solid arm in the bullpen.
29. Bartolo Colon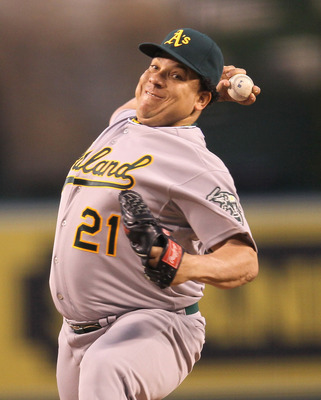 Stephen Dunn/Getty Images
Oakland Athletics
I am proud of Bartolo Colon. Even though he looks eerily similar to the elephant on the sleeve of Oakland's uniforms (Yes, I purposely chose a picture where you can see it), Bartolo goes out there every fifth day and throws strikes like it's nobody's business. Seriously, he threw 38 consecutive strikes on April 18th.
Colon also won the 2005 AL Cy Young, and even though Johan Santana was undoubtedly more deserving, it goes to show how good he has been in the past. It looks like he still has something left in the tank.
28. Wandy Rodriguez
Bob Levey/Getty Images
Houston Astros
I know what you're thinking: "Wow, I haven't seen a Houston Astro on a best players list in years!" Well, don't get too excited; every team has a representative. Joking aside, Wandy Rodriguez has quietly put together some solid numbers the past few years. In each of the past three seasons, Wandy has thrown at least 191 innings and posted an ERA below 3.60. He pitched in the World Series back in 2005, and is a decent hitter.
While the 33-year old is certainly not the most thrilling player, most teams would be happy to have Wandy Rodriguez in their rotation.
27. Paul Konerko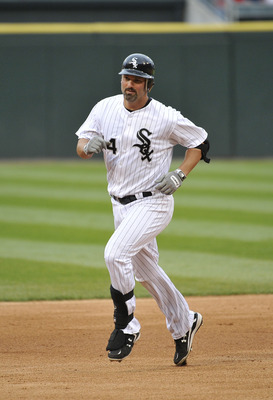 Brian Kersey/Getty Images
Chicago White Sox
I hate Paul Konerko. Not because of anything he has ever done, but because Hawk Harrelson drives me up the wall. ("Mercy!")
Konerko, who has spent fourteen of his fifteen seasons with the White Sox, is a five-time All-Star closing in on 400 home runs (he's at 399). He has driven in at least 100 runs seven times and put up a 5.1 WAR in 2010. Konerko was a key figure in Chicago's 2005 World Series run, a year in which he finished sixth in MVP voting. Paulie's 2012 campaign is off to a solid start; he's batting .349/.406/.587 with three home runs and 12 RBI through 63 at-bats.
26. Matt Wieters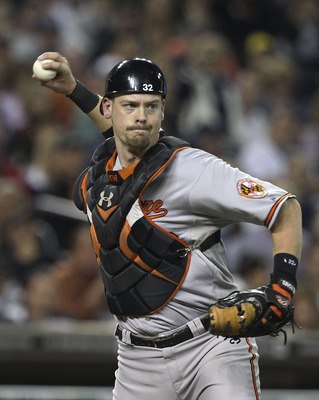 Leon Halip/Getty Images
Baltimore Orioles
I almost picked Adam Jones here, but instead decided to go with the O's young catcher. Wieters hit 22 home runs in 2011 to go along with his first All-Star selection and a Gold Glove. Wieters put up a 1.0 dWAR, and while I'm not a big fan of dWAR for catchers, it goes to show how good he is defensively.
With two-and-a-half seasons under his belt, Wieters is no longer the can't-miss prospect he was back in 2009, but he is still only 25 and shows a great deal of potential. It looks like some of that may be coming to fruition: he has cranked five home runs and is OPS-ing 1.007.
Honorable mention: Jones
25. Alex Gordon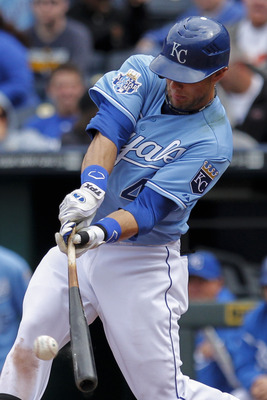 Kyle Rivas/Getty Images
Kansas City Royals
I was very close to picking Eric Hosmer on this one, but decided to go with Alex Gordon, mainly because he has several more years of experience and is much better defensively.
Gordon hit .303 last year, leading the Royals in home runs (23) and OBP (.376), and his 5.9 WAR was nearly double his previous career total. He hasn't started out 2012 on a great note, hitting only .175 through 63 at-bats. His 0.91 GB/FB ratio is 31 points above his career average, and once that levels out Gordon should see a return to somewhere near his 2011 numbers.
Honorable mention: Hosmer
24. Asdrubal Cabrera
David Maxwell/Getty Images
Cleveland Indians
Asdrubal Cabrera made headlines last year for his highlight-reel defensive plays, but his real prowess comes at the dish. Cabrera doesn't walk very much and he strikes out a bunch, but he hit 25 home runs and drove in 92 runs last year, landing him a Silver Slugger Award and an All-Star appearance. He set career-highs in round-trippers, RBI, runs scored, slugging percentage, OPS+, and WAR. Still only 26, Cabrera already claims the title of "second-coolest first name on this list".
Honorable mention: Carlos Santana
23. Brian McCann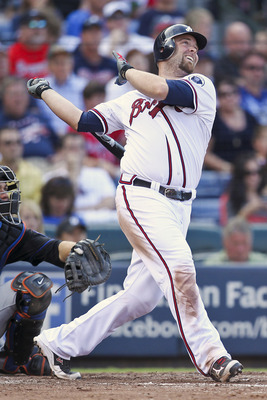 Daniel Shirey/Getty Images
Atlanta Braves
McCann has been the best catcher in the NL over the past five years. He's made six straight All-Star Games and won four straight Silver Sluggers. In his worst season in the big leagues (2007), McCann still hit 18 dingers and drove in 92 runs. He's been incredibly durable, playing in at least 128 games every season of his career.
Despite a rather slow start to 2012, McCann has plenty of talent and will remain among the NL's elite backstops for the foreseeable future.
Honorable mention: Craig Kimbrel
22. Joe Mauer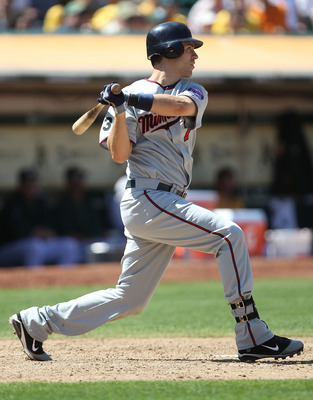 Jed Jacobsohn/Getty Images
Minnesota Twins
Joe Mauer ran away with the MVP back in 2009, leading the AL in every slash category with a .365/.444/.587 on top of scoring some sweet endorsements. He also put up a 7.5 WAR, tops in the Junior Circuit.
Mauer has lost a bit of his star power of late, hitting only 13 home runs since that MVP season, and it didn't help that he missed a good part of 2011 with a leg injury. The Twins aren't going to make much noise this year so they'll be relying on their biggest star player to keep ticket sales and interest high in the Twin Cities.
21. David Wright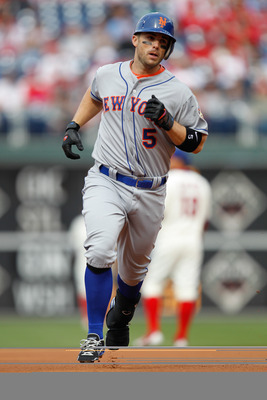 Brian Garfinkel/Getty Images
New York Mets
A few years ago, I thought David Wright had potential to win multiple MVPs and lead the Mets to the World Series. Before he turned 28, Wright had already racked up 169 home runs and 664 RBI, while batting over .300 five times.
It's been a few years since he was playing at that level, but Wright is still among the NL's elite at the hot corner. He's currently hitting .365/.452/.500 with a 177 OPS+ through 52 at-bats, one of a few bright spots for Mets squad that is surprisingly above .500.
Honorable mention: Johan Santana
20. Starlin Castro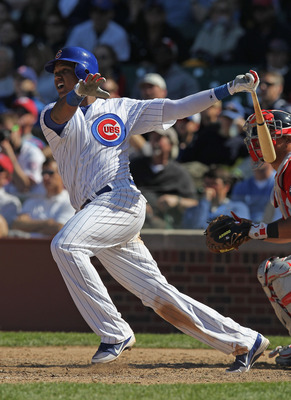 Jonathan Daniel/Getty Images
Chicago Cubs
"StarCast", as he is known around my home, is the Cubs' swing-happy young shortstop who has taken Chicago by storm. While his defense leaves something to be desired, Castro attacks relentlessly and with a vengeance at the dish. In his first full major league campaign, Castro's 207 hits and 674 at-bats led the NL. If his fast start is any indication, StarCast will exceed those marks this year.
Notice how cunning of me it was to use nothing but the subtlest of innuendos in reference to his recent sexual assault allegations.
19. Jose Reyes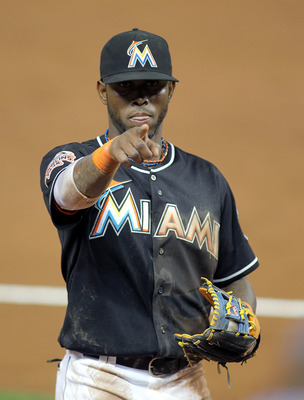 Marc Serota/Getty Images
Miami Marlins
When healthy, Jose Reyes is one of the most exciting players in the league. Despite missing 191 games over the past three years, the four-time All-Star signed a six-year, $106 million contract with the Marlins this offseason.
After swiping a jaw-dropping 78 bags in 2007, I was interested to see how many stolen bases the speedy Reyes would put up in Ozzie Guillen's run-happy system. So far Reyes has only four steals through sixteen games. Speed isn't the only thing slumping for last year's batting champ: Reyes is OPS-ing just .632 this season.
Honorable mentions: Hanley Ramirez and Giancarlo Stanton
18. Stephen Strasburg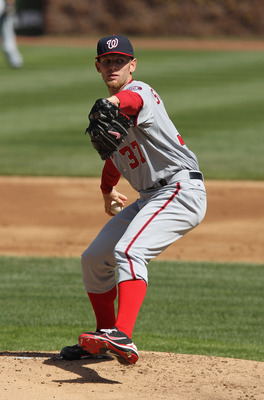 Jonathan Daniel/Getty Images
Washington Nationals
After undergoing Tommy John surgery that caused him to miss nearly all of 2011, the Nats' young ace has been dazzling in 2012. Through four starts, he is 2-0** with a 1.08 ERA and a 0.920 WHIP. Perhaps the only flaw in his stat line is the relative inefficiency of his pitch count, which often climbs to above 90 by the sixth inning. But that's unimportant as he has good command and other-worldly stuff.
The only reason Strasburg is so low on this list is because he only has 117 career innings pitched. He's going to move up. Soon.
**I swear on my last remaining box of Thin Mints that this is the only time I will mention pitchers' wins and losses in this slideshow.
Honorable mention: Ryan Zimmerman
17. Matt Holliday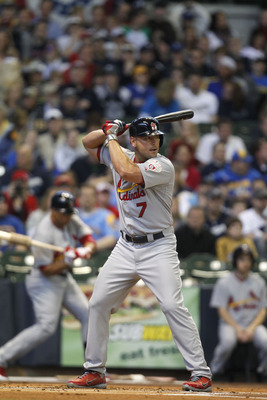 Jeffrey Phelps/Getty Images
St. Louis Cardinals
Around this time last year, Holliday would have been the fourth Cardinals player I chose. Albert Pujols was still in St. Louis, Chris Carpenter was in ace form, and Adam Wainwright was determined to take home a Cy Young after narrowly missing out on two. Well, Pujols is gone, Carp is out until at least June, and Wainwright is off to a poor start after missing 2011.
But if I have to "settle" for 205 home runs, 778 RBI, five All-Star appearances, and four Silver Sluggers, so be it. Holliday is now the main man in St. Louis after spending several years with Colorado. The 2007 MVP runner-up is hitting .215/.262/.405 in 2012.
Honorable mentions: Wainwright, Carpenter
16. Andrew McCutchen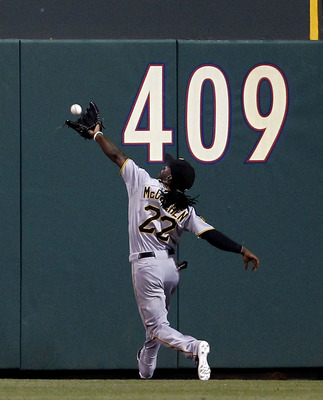 Jeff Zelevansky/Getty Images
Pittsburgh Pirates
This was by far the easiest selection on this list, mainly because Pittsburgh only has one good player.
That's not to take anything away from McCutchen, of course, who is off to a solid start in 2012. He's batting .339, 92 points above his career average but has just three extra base hits and zero home runs. The Pirates still have plenty of room for optimism with Cutch, a solid fielder who is striking out at a clip well below that of 2011. Only 25, McCutchen put a 5.5 WAR last year and kept the Pirates near .500 for the better part of 2011.
15. Felix Hernandez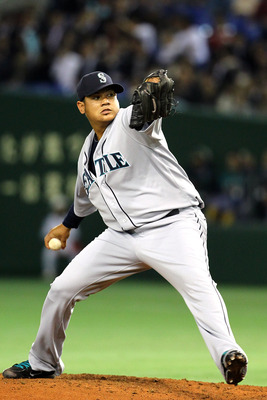 Koji Watanabe/Getty Images
Seattle Mariners
Felix Hernandez ran away with the 2010 American League Cy Young, leading the league in innings pitched, ERA, and H/9. His regression last year was due largely to his BABIP returning to about average, from an absurdly low .265 in his Cy Young year.
The flame-throwing righty has 854 strikeouts over the past four years, trailing only Tim Lincecum (977) and Justin Verlander (898). This season, King Felix's 6.20 K/BB ratio is well above his career-average and he seems primed for a big year in Seattle.
14. Josh Hamilton
Rick Yeatts/Getty Images
Texas Rangers
The Rangers' lineup is stacked. I mean, absolutely stacked. Top to bottom, they can do major damage. And Hamilton is the best of the group. After winning the 2010 AL MVP, Hamilton, a recovered drug addict who still suffers from occasional relapses with alcohol, put up solid, if not MVP-type, numbers in 2011.
If there was any disappointment last year, Hamilton appears to be on track for another season like 2010 when he hit .359/.411/.633 with 32 home runs and 100 RBI. Through eighteen games, Hamilton is raking at a .400/.420/.760 clip with eight home runs and 19 RBI. As if pitchers needed more reason to fear the Rangers...
Honorable mentions: Ian Kinsler, Mike Napoli, Adrian Beltre, Michael Young, Yu Darvish
13. Tim Lincecum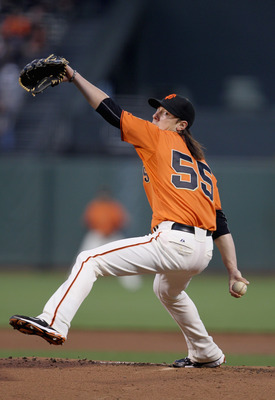 Ezra Shaw/Getty Images
San Francisco Giants
The Freak was decidedly un-freaky through his first three starts of 2012. His stuff looked much better in his last outing, though, and he appears to be back on track.
Lincecum is a two-time Cy Young winner who led the NL in strikeouts three consecutive years. For a long time in 2009, Timmy was the most dominant player in baseball, hitter or pitcher. Declining velocity and ailing command (mainly the latter) have led to slightly less awe-inspiring numbers since then. Lincecum still has incredible stuff and is the undisputed leader of a superb Giants pitching staff.
Honorable mentions: Buster Posey, Matt Cain
12. Justin Upton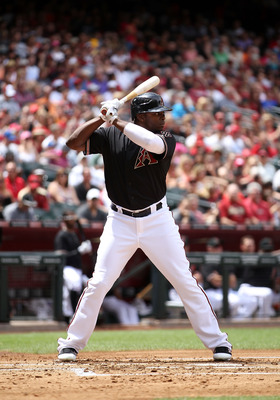 Christian Petersen/Getty Images
Arizona Diamondbacks
I initially had Upton quite a bit higher but his relatively slow start (.239/.357/.370) has brought him down to No. 12.
In 2011, the D-Backs' young right fielder finished fourth in MVP voting and set career-highs in several categories: runs, hits, home runs, RBI, OBP, OPS+, and WAR, to name a few. He was the centerpiece of a 29-game turnaround that found Arizona in the playoffs for the first time since 2007. Upton may very well find himself near the top of this list in the near future.
Honorable mention: Ian Kennedy
11. Robinson Cano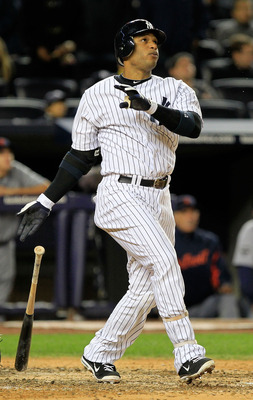 Chris Trotman/Getty Images
New York Yankees
Yankee fans have unreasonably high expectations every year, but even the most demanding of them cannot complain about Robinson Cano. Cano, 29, has hit at least 28 home runs and driven in no fewer than 100 runs in each of the past two seasons. He has five seasons with a WAR of at least 4.0, and while his strikeout rate has gone up, so has his extra-base hit percentage.
Cano has also delivered in the postseason, launching six round-trippers in his last 48 extracurricular at-bats.
Honorable mentions: Curtis Granderson, CC Sabathia
10. Dustin Pedroia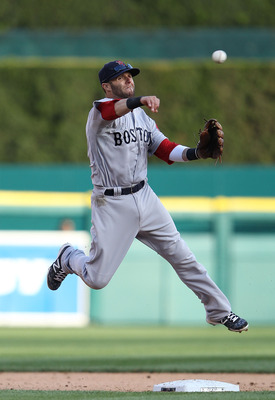 Leon Halip/Getty Images
Boston Red Sox
Dustin Pedroia is an easy guy to like. His passion for the game is incredible and he is really fun to watch.
In 2008, Pedroia led the AL in runs, hits, and doubles en route to the MVP. His career slash line is .305/.373/.464, fantastic for any position let alone a second baseman. In 2011, Pedroia put up a 6.8 WAR, 1.2 higher than his MVP season. Coming off career-highs in home runs, RBI, and stolen bases, Dustin Pedroia is one thing Bobby Valentine doesn't have to worry about.
Honorable mentions: Jacoby Ellsbury, Adrian Gonzalez
9. Joey Votto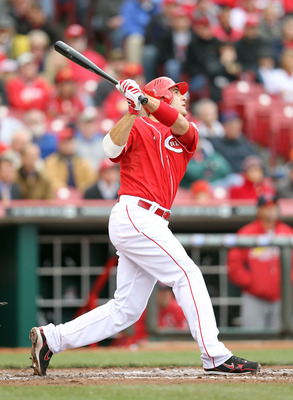 Andy Lyons/Getty Images
Cincinnati Reds
It's hard to believe that Joey Votto's recent 10-year contract extension worth $220 million was good for only the third-highest first baseman contract this offseason. But I'm not going to lose any sleep over the possible injustice that was done.
Votto beat Albert Pujols at his own game in 2010, taking home the MVP after putting up 37 home runs and a 171 OPS+. Votto quietly continued putting up big numbers in 2011, leading the league in doubles, walks, and OBP, all the while increasing his WAR from 5.9 to 6.5.
8. Ryan Braun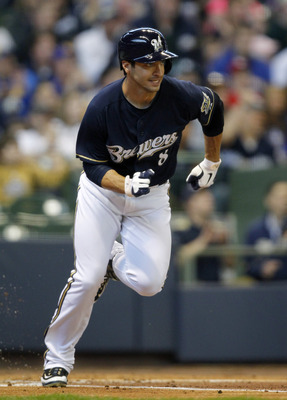 Jeffrey Phelps/Getty Images
Milwaukee Brewers
I know what you're thinking... "Braun stole Kemp's MVP!"... "Braun took steroids!"
Well... yes. These are both true. But there's no denying Braun's incredible production since he won the Rookie of the Year back in 2007. Braun's career slash, .311/.370/.563, is spectacular, and both his WAR and dWAR are on the upswing. With Prince Fielder gone, he's not going to see as many good pitches but don't expect Braun's numbers go down.
7. Jose Bautista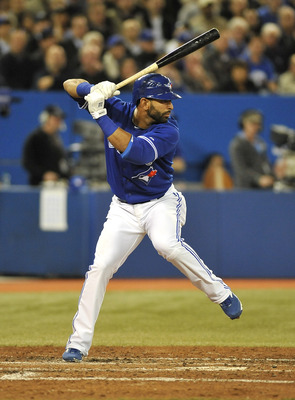 Brad White/Getty Images
Toronto Blue Jays
I think Jose Bautista is really good for baseball. The fact that he was able to reinvent himself, apparently without steroids, suggests an emergence from the era of tainted stars. Also, he looks stylish in those sweet new Jays unis.
Bautista did a ton of bouncing around before winding up in Toronto and deciding to go beast mode on the rest of the AL. Previously a career .242 hitter, he dropped 54 home runs and 124 RBI with an OPS of 0.995 in 2010. What did he do to follow it up? He just got better, to the tune of a 1.056 OPS and an 8.5 WAR. Don't be surprised to see him do it again this year.
6. Troy Tulowitzki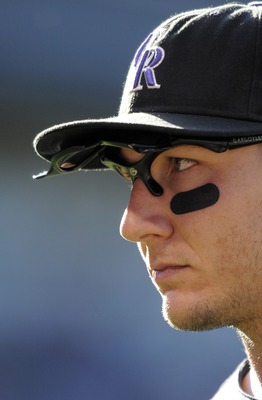 Jack Dempsey/Getty Images
Colorado Rockies
Tulo, the best shortstop in the league by a wide margin, has been freakishly consistent over the past three years (his OPS+ varies only seven points in that span). Always a power threat, Tulowitzki has managed to cut down on his strikeouts while increasing pretty much everything else. While many will point out that he plays in Coors Field, it's also important to note that he plays in a pitching-heavy division. He also travels to AT&T Park, Petco Park, and Dodger Stadium, all notorious pitcher's parks, 27 times per year.
Tulo's even a tremendous defender, and in this case, it doesn't matter where you play.
Honorable mention: Carlos Gonzalez
5. Justin Verlander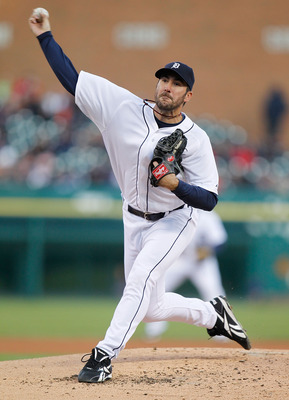 Gregory Shamus/Getty Images
Detroit Tigers
We all remember Verlander's outstanding 2011 season. Likely the best pitcher in the league last year, Verlander led baseball in innings pitched, strikeouts, WHIP, and ERA+. He won the Cy Young in runaway fashion and became the first pitcher since 1992 to win the American League MVP. Verlander even threw his second no-hitter. All that is great, but my favorite Verlander statistic is that he has thrown at least 100 pitches in FIFTY-SIX consecutive games. That is absolute absurdity.
Maybe the only thing he can't do is get into that 2K12 Perfect Game Club. Not yet, at least.
Honorable mentions: Miguel Cabrera, Prince Fielder
4. Roy Halladay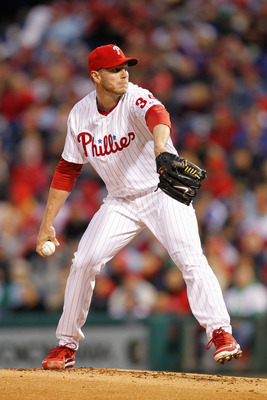 Brian Garfinkel/Getty Images
Philadelphia Phillies
Verlander and Halladay are both fantastic pitchers with an argument to be above the other. I chose the Phillies' ace due to the longevity of his dominance. Halladay has been one of baseball's best for the better part of ten years (his two Cy Youngs came seven years apart). Last year, Halladay posted a 2.35 ERA, the lowest of his career, and tossed eight complete games, extending his lead in that category among active players. The good doctor also has arguably the best peripherals in the league: 0.4 HR/9, 8.0 H/9, and an awesome 6.29 K/BB ratio.
Honorable mention: Cliff Lee
3. Evan Longoria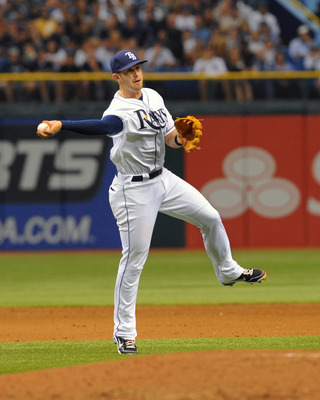 Al Messerschmidt/Getty Images
Tampa Bay Rays
The 2008 AL Rookie of the Year, Longoria has quickly shot up near the top of several lists like this one. After a strong close to 2011, E-Lo is tearing it up in 2012, slashing .339/.446/.581 for 10-7 Tampa Bay. In addition to strong defensive play (Longoria had a 1.1 dWAR in 2011), he is the undisputed leader in the clubhouse for a team that is expected to play into October.
And come on, who can forget that fantastic day in September when Longoria single-handedly eliminated the Boston Red Sox? That was superb.
2. Albert Pujols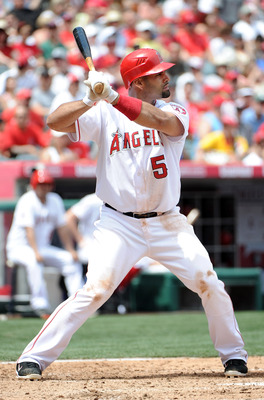 Harry How/Getty Images
Los Angeles Angels
The Two-Hundred-and-Forty Million Dollar Man is not off to a fantastic start in Anaheim. He has yet to hit a home run in 69 at-bats and has only 4 RBI. Like many others, I do not care. Pujols has never hit below .299, hit fewer than 32 round-trippers, or driven in fewer than 99 runs. He has the 2001 Rookie of the Year Award to go along with a pair of Gold Gloves and three NL MVPs, plus two more that were ruthlessly stolen from him. And let's not forget about those World Series titles.
Pujols' massive contract drew large amounts of criticism but there's no denying the quality of a player the Angels got.
1. Matt Kemp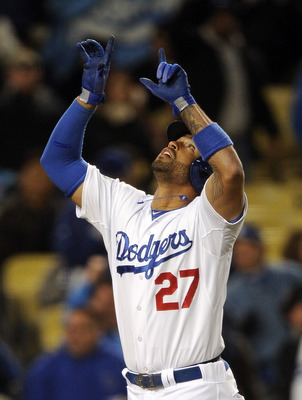 Harry How/Getty Images
Los Angeles Dodgers
I'm going to be honest. I didn't think Kemp was the best player in the league before this season. In fact, I originally had him penciled in at No. 4. But due to an unbelievably scintillating start, I bumped him to No. 1. Of course, that's not to say it isn't justified. Last year, Kemp hit .324/.399/.586, to go along with 39 home runs, 126 RBI, and 40 stolen bases in what should have been an MVP season. Kemp's 10.0 WAR led the league by a ton, and his 115 runs scored were best in the Senior Circuit. This year, Kemp leads the NL in all three triple crown categories- two of them by a healthy margin.
Kemp recently signed an eight-year contract extension that will keep him in LA for a long time.
Honorable mention: Clayton Kershaw
Keep Reading