Fantasy Baseball 2012: The Michael Morse Injury-Related Trade Conundrum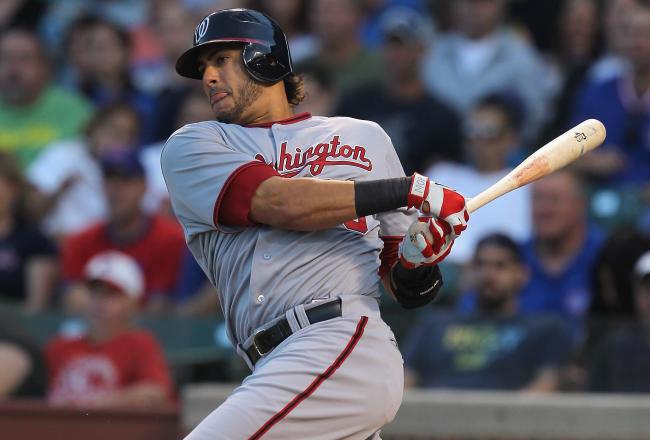 Nationals 1B/OF Michael Morse (out until June) was a three-category force last season, racking up 31 HRs, 95 RBI and a .303 batting average.
Jonathan Daniel/Getty Images
On Thursday afternoon, I received a trade offer involving injured Nationals star Michael Morse—one that was rebuffed at first...but had a whisk of plausibility about 10 minutes later:

In exchange for surrendering Brett Gardner, I'd receive Morse and Delmon Young. (During spring training, I had Morse 26th and Gardner 28th in my Top 40 Outfielders piece.)

For those out of the Washington loop, Morse recently suffered a setback in his rehab from a lat muscle tear; and on Thursday, the Nationals announced they were putting Morse (31 HRs, 95 RBI, .303 BA last year) in "shutdown mode" for at least six weeks, allowing the first baseman/outfielder to fully recover from an injury that apparently won't require surgery.

Conservatively speaking, six weeks of inactivity, plus two weeks of non-playing rehab, plus two weeks of rehab games in the minor leagues projects Morse to return sometime around June 24. Which begs the question:

In roto leagues that allow for Morse to reside in the "DL" slot, is there really a difference between harboring a minor-league stud due for a June 1 call-up (Mike Trout or Bryce Harper) in the active "Bench" slots...compared to the DL stashing of an established, productive slugger until late June?

Back to the trade offer from the Sports Illustrated & Friends league (12 teams, 25-man rosters, daily waivers): According to ESPN projections, Young (17 HRs, 83 RBI, 65 runs, .281 BA) and Morse (July-September: 15 HRs, 45 RBI, 35 runs, .282 BA) would yield tangibly better per-player numbers than Gardner in homers, RBI and batting average; and during Morse's window of absence, I could grab Jordan Schafer, Jason Bay, Michael Brantley, Dexter Fowler or Eric Thames for short-term outfield relief.

It bears mentioning that Trout, baseball's No. 1 prospect, should be wreaking havoc for the Angels' parent club—and my fantasy team—around Memorial Day. He's my one stash for this league and an untouchable trade commodity, within reason. It's also my way of repenting for the sin of dropping Eric Hosmer in mid-April of last year to fill a non-essential pitching void.

Verdict

Before formally nixing the proposal (it's too early to part with Gardner at that price), I will send a counteroffer to Owner B (one of my favorite GMs in this league) and see if he'll swap out D-Young for Billy Butler or pitchers Jordan Zimmermann/Cory Luebke. Perhaps, I'll even add to the intrigue by dangling one of my superstars (Albert Pujols, Andrew McCutchen, Jose Reyes)...as part of a more complex blockbuster.

After all, Owner B sits in 12th place right now, and more importantly, doesn't have a Twitter account or access to The Fantasy Blog.

Might as well gauge the state of his desperation before formulating a plan of attack.
Jay Clemons can be reached on Twitter, day or night, at @ATL_JayClemons.
This article is
What is the duplicate article?
Why is this article offensive?
Where is this article plagiarized from?
Why is this article poorly edited?