NFL Draft 2012: Who Could Wait Longest in the Green Room?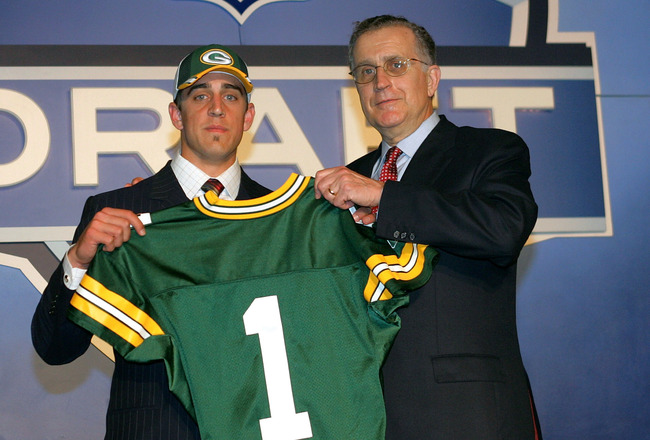 Rodgers wasn't as excited about the Packers as Tebow was about the Jets...
Chris Trotman/Getty Images
For all the certainty we in the media project as the league approaches the NFL draft, every year NFL organizations disagree with our assessments or general public perception and avoid certain prospects.

This experience can humble and challenge rookies in a very unique manner.

Whether their pressure originates from the fat contract of a top-10 pick or the chip on the shoulder resulting from an unexpected draft-stock plummet, the NFL draft can prove difficult waters for these young men to navigate.

Every season, a household name anticipated as an early, high-profile pick awkwardly awaits their turn in the NFL's green room.

The results can differ greatly—Brady Quinn entered through the whirlwind of dropping precipitously and then having his hometown Cleveland Browns trade up for him at 22nd. Quinn never wrested the job from waiver-acquisition Derek Anderson with the Browns.

Aaron Rodgers projected as a potential first overall coming out of Cal in 2005. Twenty-four picks later, he was headed to the Packers—doomed to indefinite apprenticeship behind the iron man Brett Favre.

Five years later, Rodgers was goin' to Disneyland.

After receiving national praise, acclaim and fame for three to four years as a collegian, these unfortunate souls are made to feel like they've gone full-Scott Norwood before they've played a down.

Until recently, prospects suffered on their couches in relative anonymity. In any other vocation, the spectacle would be outrageously cruel. What college senior must wait to hear the results of their job applications on national television?
But the NFL ain't show-friends, it's show-business.

Which high-profile prospects from the 2012 NFL draft could be sweating like Antonio Cromartie at a paternity hearing as the 20th selection draws closer?
1. Justin Blackmon, WR, Oklahoma St.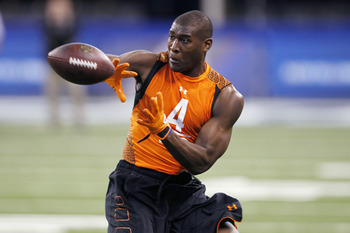 Joe Robbins/Getty Images
Justin Blackmon recorded Madden-like statistics in his career at Oklahoma State and rightfully claimed the Biletnikoff Trophy in 2011 as the NCAA's top wide receiver.

Fans of teams like the Cleveland Browns and Tampa Bay Buccaneers witnessed the early successes of A.J. Green, Julio Jones and Torrey Smith, leading them to hope Blackmon can replicate their breakout rookie campaigns.

However, Blackmon fails to measure up to any of those 2011 prospects from a numbers perspective.

Standing three inches shorter than Green and Jones and measurably slower and less explosive than Jones or Smith, Blackmon would project as the fourth-best receiver in other draft classes.

Not only this, but quality second-tier draft prospects like Rutgers' Mohamed Sanu, Baylor's Kendall Wright and Georgia Tech's Stephen Hill could fall to the early second round, where the opportunity at other positions will shrink more substantially as the draft proceeds.

Potential plummet range: Five picks (fourth-ninth)
2. Michael Floyd, WR, Notre Dame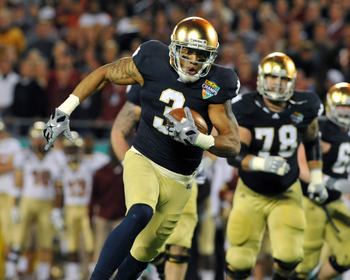 Al Messerschmidt/Getty Images
Playing on national television week in and week out has its advantages.

Ask Jimmy Clausen.

Michael Floyd enjoys wide name recognition, and size, speed and strength figure to combine to make Floyd a potential Pro Bowler at wide receiver.

Like Blackmon, the counts against Floyd relate more to the circumstances than the quality of the prospect himself.

Similar to Blackmon, the depth at the receiver position in the first three rounds could hurt Floyd if teams decide they can get someone in the second or third round at WR, but not at left tackle, for instance.

Additionally, high-profile busts like Brady Quinn and Jimmy Clausen could easily generate unfair prejudice against the Golden Domers in some NFL front offices.

That would be a mistake, but as a Browns fan, I can tell you—mistakes will be made.

Potential plummet range: 12 picks (ninth-21st)
3. Ryan Tannehill, QB, Texas A&M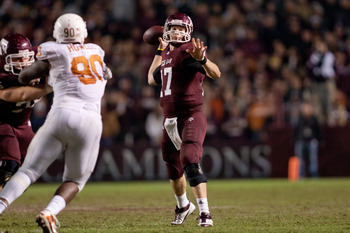 Darren Carroll/Getty Images
I could not tell you the last time a quarterback who started his junior season at another position launched himself into the top-10 conversation in the NFL draft.

Ladies and gentlemen of the jury, I present to you the 24/7 NFL news cycle.

While we love having constant fresh material to pore over while our beloved teams and players take a rest from manhandling each other for a few months, the coverage around Tannehill demonstrates everything that the media needs to improve with its coverage of the NFL draft.

For those living under the metaphorical cave with respect to 2012 NFL draft coverage, Texas A&M quarterback Ryan Tannehill's publicist needs a raise.

The one-and-a-half year starter impressively played wide receiver when he failed to win the starting quarterback job for the first two-and-a-half years of his career.

While the athleticism and character demonstrated by such a feat certainly indicate a quality prospect, Tannehill's rise before the draft stems from precisely the same variable that could doom Floyd and Blackmon—circumstance.

Before the Redskins traded with the Rams for the rights to draft Robert Griffin III, Tannehill floated around on blogs and message boards from a potential second- or third-round alternate to trading every pick until the first term of the Chelsea Clinton administration to the Rams.

As RGIII and Andrew Luck emerged as solid No. 1 and No. 2 locks, Tannehill's stock rose dramatically, culminating in uncomfortably threatening sound bites from the NFL Network's Mike Mayock.
Mayock warned the Dolphins, "You miss this one and the regime is gone," and insisted Cleveland should take Tannehill at fourth overall, qualifying his statement that Tannehill would not be ready on day one in the same breath.

This leads me to wonder whether Mayock's integrity as a journalist has been compromised.

If the Browns listened to Mayock in 2010, they would have found a way to get Jimmy Clausen.

What team at the top of the draft is going to draft any player—quarterback or otherwise—decidedly unready to play from day one? Mayock disqualifies his own statement before he even finishes it.

While Tannehill may believe he's a potential top-five pick, NFL GMs could vehemently disagree with Mayock's generous appraisal.

Potential plummet range: 32 (fourth-36th)
4. Quinton Coples, DE, North Carolina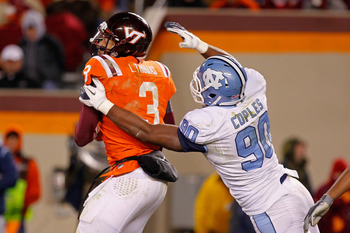 Geoff Burke/Getty Images
Quinton Coples enjoyed considerable success as a Tar Heel in 2010 and 2011 and deservedly will enter the NFL this year.

Coples also managed to avoid trouble at UNC—no easy task for Butch Davis' recruits (see Parking Tickets: Little, Greg).

Still, few players without serious character questions have managed to polarize scouts like Coples.
Some see him as a top-10 lock, Mike Mayock claimed on NFL Network's Path to The Draft that he might not take the defensive end in the second round (h/t Rotoworld).

That may amount to an endorsement of Coples as a first overall.

Defensive ends perpetually face the question of whether they are a three-down guy.
Whether teams see Coples' ceiling as a three-down anchor or a weak-side pass-rusher will divine where Coples lands.

Potential plummet range: 12 (eighth-20th)
5. Dre Kirkpatrick, CB, Alabama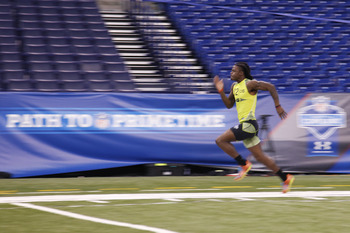 Joe Robbins/Getty Images
In the days preceding the current NFL labor agreement, perhaps one of the most unfair pay conditions for rookies was the stark reality that (again) sheer circumstance could dictate millions of dollars and in many cases make the difference between success and failure in life after football if the player suffers injury.
Dre Kirkpatrick almost universally checks in as the second-rated cornerback in the draft behind LSU's freakishly talented Morris Claiborne.
Kirkpatrick's an Olympic-caliber athlete in his own right and could develop into a perennial Pro Bowler in the NFL.
His ceiling could keep Kirkpatrick waiting in the green room the longest. If the Browns snag Claiborne at fourth, the Buccaneers could reasonably take Kirkpatrick at fifth.

If the next few picks fill other needs, Kirkpatrick could easily drop out of the top 10.

Potential plummet range: 12 (fifth-17th)
6. Janoris Jenkins, CB, North Alabama/Florida
Mike Ehrmann/Getty Images
While Claiborne and Kirkpatrick figure to go in the top 10, their former SEC counterpart will reap the misfortune of past errors during the 2012 NFL draft.

In 2008, Janoris Jenkins started at cornerback for the Florida Gators in their opener.
Before Joe Haden in 2007, no true freshman had ever accomplished that feat in Gainesville.

Jenkins' talent measures off the charts on the track and on film, but will suffer the consequences of repeated marijuana-related incidents.

Presented with the option of joining the Army, finding another college or hitting the cornfields, Jenkins transferred to North Alabama, where he passed his drug tests and performed on the field.

Jenkins insists his four children with three different mothers won't distract him on the field and that his days with marijuana are through: "Judge me not for what I have done, but for what I have become," Jenkins asked the public in an interview (h/t USA Today).

Whether Jenkins comes off the board at 15th or 50th, no doubt the talking heads will be yapping at the "risk," of taking a guy "like Jenkins."

What they may omit is, we could make a whole slideshow of guys "like Jenkins," on the Pro Bowl roster and NFL starting lineups.

In the right atmosphere, Jenkins could achieve redemption on the field in the NFL.

Potential plummet range: 40 (14th-54th)
You can follow me on Twitter @StepanekButton
Keep Reading