Bill Parcells Protects Legacy By Staying Retired
April 12, 2012

Marc Serota/Getty Images
After all the smoke has cleared, Bill Parcells made the correct decision to remain retired. After all, coming back to the sidelines pushes back his Hall of Fame eligibility five more years.
So, even if Parcells were to enjoy a good amount of success with the New Orleans Saints, not much—if anything—would have changed.
According to ESPN's Chris Mortensen, Parcells made the decision earlier this week:
Bill Parcells said Wednesday that he talked to Sean Payton and general manager Mickey Loomis about the New Orleans Saints' interim opening for 2012, but he's enjoying his life away from the sidelines and "it's time" to stay retired.

"I've been out quite a while now. I have another life. I'm very happy with that," Parcells told ESPN's Mike Tirico on SportsCenter.
This comes as no surprise because Parcells has also been out of coaching since 2006 and his final five seasons as a coach were disappointing when compared to how the Big Tuna began in the NFL.
The 1999 season was Parcells' last season with the New York Jets and Gang Green went just 8-8. After a brief three-year hiatus, he returned to Dallas in 2003, but was never better than 10-6 and went 0-2 in the postseason.
Had Parcells put the headsets back on for the Saints in 2012, regardless of how the Big Easy performed he was always going to be looked at as a future Hall of Famer. However, his legacy is preserved in retirement as we've seen other legendary coaches fail toward the end of their careers as well.
Mike Ditka is the best example. A beast on the field and the sidelines for a number of years, Ditka finished his duties as the Chicago Bears head coach after the 1992 season. Five years later, Ditka gave coaching one more shot with the Saints from 1997 through 1999.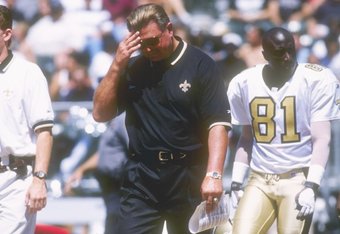 Otto Greule Jr/Getty Images
During that span, Ditka went just 15-33 and never had a record better than 6-10: His final season was an embarrassing 3-13. Although Ditka's legacy from an all-encompassed perspective didn't change, no coach wants this kind of ending or closure on their resume.
Parcells is simply preventing the opportunity of something like that happening. Plus, his last two seasons in Dallas were both 9-7 (lost in NFC Wild Card in 2006), which is a lot more satisfactory than what Ditka endured.
Not to mention the Big Tuna will be turning 71 years old before the 2012 season kicks off. In other words, enshrinement into the pro football Hall of Fame is not worth waiting five additional years.
John Rozum on Twitter.