7 Fantasy Football Sleepers to Remember in 2012
April 12, 2012

Kevin C. Cox/Getty Images
It's NEVER too early to prepare for your fantasy football draft, even if the NFL draft has not even happened yet.
One of the keys in drafting a fantasy team is finding sleepers. Every fantasy team has superstars and studs. Every team has kickers and defenses. But when you can find middle-to-late-round players who produce numbers fitting of high-round picks, that's what separates the fantasy champs from the fantasy chumps.    
How do you label a player a sleeper in fantasy football? He has to be someone people in your league might forget about, someone who will slip to the later rounds of your draft because he's coming off a poor year, coming back from an injury or moving on to a different team. But this "sleeper" has to have the talent and ability to have a super season.   
Here are seven fantasy football sleepers to remember for 2012!

Josh Freeman, Tampa Bay Buccaneers (QB)
Many owners in your league will remember the 16-to-22 TD-to-INT ratio Freeman had in 2011 and forget about the 25-to-6 ratio he had in 2010. Now that multi-millionaire Vincent Jackson is bringing his sticky hands and big-play ability to Tampa, Freeman should be a fantasy force once again thanks to his shiny new tall toy. 

Isaac Redman, Pittsburgh Steelers (RB)
With Rashard Mendenhall rendered a non-factor due to his torn ACL and with the Steelers severely stunted in what they can do in free agency thanks to topping out the salary cap, Redman is the odds-on favorite to be their starting tailback in 2012. He showed that he could be up to the task by slashing for 121 yards and a TD against the Denver Broncos in the playoffs.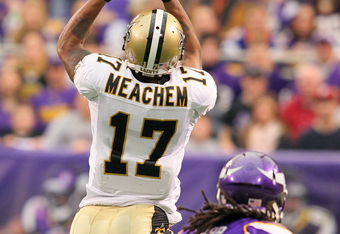 Adam Bettcher/Getty Images

Robert Meachem, San Diego Chargers (WR)
It's harsh to say Meachem was a first-round bust during his four years with the New Orleans Saints, but he never had 750 yards in any season, never developed a good chemistry with Drew Brees and had to fight for receptions with hundreds of other offensive options. 
Meachem's fantasy value should get a new life in San Diego, where the oft-injured Antonio Gates and Malcolm Floyd are no guarantees to play 10 games, let alone 16. Meachem should be the perfect fit for San Diego's vertical passing game and could finally turn into a 900-yard, nine-TD deep threat. 

Titus Young, Detroit Lions (WR)
The Boise State product might fly under fantasy radars because of the so-so 607 receiving yards and sic touchdowns he put up during his rookie campaign, but this speedster turned on the afterburners down the stretch and caught four of his TDs over Detroit's final four regular-season games.
Young should see the field more in his sophomore season and should see plenty of single coverage with Calvin "Megatron" Johnson on the opposite side. 

Daniel Thomas, Miami Dolphins (RB)
If you honestly think Reggie Bush can stay injury-free for 15 games two seasons in a row, skip to the next player in this article. If you have some sense, then keep reading this one.
Thomas is a bull of a back who had a nightmarish rookie season thanks to nagging injuries and Bush's surprising health. If he can remain healthier than Bush, have a good camp and get into the new coaching staff's good graces, Thomas could have a breakout season. 

Jared Cook, Tennessee Titans (TE)
If you are unable to draft Rob Gronkowski, Jimmy Graham or Vernon Davis to be your tight end, no need to sweat like a small cornerback covering Larry Fitzgerald. Cook is on his way to becoming one of the elite fantasy tight ends to own.
Cook finished stronger than most tight ends last year, catching 21 passes for 335 yards over the final three games of the season. He's one of the few tight ends with enough speed to break several 25-yard plays down the seems of a secondary. He ended up with 759 receiving yards in 2011 but do not be shocked if he has 900-1.000 in 2012. 

Mike Goodson, Oakland Raiders (RB)
Darren McFadden gets injured as often as Cedric Benson gets arrested, and Michael Bush is now with the Chicago Bears, so the recently acquired Goodson definitely has a chance at some touches during the course of next season.
Goodson played sparingly with the Carolina Panthers thanks to their logjam at running back, but when he did get rare opportunities, he did produce, like in 2010 when he had back-to-back 100-yard-games. Draft Goodson as McFadden insurance if you gamble on "DMC" or just take him in the late rounds and hope McFadden pulls a muscle or tears a toenail.