Cincinnati Reds: Will the Joey Votto and Brandon Phillips Signings Cost Fans?
April 11, 2012

Kevork Djansezian/Getty Images
In life and in baseball, you get what you pay for.
In the past week, the Cincinnati Reds shelled out big dollars for long-term stability.
The Reds first signed first baseman Joey Votto to a 10-year contract on April 4 and locked up Brandon Phillips to a long-term deal less than a week later. These two extensions ensure the Reds infield is defensively strong and their lineup is packed with pop. A franchise with a rich history appears to be set for the future.
But what do the Votto and Phillips signings mean for the consumer? Will the cost of an All-Star infield be passed on to the Reds faithful? If so, how much more will it cost Cincinnati fans to lock up the cornerstones of the roster?
To answer these questions, we can turn to Team Marketing Report (TMR). TMR is a sports marketing firm that measures revenues across all major sports and publishes the Fan Cost Index, or FCI for short. FCI combines average non-premium ticket prices with parking fees, food, drink and merchandise to create an average total cost for every professional sports team.
Using TMR's annual reports for the 2011 and 2012 baseball seasons, we can reasonably determine if the cost of big-money contracts is passed on to baseball fans. Pretty cool, huh?
The Los Angeles Angels made major noise when they signed first baseman Albert Pujols to a 10-year, $240 million contract in the offseason.
Now, the average cost of an Angels ticket is up 4.1 percent to $19.71, but is still well below the MLB average of $26.92. A premium LAA ticket will run you just more than $74, which is about $13 under the league average. Despite the minimal increase in ticket price, the Angels' FCI jumped 8.4 percent to $159.82.
The Detroit Tigers added some serious power to their lineup in the form of Prince Fielder. Late in the offseason, the Tigers inked the first baseman to a nine-year, $214 million deal.
The average cost of a Detroit Tigers ticket jumped 5.7 percent to an even $31. The average premium ticket is still under the league average; if you want to go to a Tigers game in style, it will cost you just under $77. However, the Tigers' FCI ballooned to 8.8 percent, up to $237.49.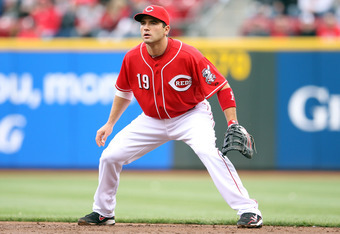 Andy Lyons/Getty Images
While there are other factors besides free agents that may lead to increased costs to attend your favorite team's games, there is, at least, a clear correlation between teams making expensive deals and average ticket prices.
Remember, you get what you pay for.
Let's apply the lessons of the Angels and Tigers to the Reds.
According to TMR, the average Cincinnati ticket will run you $20.49 in 2012, but if the Pujols and Fielder models hold true, expect ticket prices to jump 4-6 percent next season. This means that, on average, a Reds ticket will cost you between $21.31 and $21.72 in 2013.
Seems to be hardly a cost one would notice at all and certainly a price worth paying for the team's two best players.
However, if the Reds' FCI increases as much as the Angels' and Tigers', you might think twice about heading to Great American Ballpark.
Cincinnati's current FCI stands at $165.94, up 2.3 percent from last season, but more than $40 less than the league average. If we assume, based on what happened in Detroit and Anaheim this year, that the Votto and Phillips contracts will cause an 8.6 percent increase in FCI in 2013, the average total cost of a Reds game will jump to just more than $180. That's $15 more each time you enter the ballpark.
Yes, some of the cost of signing Phillips and Votto will be passed down to Reds fans, but it will likely be too negligible to notice. For a proud fanbase whose team has not won the World Series since 1990 and has only made the postseason once since 1995, it will be worth the price.
After all, you get what you pay for.