St. Louis Rams: Wednesday's Rams News and Notes at Noon
April 11, 2012

Welcome to Wednesday's St. Louis Rams "News and Notes at Noon" the one-stop landing spot for all major Rams headlines and other items of interest to those of Rams Nation.
Report Suggests That Alabama Running Back Trent Richardson Is Rams' Favorite at No. 6
According to former Rams scout Russ Lande for aol.sportingnews.com (as shared in this piece), St. Louis covets running back Trent Richardson more than any other prospect in regard to the No. 6 pick.  
Richardson is a big, powerful running back and one that apparently appeals to Rams general manager Les Snead and head coach Jeff Fisher.
In his introductory press conference, Snead talked about how another big back, Michael Turner, helped change the Atlanta Falcons' fortunes when Snead was with that organization, as reported here by Turf Show Times: 
Let's take Michael Turner. When we signed that player, we knew that we were going to hopefully get Matt Ryan as a franchise quarterback. We also knew that our defense was weak and we didn't have a lot of talented players there, and we only had so many things we could do.

So we took the running back that fit a scheme of Mike Mularkey, who wanted a big running back, for a couple reasons: Help Matt out, let him run the ball, play-action pass and try to make our quarterback successful earlier, and No. 2 is keep our defense off the field because they were a weak link.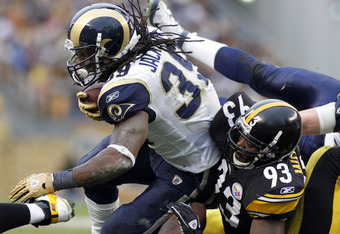 Justin K. Aller/Getty Images
Of course, Jeff Fisher knows a thing or two about big, bruising backs after leaning on former Pro Bowl runner Eddie George for eight consecutive seasons.
In today's NFL, implementing an offensive system that features a shared running game between two capable starting-caliber backs has become commonplace. 
A one-two punch of incumbent Steven Jackson along with the aforementioned Richardson could potentially become the best duo in the entire league in 2012.  
Furthermore, the addition of Richardson would provide St. Louis with exemplary injury insurance if Jackson were to succumb to injury and also provides the Rams with their future feature back after Jackson eventually slows down or hangs up the cleats. 
Jackson, 29, takes tremendous care of himself, however, and may end up being the exception to the rule and play at a Pro Bowl level for several more seasons.  
That notwithstanding, everyone slows down at some point. When one considers that Jackson has compiled 2,138 carries, 369 receptions and produced 12,096 yards via the ground and air, one has to wonder how long he can play at an elite level. 
Many backs begin to hit the wall at that magical age of 30, and one never knows for sure when the downturn may begin. 
Jackson has put a ton of miles on the tires, as evidenced by the statistics mentioned above. He may have many more to go, but there are no guarantees in that regard.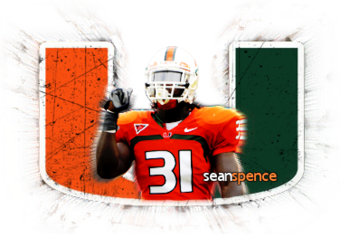 With all of the above considered, as well as the fact that Richardson is about as sure of a prospect as the 2012 NFL draft has to offer, grabbing Richardson makes a lot of sense.
If he is sitting at No. 6 as the best player available, it may be terribly hard for the Rams to pass him up, especially when considering the generally short time span that featured backs are able to play exceptional football.
Four Draft Prospects Visited Rams Park Tuesday, with More Visiting Today
According to the St. Louis Post-Dispatch, as shared by Ron Clements of cbssports.com, four draft prospects visited Rams Park on Tuesday: cornerback Dwight Bentley, wide receiver Reuben Randle, defensive end Quinton Coples and linebacker Sean Spence. 
Three of those four would meet areas of need in St. Louis (Bentley, Randle and Spence), with Coples playing a position where the Rams seem to be sitting quite nicely: defensive end (with Chris Long and 2011 first-round pick Robert Quinn in place). 
St. Louis welcomes cornerback Dre Kirkpatrick and wide receiver Michael Floyd today, as reported by the aforementioned Clements here. 
Interestingly, neither seem to be likely options at No. 6, but either could be targets in the middle of the first round if the Rams were to trade down during the draft.  
Fitzpatrick could specifically be a target at the top of Round 2 if he were to slide that far.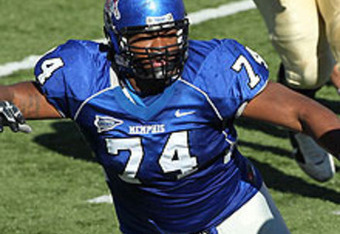 St. Louis Mock Draft Review 
Mike Sando of ESPN released a great piece today summarizing 14 credible mock drafts.
Of those 14 mocks, seven have St. Louis going with wide receiver Justin Blackmon.  
Other mocks reviewed in the above-linked article had the Rams going with cornerback Morris Claiborne or defensive tackle Fletcher Cox, who is obviously still ascending in the eyes of many draft analysts. 
NFL Draft Preview: Defensive Tackle
The Rams will almost certainly grab at least one defensive tackle in this month's NFL draft.  
There are some very talented DT prospects available this year, including Fletcher Cox (who some say could be an option at No. 6), Dontari Poe, Michael Brockers, Jerel Worthy, Alameda Ta'amu, Josh Chapman and several others.  
Stlouisrams.com senior writer Nick Wagoner takes an in-depth look at how St. Louis currently stacks up at the position and analyzes the prospects available in the draft here.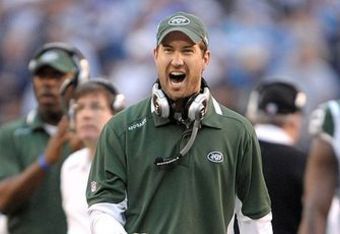 Wagoner ranks Cox as his top DT (as do I) and names Loni Fangupo of BYU as his sleeper pick.  
Please take a look at the terrific piece via the above link and check out all of the rankings and information therein. 
St. Louis Announces Their Complete Coaching Staff
According to a column from Jim Thomas of the St. Louis Post-Dispatch, Jeff Fisher and the Rams have finally announced their full coaching staff.
As expected, Gregg Williams was not listed as a member of the 2012 staff after being suspended indefinitely for his role as the supposed ringleader of the New Orleans Saints' illegal bounty program.  
St. Louis Rams Q-and-A Session
Jim Thomas, the St. Louis Rams beat writer for the aforementioned St. Louis Post-Dispatch, chatted with Rams fans yesterday and covered a plethora of topics related to the 2012 NFL draft, free agency, the coming regular season and more. 
For Thomas' thoughts and insight on St. Louis, read the transcript of yesterday's chat here.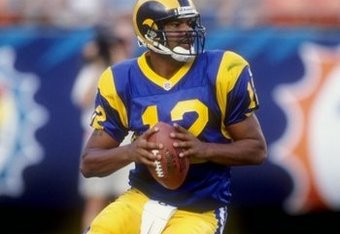 The Rams May Look For a Punter Via the 2012 NFL Draft 
After choosing not to retain veteran punter Donnie Jones (who signed with the Houston Texans), the Rams could be looking to the draft for a punter. 
Jim Thomas of stltoday.com takes a look at the topic in this column.  According to Thomas' column, St. Louis has only drafted two punters since 1995.
Earlier in the offseason the Rams did add Tom Malone, but he is probably not a favorite to become the Rams punter this season. The 28-year-old Malone has never punted in an NFL regular season game.
That said, St. Louis is almost certain to look at adding a punter via the draft or to grab an undrafted free agent at the conclusion of the three-day event.
Some potential options could include Brian Stahovich, Bryan Anger and Drew Butler. Apparently it is a good year to be a punter named Brian, regardless of the spelling. 
Tony Banks Will Join STL Rams Central Radio Tonight 
Former St. Louis starting quarterback Tony Banks (1996-1998) will join STL Rams Central Radio tonight at 7 PM central time. 
Topics to be discussed include Sam Bradford's future with the Rams, his prospects for the coming campaign, the 2012 NFL draft and what Banks thinks of the Rams with Jeff Fisher at the helm. 
Have a great day as always, STL Rams Nation.
Shane Gray covers the St. Louis Rams daily as a Featured Columnist for Bleacher Report. You are encouraged to check out the rest of his work here. Gray also owns and operates stlramscentral.com.