Atlanta Braves: Can Jason Heyward Ever Recover His Once Bright Future?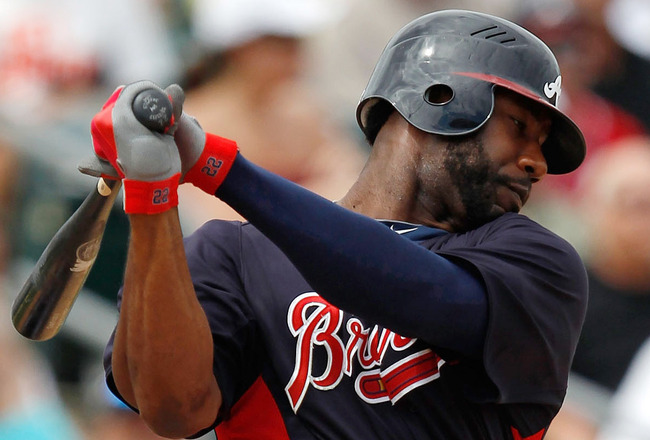 Can Jason Heyward ever become the player we had all hoped he would become?
Sarah Glenn/Getty Images
Heading into the 2010 season, Jason Heyward was the most hyped prospect in the game. He was so hyped that at the age of just 20 years old, Heyward was being compared to some of the greatest players who have ever lived, such as Ted Williams.
Once the season started, his performance did nothing to slow the hype. He homered in his first career at-bat off Carlos Zambrano, was voted into the All-Star game as the National League's starting right fielder and finished as the runner-up in the Rookie of the Year voting to Buster Posey.
Heyward showed the ability to hit for average and power, get on base almost at will, come up with clutch hits and (of course) play great defense.
Heyward was expected to break out last season, but after a strong start to the year, he was hit by injuries that slowed him the rest of the way. When he did play after that first month, he lost all confidence in himself and was in a hole that he couldn't dig himself out of. It got so bad that the Braves benched him in favor of career minor leaguer Jose Constanza.
Heyward spent the winter working with new hitting coach Greg Walker, but the question still remains if the talented young slugger can ever regain his once bright future.
This article takes a look at three reasons why it's possible that he does regain the bright future and three reasons why he may not ever get back to where he was, as well as gives my own conclusion.
No: Heyward Is Too Brittle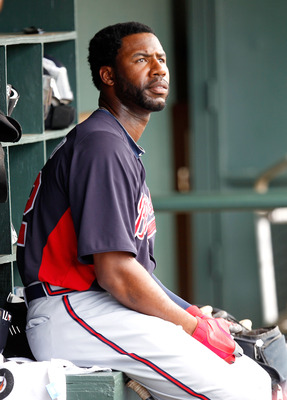 Jason Heyward is extremely injury prone for such a young player.
Sarah Glenn/Getty Images
After his historically great rookie season in 2010, there was one concern about Jason Heyward, and that was his ability to stay healthy. Heyward missed time in the minors for various ailments as well as during his rookie season.
During his rookie season, Heyward was forced to miss the All-Star game with a thumb injury sustained by sliding into a base wrong. That had an effect on him as he tried to play through the injury, which never fully healed until after the season. This doesn't even include minor knee and groin issues that popped up that season.
After starting the 2011 season off well, Heyward injured his shoulder in early May, an injury that fans later found out bothered him for the entire season. He also missed time later in the year with a foot injury, another minor issue that bothered him.
If these injuries happened to an older veteran such as Chipper Jones, no one would pay such close attention, but for a kid that doesn't turn 23 until August, this is a concern. Normally kids his age don't have this many small injuries pop up, unless they are truly injury-prone.
If Heyward is ever going to turn his career around and get back that once bright future, he will need to stay healthy as nagging injuries really seem to have an effect on his play.
If Heyward can spend a full season without a nagging injury, he could potentially find his way back to the top.
No: Opponents Have a Scouting Report on Heyward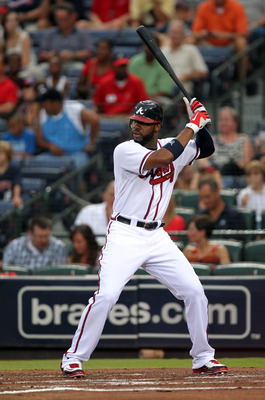 Jason Heyward needs to figure out how to hit the inside fastball.
Joe Murphy/Getty Images
After getting through the league a few times, opponents had a scouting report on how to get Jason Heyward out. Opposing pitchers have been throwing inside to him with fastballs, something that he hasn't figured out how to hit yet.
For Heyward to ever reach his potential, he needs to learn how to hit those pitches. Whether he can't make the adjustment, the shoulder injury kept him from doing that last year or he just doesn't have it in him to figure it out, this will be something that is going to help determine his level of big-league success.
No: There Is Too Much Pressure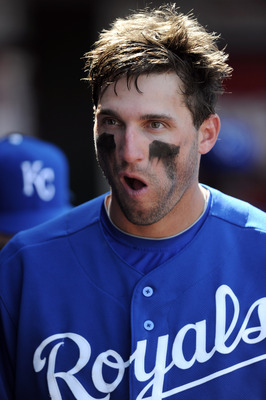 The situation with Jason Heyward mirrors the Jeff Francoeur situation that didn't end well for the Braves.
Harry How/Getty Images
Look back into Braves history a few years, and this situation looks oddly familiar. A local kid drafted very high by the Braves, then goes on to become a big-time prospect in the minor leagues. The kid reaches the big leagues fairly quickly and is very successful early in his career, as he helps the Braves reach the playoffs as a rookie.
While that sounds exactly like Jason Heyward, the player I spoke of above is Jeff Francoeur.
Francoeur started off with a big rookie season and had some success in the next couple seasons before struggling and losing all confidence. After the Braves sent him down, he was traded to the Mets for Ryan Church, a short rental they did not attempt to return.
After a few down years with the Mets and Rangers, Francoeur finally started producing again last year with Kansas City.
Jason Heyward must deal with the same situation, if not potentially even more pressure. As if being a local kid and former elite prospect who had some big league success isn't enough reason for the fans to put some pressure on Heyward, the fact that Chipper Jones is set to retire at the end of the 2012 season adds more urgency.
Every bad at-bat Heyward has will be analyzed by fans and media and will get criticized. That type of pressure is tough for anyone to deal with, let alone a young kid.
In order to get to the top again, Heyward needs to figure out his game as well as figure out how to not let these things hurt his confidence.
Yes-:Heyward Has That "It" Factor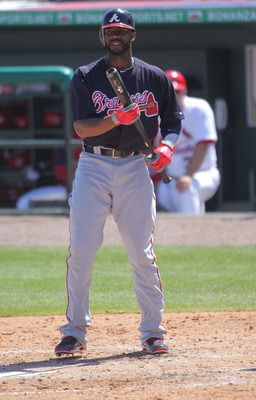 Jason Heyward has previously shown the ability to become special.
Marc Serota/Getty Images
One of the things most fans like about Jason Heyward is that he has "it"— meaning the ability to come through in key situations. As if playing in the big leagues at age 20 isn't tough enough, playing with the hype of being the top prospect in the game and receiving comparisons to Ted Williams is an extremely tough situation.
All you need for proof is his first career at-bat when he hit a home run off of former All-Star Carlos Zambrano. Then there was the early season walk-off RBI-single to beat the Rockies that season. Heyward really came up big in the final half of his rookie season, which helped to carry the Braves' offense after Chipper Jones went down with a knee injury.
Even last year, despite his almost year-long slump, Heyward came alive down the stretch. With the Braves' offense struggling badly in September, Heyward posted his best OPS (on-base percentage plus slugging percentage) in a month since his shoulder injury, as he hit .258 with a .739 OPS.
No matter what happens with the rest of Heyward's career, he has already shown everyone that he has the "it" factor. Under intense pressure to succeed at such a young age, Heyward has done everything he could to prove he has what it takes to become a special ball player.
It's just a matter of whether everything else comes together and allows him to.
Yes: Heyward Is a Hard Worker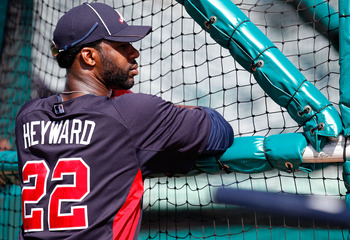 Jason Heyward has shown he will work to correct his flaws.
Sarah Glenn/Getty Images
Following his disaster of a season last year, Jason Heyward spent the winter in Atlanta working hard on fixing the issues that led to his struggles. Heyward worked with new hitting coach Greg Walker on both hitting and regaining the confidence that he seemed to have completely lost at times last season.
Heyward had publicly said things to the media like the fact that he's never had to work this hard because success had come naturally to him in the past. However, at the first sign of true struggles, he was quick to seek help and genuinely seemed to want all the help he could get as he went a few weeks with Walker without swinging the bat.
We don't know if all of the work will pay off in the long run, but the fact the he is willing to put in the work needed to succeed is a great sign that he will be able to snap out of his year-long slump.
Yes: Heyward Is Too Talented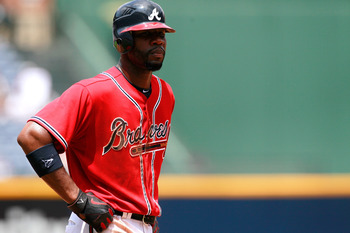 Jason Heyward is too talented to fail.
Kevin C. Cox/Getty Images
One thing that sometimes gets forgotten with Jason Heyward's struggles is the fact that he's an amazingly talented baseball player. Not only is he big, strong and fast, but he puts his skills to use on the field. He has already proven on the big league level that he has all the tools needed to succeed.
As a rookie in 2010, Heyward hit .277 with 18 homers and 72 RBI's while playing most of the season at age 20. He also got on base at a ridiculous rate for someone so young—.393.
He slugged .456 and even stole 11 bases. He was solid on defense as his big throwing arm led to five outfield assists.
Heyward has the ability to do everything you could ask for on a baseball field. He could hit for average and has an excellent eye at the plate, which leads to walks and limits strikeouts.
His power is enough to potentially lead the league in homers at some point in his career, but he also has the speed to steal a base or stretch a single into a double. Even his glove is strong, as he fields and throws very well from right field.
Heyward is simply too talented and shown enough ability at the big league level to fail. Players that have seasons like he did in his rookie season are usually players that go on to become all-time greats.
Conclusion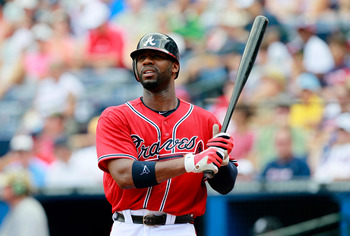 I really do believe that in time Jason Heyward will once again become among the best young players in the game.
Kevin C. Cox/Getty Images
In order to regain his once bright future, Jason Heyward will need to stay healthy, deal with the pressure, figure out the inside fastball and continue the hard work he has been putting in to fix his swing.
If he can do these things, the odds are that he will be once again among the best young players in the game. But if he can't, then the Braves could be in another situation like they were in with Jeff Francoeur.
My personal guess is that Heyward has an up-and-down year in 2012, showing flashes of his potential as well as flashes of what we saw last year. I do believe that at some point during the year he will finally have everything click, and from there he will have some success.
Jason Heyward may not be the future Hall of Fame player that some were expecting after 2010, but by the end of the year, we should start to see signs that the Braves have found a strong middle-of-the-order producer for the next decade.
Keep Reading

Atlanta Braves: Like this team?