Ozzie Guillen Suspension: Firestorm a Publicity Gold Mine for Miami Marlins
April 11, 2012

Drew Hallowell/Getty Images
When was the last time you saw ESPN dedicate over two hours of their live national broadcast for the Marlins?...don't worry, I'll wait.
That's right, never.
The Miami Marlins have suspended manager Ozzie Guillen five games for the comments he made about Cuba's Fidel Castro.
During an interview with Time Magazine, the Marlins' skipper was quoted saying "I love Fidel Castro," and has since been taking heat from the Cuban-American community in South Florida.
In an attempt to set the record straight, Guillen used an off-day for the Marlins to come down from Philadelphia to talk to the media in Little Havana about his comments to the Time reporter.
"I feel like I betrayed the Latin American community and I am here to say I am sorry," Guillen said in Spanish during the press conference.
The press conference was nationally televised by ESPN during SportsCenter, and Guillen spoke in both English and Spanish, his native tongue.
When Jeffrey Loria signed Guillen as the manager of the Marlins, he knew exactly what he was getting himself into. He knew Guillen was an outspoken, loud-mouth. He knew Guillen doesn't have a filter and says what he feels. Miami signed the 47-year-old Venezuelan knowing exactly what he would bring to this organization.
What does Guillen bring? Plain and simple, he brings the media. It's the "Ozzie Guillen Show," and we've been witnessing this ever since he took over as the manager of the Chicago White Sox.
Guillen's "say it like it is" mentality has helped him not only become a famous name, but it has made him a successful manager in the big leagues.
While everyone else worried about the Cuban-American community's reaction to the story, I was busy paying attention to the public relations aspect of the whole situation.
ESPN, Sports Illustrated, CBS Sports, MLB Network and many other national media have their eyes set on Miami. The Marlins are on the front pages of most of their websites, all over TV and ESPN is having a specialist come in to talk about the situation.
Publicity-wise, the Marlins have hit a gold mine. Ask any good publicist and they will tell you that any publicity is good publicity. That's a fact, and the Marlins are proving it right now.
Just last year, the Marlins were the laughingstock of Major League Baseball—now they are in the center of national attention.
"Any publicity is good publicity," says Abby Blake, the manager of public relations at Transmedia Group. "But at the same time, the Marlins need to do damage control."
That's exactly what the Marlins have done by suspending Guillen, a World Series-winning manager, for five games and having him come from Philadelphia to Miami to speak to reporters.
Personally, I believe the only reason the Marlins suspended Guillen was to please the Cuban-American population of South Florida. If this is true, it would go back to my original point that this is savvy public relation move by the Miami Marlins.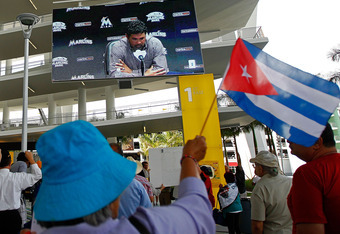 Mike Ehrmann/Getty Images
Let me be clear, I'm not saying Ozzie said "I love Fidel Castro" on purpose just to get publicity. But the media frenzy that has happened should be looked as a positive, not a negative.
There's no debate that Fidel Castro is a ruthless dictator that needs to be stopped and is not someone to be admired for what he has done. But Guillen's comments to the Time magazine reporter were lost in translation and the publicity it has gained will benefit the Marlins in the long-run.
Guillen did not deny saying "I love Fidel Castro" to the Time magazine reporter, however, he did explain himself afterwards to the Time reporter by saying what he really meant by the remarks, "I respect Fidel Castro. You know why? A lot of people have wanted to kill Fidel Castro for the last 60 years, but that [expletive] is still there."
Guillen's lost-in-translation story is one that happens more times than you would think. "I was thinking in Spanish" explained the Venezuelan skipper.
Guillen is a fan favorite. During the grand opening of Marlins Park on April 4, Guillen received the loudest standing ovation of any Marlin during the pregame introductions.
Although the entire Cuban population wants to see him resign or fired, there are people out there who support the Marlins skipper, "It's the language barrier," said longtime Marlins fan Catalina Fuentes. "Not everything translates perfectly from Spanish to English and that's exactly what happened [in this situation]".
Guillen will not be with the team as they conclude their series in Philadelphia, and will not be present during the Marlins three-game weekend homestand versus the Houston Astros.
Guillen will be back when the Chicago Cubs are in Miami. During his absence, Marlins' bench coach Joey Cora will manage the team.
Article brought to you by: Everybody Loves Miami
Pedro Heizer is a Correspondent for Bleacher Report. Unless otherwise noted, all quotes were obtained first-hand.