Minnesota Vikings: 7 Players Who Could Make an Impact Their Rookie Year
Gregory Shamus/Getty Images

I know Vikings fans are saying, "How could you put a picture of Titus Young up there on the Vikings site?" Good question, but it was designed to get to my point. Young caught 48 passes for 607 yards and six TDs last season. Young was a second-round draft choice by the Detroit Lions in the 2011 NFL Draft. Normally rookie contributions are minimal, but there are exceptions.
Outside of Rounds 1 and 2, most rookies are relegated to backup or special teams roles, and for the Vikings that may be the case early on, but I am looking at seven players who might be drafted by the Vikings and make an immediate impact for 2012.
Now, that does not mean their impact will be felt at the beginning of the season. It may be Week 5, Week 8 or maybe even Week 12; nonetheless, the impact can be there.
This is based on draft selections by round. It would be easy to throw down names like Matt Kalil, Dontari Poe, Luke Kuechly, etc... What I am trying to discuss are players who might be available at certain selection points in the draft.
The Vikings draft No. 3 in Round 1, No. 35 in Round 2, No. 66 in Round 3 and No. 98 in Round 4. I will also put two intriguing names out there to create seven total who could be selected at some point.
You may disagree with the picks I have and that's fine, but I am looking to cover areas of need and to include players who I feel could play an important role very quickly if the Vikings are to rebound as a formidable franchise once again.
So, with six selections within the first 138 choices, the Vikings could help themselves considerably. Let's take a look.
Begin Slideshow

»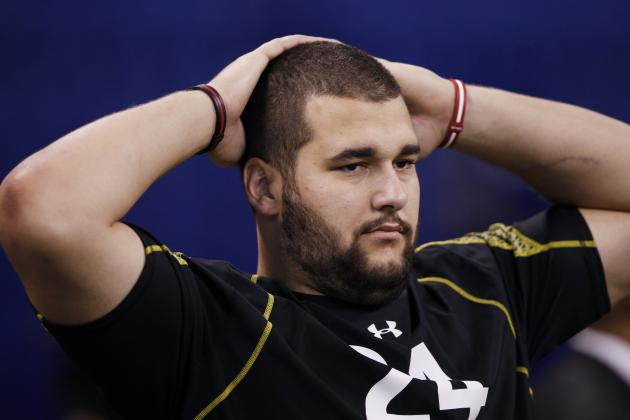 Joe Robbins/Getty Images

To me this is a given no matter what smoke screens the organization is sending up. Is there a trade possibility? Yes, but the Vikings need to be careful to not get too greedy.
As I said in my last article, the farthest they can afford to drop is No. 8, the Dolphins' spot, and still have a shot at tackle Riley Reiff from Iowa. But this is about Kalil's possible impact.
Kalil had a stellar college career. He is more known for his pass-protection skills than run-blocking prowess, but we'll take it given the recent quarterbacks for the Vikings who have had to keep their head on a swivel.
If the Vikings trade down and lose out on Kalil, I believe Riley Reiff is the next logical choice. He is not graded out as high. His bench at the combine was 23 reps at 225 and his arms are not as long, nor is he as athletic as Kalil, but he certainly is a very good prospect. Also, Stanford tackle Jonathan Martin is like 2B if Reiff is 2A.
Kalil could be that franchise LT, and the Vikings need to keep that in mind.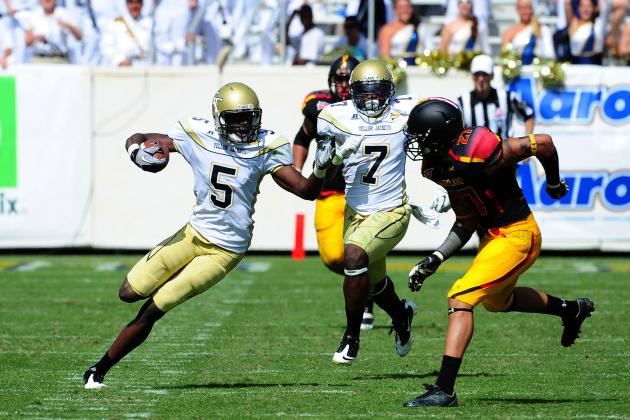 Scott Cunningham/Getty Images

I have to admit that I am sold on Hill. Forget about what you have heard about Georgia Tech and its lack of throwing. True, he did not put up numbers like some of the other receivers in this draft, but talent is talent and Hill has got the talent to be a real star.
There are many who believe that Hill will not make it to Round 2, but check this out: With all the QB hype going around, there is now word that as many as four QBs could go in the first round. If that is the case, players who would not normally drop are going to drop. My hope is that Hill is one of those casualties of a drop.
At 6'4", 215 lbs, plus a 4.33 40-yard dash and a 39.5 vertical, Hill demonstrates the measurables. If he can translate that into crisp route-running and pass-catching prowess, he could be, at the very least, the next Jake Reed.
Last year Hill caught 28 passes for 820 yards and five TDs for a 23.5 YPC average. Also, consider Hill's complement on the other side of the field. Imagine him on the same side of the field as Percy Harvin. Hill can make an instant impact even if he is not the immediate feature-type receiver.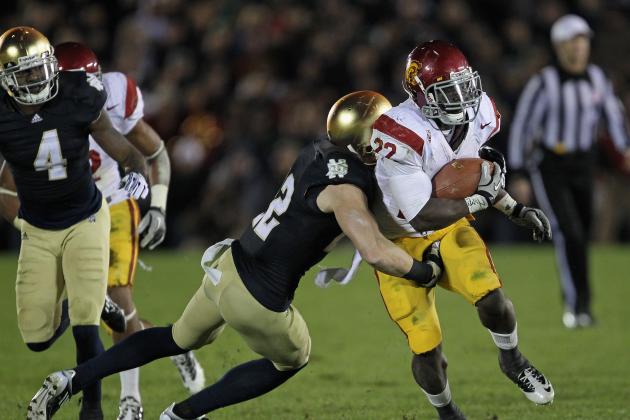 Jonathan Daniel/Getty Images
Gotcha!
This is hoping that Smith makes it to the third round. There have been folks on both sides of the aisle when it comes to Smith, and both have legitimate arguments, but here are mine for Smith.
The Four S's: smart, size, speed, solid.
Harrison is 6'2", 215 lbs, with a 4.5-40, 34" vertical and 10'2" broad jump. He also did 19 reps on the bench. Smith had a down year his senior year by some accounts because he did not have any interceptions, but he had seven his junior year, so ball hawking skills are there.
Smith had 93 tackles in 2010 and 90 in 2011. He also had 10 passes broken up. By all accounts, playing SS in 2011 had to have an effect on interceptions.
A player who Smith reminds me of is Craig Steltz. Steltz had 101 tackles his senior year but prior to that he never had more than 42. He did have good INT numbers, but size wise and speed, both are eerily similar (Steltz is 6'1", 210, 4.6-40, so Smith is faster).
There's something to be said about smart players on the back end, and when the Vikings had Robert Griffith and then Darren Sharper, there was no doubt they had athletic and intelligent players at that position.
Now, I am not trying to be down on current Viking players, I think Husain Abdullah at SS and Mistral Raymond at FS are decent players—and I am not saying that Smith will come in right away—but he can make an immediate impact on special teams until he becomes the eventual starter at either FS or SS.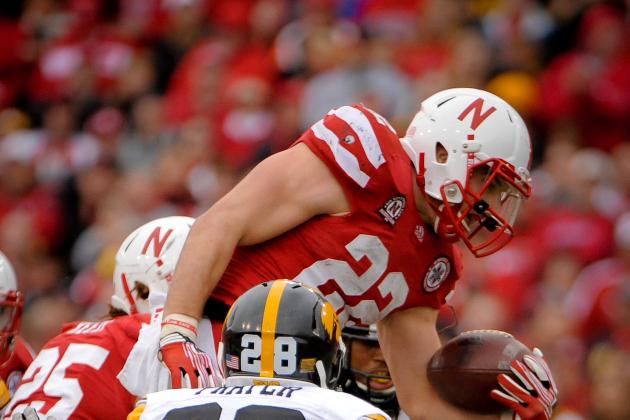 Eric Francis/Getty Images

In Round 4, the Vikings have three picks, so it is safe to say that one of those might be able to make an immediate impact, and that just might be Shaun Prater out of Iowa.
There are three players right in this area who I have ranked: Prater, Jamell Fleming (Oklahoma) and Josh Norman (Coastal Carolina). I believe Prater could be there in Round 4 whereas Fleming and Norman may be gone.
Prater's college numbers were very solid: 171 tackles, seven INTs, four FFs. Prater, if drafted by the Vikings, will have a great opportunity to learn from a player whom I feel he mirrors, Antoine Winfield.
I don't think his impact will be immediate. He will earn his stripes on special teams first.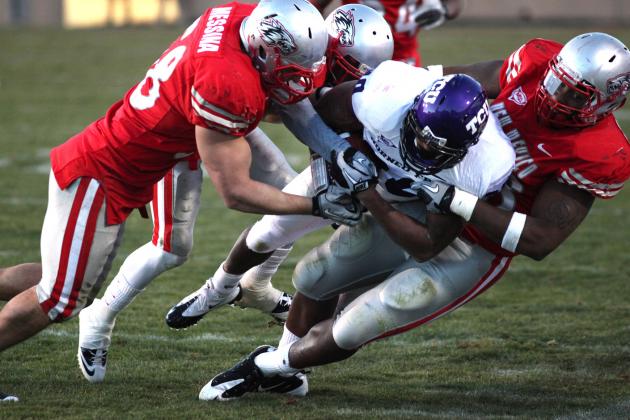 Eric Draper/Getty Images

There is no doubt the Vikings should consider drafting a LB, outside or inside, and the Vikings could find a late-round diamond in one of these two players. I am torn because both have a little bit of a different game.
For New Mexico linebacker Carmen Messina, it's consistency. The man racked up some serious tackles while in college; think Zach Thomas, who was considered a very late-round pick. Messina is considered to be technically sound and has great instincts.
For Josh Kaddu, linebacker from Oregon, it's athleticism. He is lean and is great in pursuit. In some way he reminds me of Erin Henderson, but he needs to add some more weight. In fact, both will need to add some weight. Henderson is 6'3", 244 lbs and was raw and undrafted when the Vikings signed him in 2008.
Messina is 6'2", 236 lbs, and Kaddu is 6'3", 239 lbs. I think either player could add some dynamic special teams contributions early, and both have the ability to be groomed into a starting position in about two years.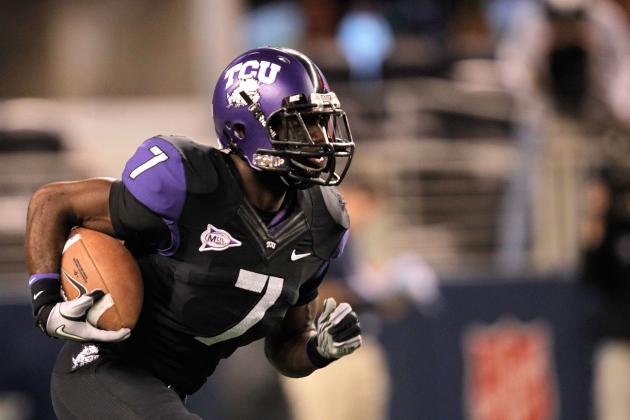 Sarah Glenn/Getty Images

It's not in the back-end corner position where I have McCoy making any kind of impact. McCoy is a return specialist and could give the Vikings a needed boost in that area, so they can stop putting Harvin back there.
Throughout his college career, McCoy averaged more than 30 YPR and had three returns for TDs, two coming his senior year.
I know I keep talking about past Vikings who these players remind me of, but I can't help it, it's like a promiscuous woman who just can't help but compare…nevermind. McCoy reminds me of David Palmer. The Vikings drafted Palmer in Round 2 back in the day, and he paid great dividends for Minnesota. Perhaps this late rounder could do the same thing.
I think as a late sixth or seventh-round pick, McCoy could have an immediate impact on special teams.
Hannah Foslien/Getty Images

The players I covered here, if selected by the Vikings, can all be contributors this year, most of it on special teams, but that's a start.
There are some other selections I left out. I just wanted to focus on players who could jump in on special teams and perhaps other areas and begin to help immediately. Other players I have the Vikings drafting are not typically designed for special teams, being offensive and defensive linemen.
Vikings' fans hopes are that the organization makes good decisions this draft cycle. I don't think we expect to have four or five Pro Bowlers emerge from this group, but if 60 percent contribute in a significant way in the next year or so, the Vikings will have great hope heading into 2015. Yes, that may seem like an eternity, but at least it gives us something to look forward to as the team re-builds its franchise's reputation to its former glory.